"I don't want to be the arrogant douche," says chef Josh Niland of his new venture, Fish Butchery. He's talking about the species of fish that he stocks in the brand new store. While he aims to stock lesser known species, there is also something for everyone with crowd pleasers like ocean trout. But he really wants to help bridge the gap between people and different types of fish. "The education isn't out there (on how to cook fish at home)," and he aims to get customers over this threshold.
First up, the shop itself is a long, slender one, a few doors down from his much awarded restaurant Saint Peter. It is designed by his partner Julie Niland. Preliminary pics online showed a stark but beautiful shop, something like what I'd imagine a shop in the futuristic tv series Black Mirror might look like. Everyone looked intimidating or serious.
Going there, it's different. For starters the staff are friendly and welcoming and Josh is there ready to chat or explain the concept to those that are coming to buy fish or those simply curious to see what is going on here (and there are plenty of browsers).
The window display is "for Instagram" he says and today there's an albacore tuna, ocean trout and Spanish mackerel on display. On the right is the merchandise from t-shirts, fish weights, sauces and preserved lemons.
Then there's a fridge full of cured and smoked fish, rillettes, stock and oysters. It's a little like Victor Churchill butchers but for fish on a smaller scale. He explains that stools and a bench are to come so people can sit and eat their takeaway fish and chips or sashimi.
The main display bordered with seaweed is where everyone stops and looks. "Everything in the display is boneless," says Josh, because bones are one of the factors that stops people from cooking and eating fish. There is only one of each type of fish and whatever you want done to the fish, "We want to do it for you," says Josh who knows that scaling, removing heads and filleting fish is the deterrent to cooking fish at home.
He is happy to suggest items and the idea is that they will prepare it so you can simply cook it at home according to directions that they give. I leave the choices in his hands and he suggest a 7 day aged cobia from Evans Head. He tells me to heat the pan up as high as it will go, cook it for 2 minutes on the skin with a fish weight (or saucepan) on top so that it cooks evenly and then put it on a cake rack and cook it for 5 minutes at 180-200C. That will give it a medium done texture. The kingfish also gets a similar treatment although less time cooking as it can't take the high heat as much.
There's also the red mullet also known as goat fish or rouget which he called "Poor man's lobster" from Shark Bay in Western Australia. He fillets the fish in front of me and gives me a large fillet. And $7.34 it's a bargain too.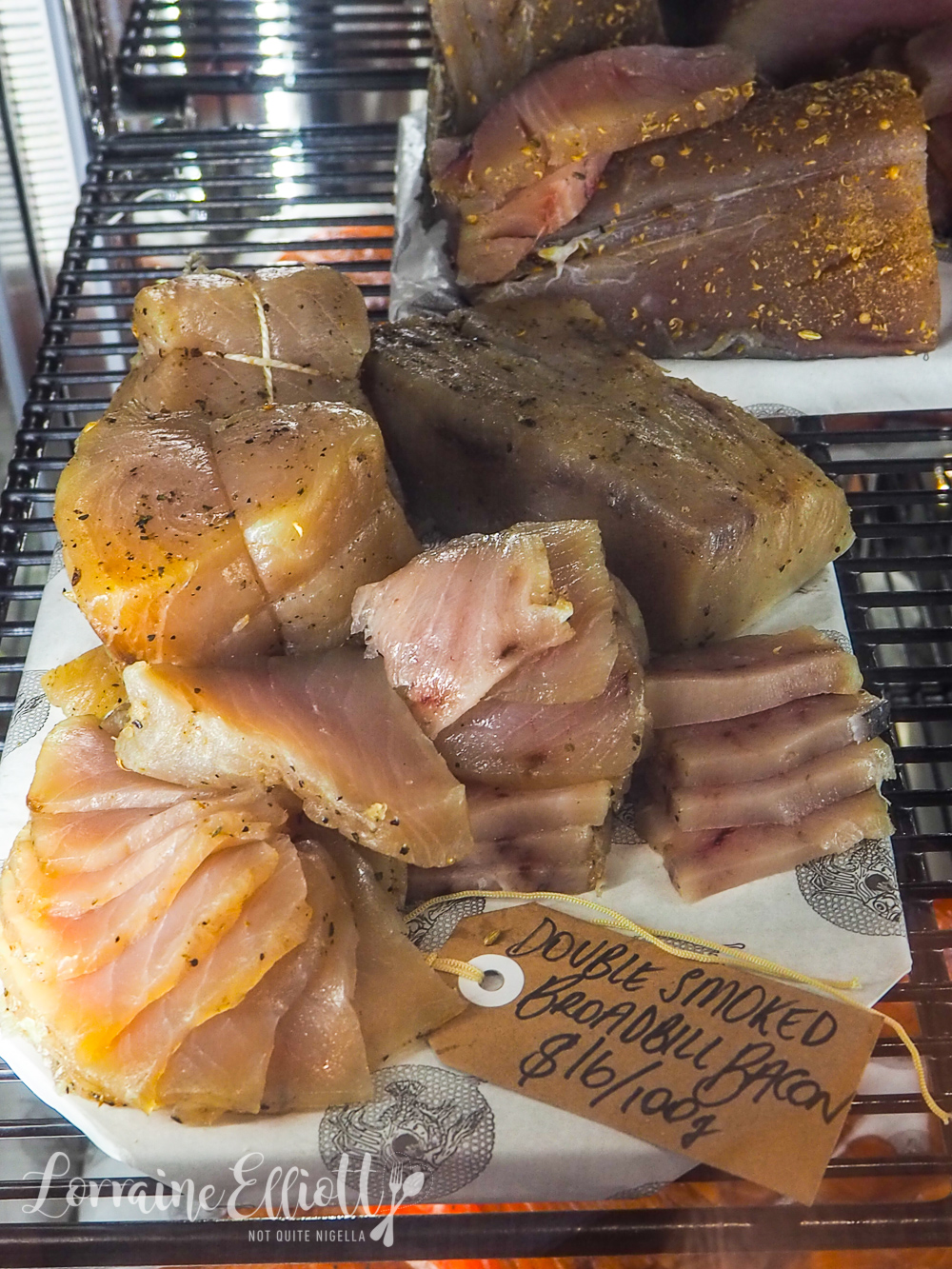 One item that is a must buy is the double smoked broad bill or swordfish bacon. You can treat it as bacon and fry it up and it's lusciously fatty in the same way that lardo or bacon fat melts in the mouth. Heaven. It's actually worth a trip there just to try this delicacy especially if you're a bacon or lardo lover.
Fish and chips $20, potato scallop $3
There is also a small takeaway menu that changes daily. At the moment the fish and chips starts at noon and we try the fish and chips with potato scallop. The fish is a lesser known teraglin from the mulloway family. The fish comes as two fat, moist fillets served with a generous serving of uber crispy fries and a fat potato scallop with a heavenly dill yogurt tartare. It's enough for two although I'd suggest getting one yogurt tartare each ;)
So tell me Dear Reader, do you find cooking fish a challenge? Do you like the idea of a fish butchery like this? And do you prefer fillets to unfilleted fish?
All food was independently paid for.
Fish Butchery
388 Oxford Street, Paddington, NSW 2021
Open 10-6:30pm Tuesday to Sunday
facebook.com/fishbutchery/