Summer has arrived and tonight we're dining at The Cosmopolitan in Double Bay. The Double Bay mainstay for over 40 years reopened inn November last year with new owners and a new chef.
The new chef here is Joel Robinson from Manly Wine and Barrenjoey House. It's not often that you find a bargain in Double Bay but there it was, oysters for $2 between 5-7pm. The gentleman sitting at the table near us smacks his lips in satisfaction. He has just polished off a dozen oysters and had ordered some raw plates of seafood for himself.
Belvedere Spritz and Aperol Spritz $16
Ivy orders an Aperol Spritz while I order a Belvedere Spritz made with Belvedere Vodka, Prosecco, Domaine de Canton, lime, tonic and cucumber. They're generous with the alcohol but out of the two I like the classic Aperol Spritz.
It's oyster happy hour at The Cosmopolitan and we all love those zincey, briney babies. So much so that we order 2 dozen of them. Our waiter tells us that he's never had to put that many on a platter before. We get half a 50/50 mix of Sydney rock oysters and Pacifics. The Sydney rocks are from Wapengo Rock on the South Coast of NSW and Wallis Lake from the Mid North Coast of NSW. The Pacifics are from Pambula on the South Coast and St Helens in Tasmania. They come with a mignonette dressing, lemon and hot sauce and they're wonderful. At that price we were very tempted to order 2 dozen more.
Crudo Misto $32
The menu is broken up into sections. There's raw, crustaceans, large plates, lobster, small plates and meat so it necessitates a bit of study to make sure that you've looked at all the options. We order the crudo misto which gives us a try of three of the raw plates. There's the scallop ceviche with sliced green chilli, lime and it says flying fish roe and desert lime but we don't get these on it. The salmon carpaccio is nice and comes with pickled yellow beets, avocado and horseradish crème. The one I am most interested in is the kingfish tonnato which is Hiramasa kingfish, tuna dressing, caper berries, green beans and a halved quail's egg. It doesn't necessarily have the flavour of vitello tonnato, more a distant cousin although it is pleasant. But out of this and the oysters I would have happily traded this for more oysters.
Braised Shellfish Stew $38
The braised shellfish stew caught my eye as I liked the sound of a white wine, saffron and tomato broth with fregola pasta and toasted crostini bread spread with aioli. There's pieces of crab, fish and clams and we ask for a spoon so we can scoop up the sauce, pasta and seafood and dip the tasty bread into the tomato based stew.
Charred Rainbow Trout $32
Our other main is the charred rainbow trout which is a whole fish served with a cherry tomato, chilli and tamarind sauce and a spoonful of flattened or beaten rice. The fish is well cooked and I fillet it at the table. The sauce on top is great and there's actually a lot of meat on this fish so that we can't actually even finish our mains.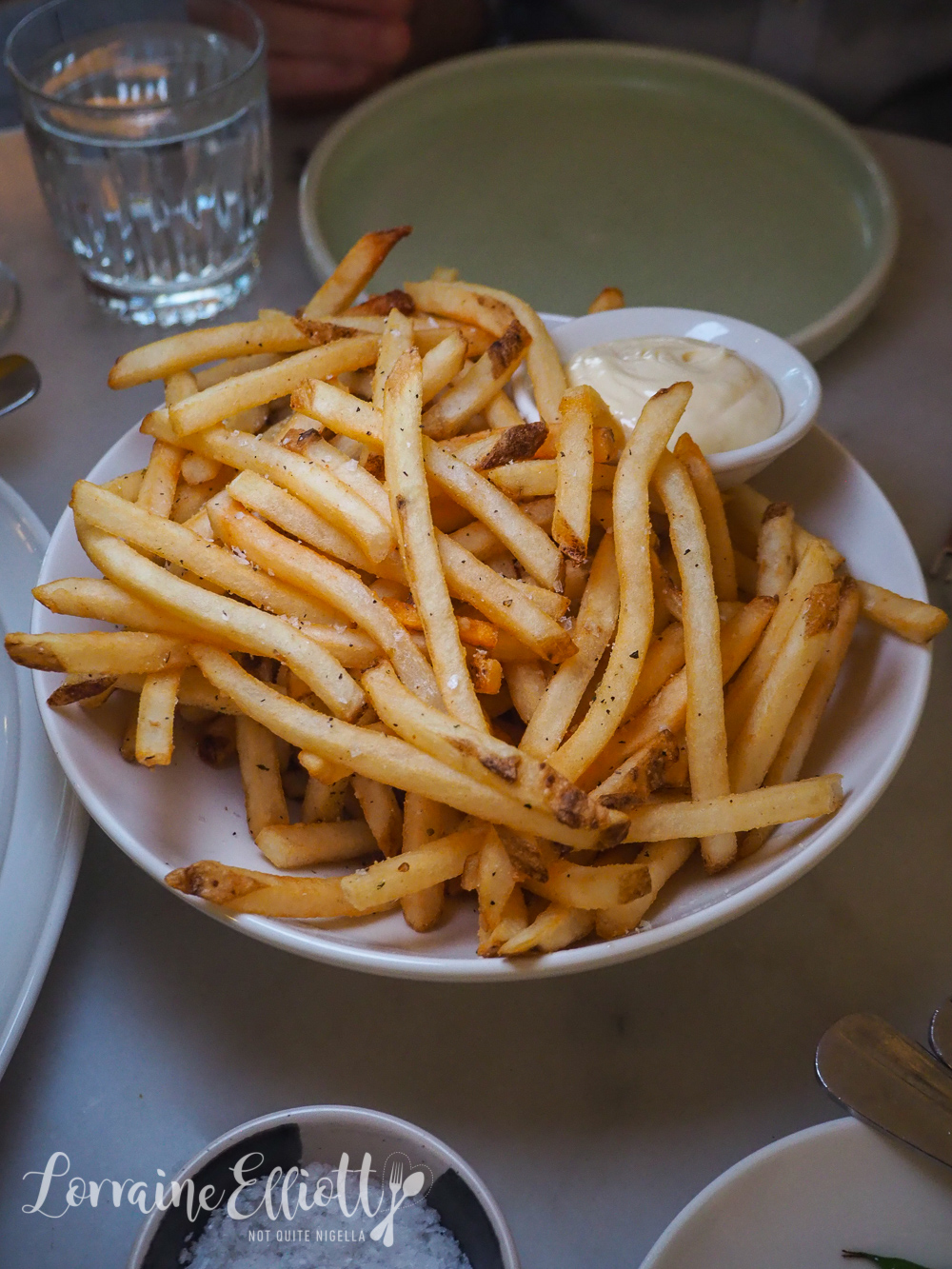 Shoestring Fries $12
I'm so glad that we took their suggestion of fries. I mean I need very little encouragement to order fries. These are actually perfectly seasoned, hot and crispy. They come with a little pot of aioli.
Spring Green Beans $12
I have to admit that the serve of spring green beans and Roman beans looked a bit small, like there could have been more green beans on the plate. However they're tasty and well cooked and I like the ricotta, mint, garlic and chilli oil.
Cremoso $16
We've got room for dessert though. The Cremoso is my favourite of the two desserts. Ryan asks if we can get an extra biscotti because we are sharing and they kindly bring out a freshly baked almond biscotti. It comes with an orange, vanilla and lavender cream with cocoa nibs and a candied orange slices topped with lavender. It's creamy and light and perfect for the crunchy almond biscotti.
Cafe Au Lait $16
The café au lait is Mecca espresso, cream and mascarpone mousse with a Kahlua shortbread. It's basically like a tiramisu dome with a crunchy shortbread base instead of the soft savioardi biscuits. Both desserts disappear rapidly.
So tell me Dear Reader, what is your favourite type of happy hour? How many oysters can you eat in one sitting?
This meal was independently paid for.
The Cosmpolitan
6/2-22 Knox St, Double Bay NSW 2028
Monday to Thursday 7am–12am
Friday & Saturday 7am–1am
Sunday 8am–10pm
thecosmopolitandoublebay.com.au
Phone: (02) 9362 1881