Penny's Cheese Shop is located on Macleay Street in Potts Point. There you'll find a range of Australian, French, English and Italian cheeses plus a cheese toastie that locals love and people travel to order. But you have to get in early on weekends to get your hands on one of these as they sell out mid-morning. If you love their toasties you're not the only one - Penny's also has a celebrity fan of them!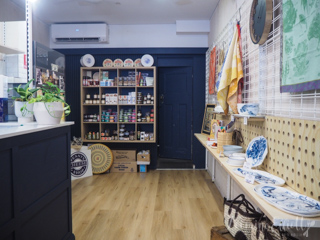 A cheese toastie is a pleasure most often reserved for winter but given the rainy weather and the wintry changes of late, no time seems better than the present to visit Penny's Cheese Shop. It has taken me years to visit Penny's ever since they opened in 2018 (I think we can forget about all of 2020 and 2021). Although my friend Laura lives around the corner, whenever I get there I find it hard to find a parking spot so trying one of Penny's cheese toasties has remained on the "must try" list. I actually met Penny Lawson at a cheese event and we talked at length at what makes a good toastie and we were only interrupted by the event's proceedings and I suspect the conversation might have gone for longer.
Cheesemonger Penny Lawson grew up in Sydney but has lived in Melbourne and London working in the food industry since university. She worked at a patisserie, and then in butcher in Melbourne before working at Milawa Cheese company in 2004 running their retail outlet in Carlton North. Her path in food since the Milawa Cheese Company in 2004 has involved cheese, "I was also the EO of ASCA (Australian Specialist Cheesemakers' Association), I have sold cheese at a farmers market, a wholesaler, GPO cheese and wine and then over in London I worked at La Fromagerie in Marylebone and at the warehouse doing affinage then back to Sydney at Blackwattle Deli, and toasties with Great Wheels of Cheese before finally starting my very own cheese shop," says Penny adding, "Once I had started with cheese I just kept on loving it more and more. Every wheel you open has a different story and flavour and I just love that." Nowadays she selects, ripens and sells cheese, "We can also be called fromagier or curd nerd," says Penny.
Potts Point was a natural choice for her shop. "I had already established that the community liked cheese with my former business Great Wheels of Cheese with Dan Wyllie (now Barrio, Byron Bay). It has such a great community feel, even though it's in the middle of the city and it has a population that can sustain a specialist cheese business like mine," says Penny. She loves introducing locals to new producers or cheeses like Three Daughters Cheddar from The Pines and Muscatel goat cheese from Willowbrae.
The first fridge on the left is for the hard cheeses and the range is large including Challerhocker from Switzerland, Mimolette from France and a goat gouda. Then there's a separate, smaller case of soft cheeses, those wonderful cheeses that will eventually become molten, creamy gooey centered cheese. "They require different conditions, humidity and care. Also aromas from washed rinds or geo ripened goat cheese can mingle with the blues and vice versa," explains Penny. There are also sauces, oils, spreads and a whole range of food and accoutrements to complement your cheese making experience. Today Penny is actually in Melbourne judging the Grand Dairy awards but her staff are very friendly, knowledgeable and passionate about cheese.
During weekdays they make cheese toasties and they cap numbers at 20 cheese toasties on week days and 50 on weekends. She uses Epooro loaf from PiOik Bakery in Pyrmont that has a 72 hour ferment (and note, if you go on Tuesdays we did, the other bread items like the focaccia are not available as PiOik don't bake on Tuesdays).
The base of the cheese toasties is a weekly changing blend of cheese using between 4-8 different cheeses. "Each cheese brings something to the party, be it flavour of Cheddar, stretch of Oaxaca or stink from Raclette. We can adjust the funk and keep it ever changing," explains Penny. The leg ham comes from Pinos in Kogarah and you can add a fresh raw onion mix or fennel garlic salami and jalapeño at other times or truffles as an add on when in season. The key to her toasties is not only is cheese is on the inside of the toastie but also on the outside.
You can upgrade your toasties with ham and chopped onion and I thoroughly recommend both. We tried an all cheese one with cheddar from Victoria, Raclette from WA, Gruyere from Switzerland and Oaxaca, Scarmoza and Halloumi from NSW but the piquant onion and ham added a lot of flavour and a thick texture to the sandwiches that was entirely appealing. These cheese toasties are slender but the cheese toasted on the outside provides a gorgeous crispy carapace.
And the celebrity fan? "We were lucky enough to have Liam Neeson spend his quarantine in a hotel in Sydney (not sure how he felt about it) and we were approached to supply some cheese for his arrival and a toastie part way through his stay by people involved in the production he was working on. They are great supporters of us. It was so kind to send us a personal card saying thank you and how much he had enjoyed it! it came out of the blue and made our year! Gives me a smile when I see it," says Penny.
So tell me Dear Reader, do you prefer cheeses from a particular country or a particular style?
All of our food was independently paid for.
## Penny's Cheese Shop
Shop 6/127-139 Macleay St, Potts Point NSW 2011
Tuesday to Friday 10am–6pm
Saturday 8:30am–4pm
Sunday & Monday closed
Phone: 0422 412 608
https://www.pennyscheeseshop.com.au/