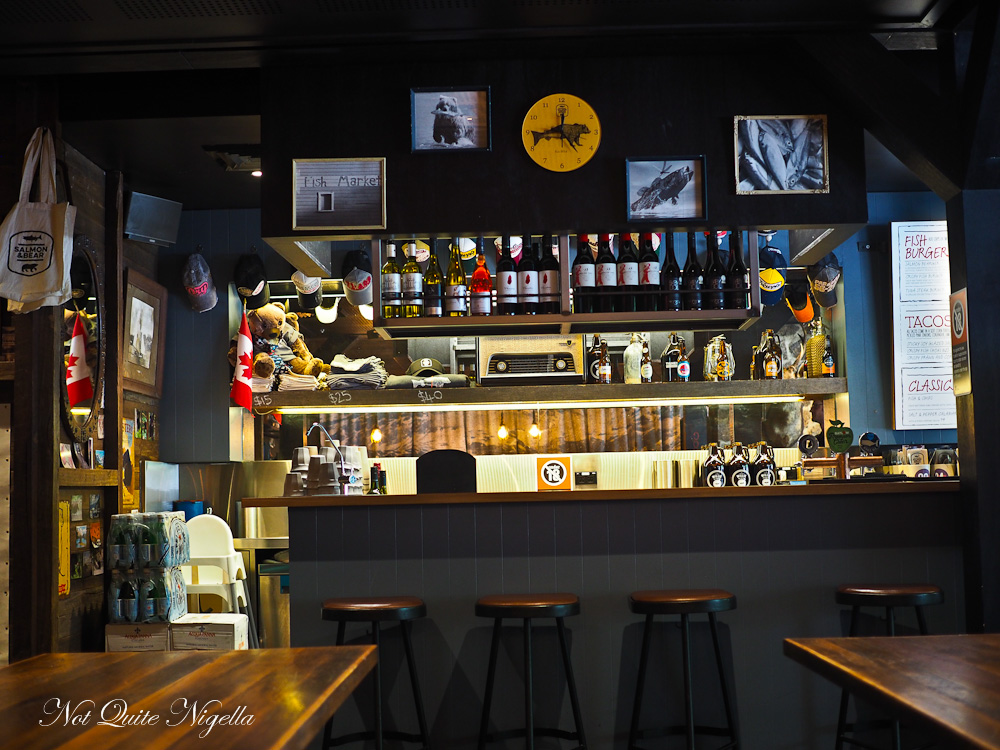 Contrary to the name, there isn't bear on the menu at Salmon & Bear. It's mostly seafood hence the salmon in the name. It does however (with an unseasonably chilly day) feel like Summer in Alaska or the Yukon. There's an American guy serving that would be at home in the great North and inside the decor evokes a log cabin with deer heads on the wall and a casual vibe.
I'm the first there which is odd. Usually if I'm going out with most my friends they're always there before I am (they're very punctual) but I look around and Belinda isn't there.
"Do you have another location?" I ask and sure enough Belinda has just pulled up to the Newtown location. She hasn't parked yet so she makes her way over to Zetland. That gives me time to go through the menu and see a few dishes brought to other tables. I hone in on the poke, something that I loved in Hawaii. Bad Moon Rising by Creedence Clearwater Revival plays and there are postcards on the wall with nature landscapes.
You order and pay at the counter and there's an indoor and outdoor section. We both go up to order and ask for some recommendations because as someone that adores seafood there are so many things that I want to order but there are just two of us.
Salmon Bearger $13 + beer battered fries $4
The first item is the salmon burger. I had watched (but not in a creepy way) the two girls next to me share this and the fish and chips. They had finished the burger til the last crumb (okay maybe I was being forensically creepy) so we went for this over the crispy fish burger and the tuna steak burger.
The is a smoked and fresh salmon patty stuffed with green capsicum with tomato, lettuce, pickles, salsa verde and aioli on a sesame seed bun. It's very luscious (beware the drips) and I really like the filling and the salmon patty that feels fresh with lots of flavours to it.
Tuna Poke $20
Ahh poke. In Hawaii poke is cubes of sashimi grade fish, usually tuna, seasoned with sesame oil, soy sauce and green onions. Sometimes there are other additions like chilli or sesame seeds. In Australia we seem to want to make a salad bowl out of it I guess to extend the sashimi grade fish. This has a chilli and lemongrass dressing with kim chi and seaweed salad on coconut basmati rice. The whole dish feels a bit wet and padded out with the rice.
Ora King Salmon with salsa verde and mash $24 plus corn salsa $6
You can't go wrong with a piece of good salmon. There are five types of fish available: ora king, blue eyed cod, barramundi, tuna and catch of the day (Spanish mackerel). We go for the Ora King salmon, a New Zealand salmon fillet that arrives perfectly cooked with a crisp skin and melting flesh. The mash isn't quite buttery, it's more olive oil flavoured but it is rich and smooth and the side of salsa verde suits the luscious fatty fish well. On the side is a corn salsa with chargrilled corn, cucumber, red capsicum, toamto, shallots, mint and coriander with a tangy lemon and sour cream dressing. This goes well with the mash.
Prawn and Corn Taco $6
We saved our favourite morsel til last. While Belinda was nonplussed with the salmon burger she loved the prawn and corn taco with a beer battered prawn, cabbage, salsa verde, pickled pink onions, coriander, lime and Sriracha mayo on a corn tortilla.
Bear treat $5
There are two desserts, both from Gelato Messina. The bear is a chocolate gelato ice cream sandwich with chocolate gelato and chocolate biscuits. We both like that it isn't too sweet and the biscuits or cookies have a little crunch from cacao nibs in them too. Bear sized appetite required.
So tell me Dear Reader, have you tried Hawaiian poke? Do you save your favourite bites for last or do you eat them first?
This meal was independently paid for.
Salmon & Bear
6 Defries Ave, Zetland NSW 2017
Tel: (02) 9662 8188
Monday to Friday 12–3pm, 5:30–10pm
Weekends 12–10pm
No bookings
Dog friendly area outside