Tangzhong bread is back and here it is made into an absolutely divine bread loaf! For those of you that swooned over my softer than soft hot cross buns, then you'll know how wonderful bread or buns made with this secret but easy to use ingredient is. This sweet potato and turmeric bread is downy soft, buttery and delicious. It makes for wonderful sandwiches, French toast or toast! And did I mention how soft it is ;) ?
I have to admit that I get very excited whenever I make bread with tangzhong. It always exceeds my expectations without fail. And although we eat a lot of rye and wholemeal bread, there's something quite delightful and a bit special about sinking your teeth into a slice of fluffy, soft milk bread.
I like to pretend to myself that adding the sweet potato and turmeric adds goodness to it but in this case we really just enjoy it for what it is: an other worldly soft bread that stays fresh for longer (another advantage to baking bread with tangzhong). For those of you that are new to tangzhong, it is simply a roux sauce made of flour and water or flour and milk. It's just one tiny additional step to the bread making process but it creates wonderful breads. If you've ever walked into a bakery in Chinatown and seen those soft, fragrant loaves, these are made with tangzhong. This recipe is adapted from the lovely Angie from Feedmeichi for the ingredients but I used a regular method as I didn't have time to wait for it to proof overnight.
Speaking of being obsessed with soft things, I'm not the only one in this household that likes soft. Mochi is also all about soft. If she lies on the bed, she'll find the softest, fluffiest part and lie there. Apparently Maltese Shihtzu's are known for going for comfort and I think at her advanced age, whatever makes her comfortable is good.
Mochi then
I found some old photos of her the other day that were taken before we adopted her. I was amazed as I could barely recognise her, in fact unless I looked closely at her tiny freckled pink nose I would have skipped past the picture not recognising my own dog. She looked so different! Perhaps it was the fur cut as well but I think she looks a bit sad in the pictures. She still has moments I think where she remembers her past life and I think she sometimes has nightmares. Some days she wakes up and is super clingy and other days more independent.
But two things remains constant: she always loves food and she always loves soft things. And you can bet she begged for a slice of this bread!
So tell me Dear Reader, if you have a dog, does it have moods? What sort of bread do you eat most often? Have you ever tried making tangzhong bread?
Mochi now
DID YOU MAKE THIS RECIPE? Share your creations by tagging @notquitenigella on Instagram with the hashtag #notquitenigella
Softest Sweet Potato Milk Bread Loaf
An Original Recipe by Lorraine Elliott
Preparation time: 25 minutes
Cooking time: 40 minutes
30g/1oz. bread flour
125g/4flozs. milk
30g/1oz. butter
100g/3.5ozs. sweet potato, steamed
170g/6ozs. milk
2 teaspoons ground turmeric
1 egg, at room temperature
50g/1.7ozs. sugar
400g/14.1ozs. bread flour
2 teaspoons instant dried yeast
1.5 teaspoons salt
1 egg mixed with 1 teaspoon water for egg wash
Pumpkin seeds, sesame seed mix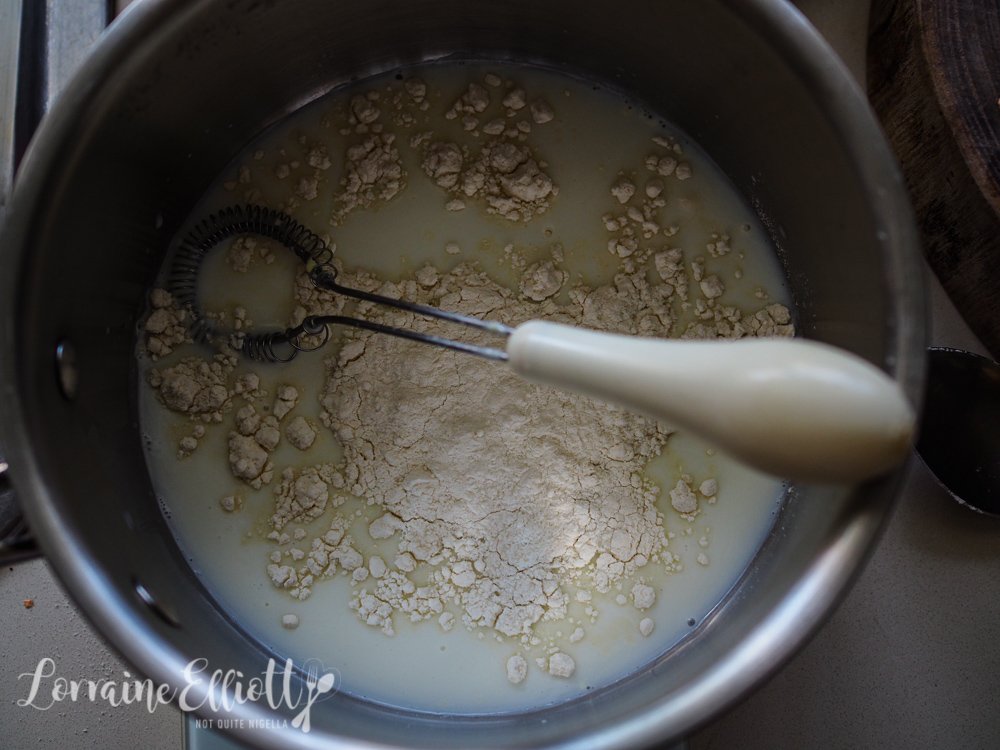 Start with flour and milk for the tangzhong
Step 1 - First make the tangzhong mix. Whisk the flour and first lot of milk together in a saucepan. Heat gently until it reaches 65C/149F. You will need to whisk this while it is heating so that it stays smooth. Add in the butter and whisk together.
Add butter to the roux
Step 2 - In a food processor, whiz the sweet potato, milk together, turmeric, egg and sugar. Add this to the tangzhong mix and mix to combine well.
Step 3 - In the bowl of a mixer fitted with a dough hook mix the flour and yeast. Add in the sweet potato tangzhong liquid and mix until combined. Then place the dough hook on the lowest setting and knead for 8-9 minutes or until you get the window pane effect. This is where you can gently stretch the dough so that it becomes thin enough to see through without breaking it.
Step 4 - Grease a large bowl and cover with cling film and place it in a bowl of hot water for 40 minutes or so replacing the hot water 2-3 times (I do this in colder weather to make sure that it rises). It should increase to three times its size. Knead the salt into the dough.
Step 5 - Preheat oven to 170C/338F. Grease a large, deep loaf tin (mine was 23.5x15x9cm). Flour a surface and divide the dough into three equal portions. Roll out with a rolling pin keeping the width of the rolled dough around the same as the baking tin. Roll up like a Swiss roll and place seam side down in the tin. Repeat with the other two pieces. Allow to double in size. Brush with egg wash and sprinkle with pumpkin seeds and seed mix. Bake for 30 minutes. Remove from tin after baking and cool on a baking rack.