Hearty goulash, fat matzo ball dumpling soup, pillowy langos with lashings of garlic and sour cream and more sour cream! Winter seemed like the best time to revisit 21 Espresso in Double Bay where we had last visited on a schnitzel challenge a few years ago.
Going to 21 is like a blast from the past. I could be a teen again, although with hopefully less awkwardness. 21 was a haunt of mine during high school and it's good to know that you can still go to a restaurant and get an apricot nectar or a Vienna coffee. 21 Espresso has been in Double Bay for more than 60 years now which has to be some sort of record in Sydney. It was first established by Jansci (John) Schiffer and is now run by his son George and his grandson Michael.
It's busy this Wednesday night with patrons mostly in large groups and there is an undercover closed off outdoor area that is dog friendly. Service is very friendly and the food arrives quickly. The mineral water is Romanian which is a first for us.
Matzo Ball Soup $12.80
I grew up with a Jewish best friend during high school so my love of matzo ball soup goes way back. To me, it's pure nostalgia with a giant ball of soft, fluffy matzo and a clear house-made chicken broth.
Lángos $11.80
The menu is large and you can get pastas and salads but we hone in on the Hungarian dishes or the more interesting ones. I first tried lángos at a market stall and wondered why there weren't lángos stands everywhere. They're essentially a fried puffy bread dough served with sour cream and minced garlic in oil. It comes out piping hot and puffy-I risk burning my fingers but refuse to put it down. I especially love the soft, doughy parts and I have to admire a cuisine that is devoted to sour cream as Hungarian is.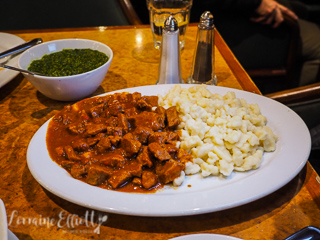 Veal Goulash $28.80
The veal goulash is a hearty dish of small pieces of tender veal in a rich sauce served with nokeldi dumplings. Mr NQN makes fast work of this along with a side of creamed spinach.
Transylvanian Layered Cabbage $29.80
Having never really tried much Transylvanian food we ordered the Transylvanian Layered Cabbage and it ends up being my favourite main. Transylvania was once part of the Hungarian empire until World War I when it became part of Romania hence why this dish is served here. It's pork mince with rice and sauerkraut with slices of smoky Kielbasa pork sausage. It's rich and intense and purely comfort food; I wish we had ordered the larger serve of this because I loved it so much.
Pischinger $13.50
It was hard to choose two desserts so we decided to go for three (I blame Mr NQN's sweet tooth). The pischinger cake is a house made Polish cake made of wafers, chocolate and hazelnuts. I think this is best served with a coffee in the afternoon because it can be a tad dry by itself.
Gundel Pancake $12.80
The Gundel pancake is a thin crepe filled with walnuts and rum with a dark chocolate sauce on top and a touch of orange as well to lighten it up.
Baked Cheese Noodles $15.80 + $3 sauce
I have to admit that I was expecting something else entirely but am pleasantly surprised with the baked cheese noodle dessert. Made with vermicelli and farmer's cheese and baked into a slice and served warm with cold sour cherry sauce on top it's warm and comforting and not overly sweet. And Mr NQN has a little glass of Hungarian Pecsetes Slivovitz plum brandy. With a 70% alcohol content, that definitely warms him up!
So tell me Dear Reader, what is your favourite Hungarian dish? Have you tried Langos before? Do you ever revisit high school hangouts?
This meal was independently paid for.
21 Espresso
21 Knox St, Double Bay NSW 2028
Open 7 days 8am–10pm
21espresso.com.au
Phone: (02) 9327 2616