Love nonya desserts? Seri Muka is a double layered Asian dessert popular in Singapore and Malaysia. There's a layer of coconut sticky rice on the bottom and on top is a gorgeous green pandan custard layer. Nobody ever says no to my mother's Seri Muka and today she shares her most prized recipe of them all.
This seri muka cake is my mother's signature dessert. Every time she has a get together with friends which happens a lot, she brings a plate of this along. She has asked me if I wanted to make it for the longest time but I wasn't sure if Dear Readers would want to make it. Asian desserts appeal to some but not to others. But it was only when I tried others that I realised how awesome her Seri Muka is compared to others that I thought that it was time to share it.
Over 10 years ago my mother gave me this recipe. But I made it and it was a disaster. Pieces of information were missing, perhaps she thought that I could have joined the dots or maybe it was a test to see if I was worthy of getting the real recipe.
Growing up she never liked divulging recipes but now have had a major attitude shift. She now tells me of a friend of hers who never shares recipes with a palm outstretched to indicate disapproval and a chiding shake of her head.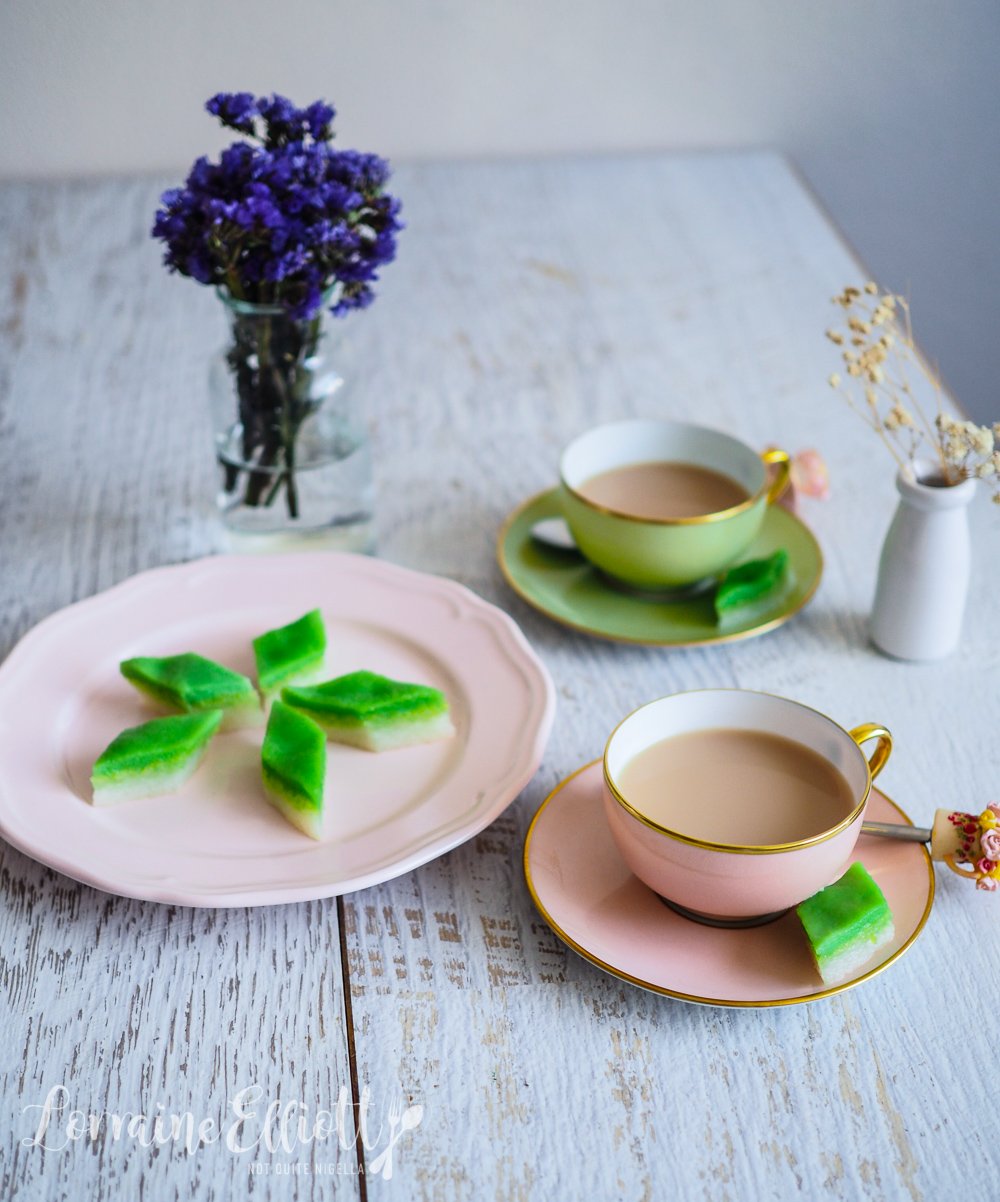 My mother has changed in other ways. I used to try to not use my phone in front of my parents very much because I don't think they quite understand social media or what I do. But when we were out at lunch the other day I glanced over at my mother. She was head deep in concentration and staring at her phone. We tried to teach her to text many years ago but she showed no interest. Now she Whatsapps me messages and when we were waiting for the Seri Muka to cool I looked over at her. She had forgotten to make the chicken satay for dinner because she was too busy playing games on her phone!
So tell me Dear Reader, are you good at giving out recipes or do you keep them close to your chest? Do you think you've changed much in the last 10 years or so? Have you ever tried these Nonya cakes and do you like them?
DID YOU MAKE THIS RECIPE? Share your creations by tagging @notquitenigella on Instagram with the hashtag #notquitenigella
Seri Muka Kueh
An Original Recipe by Lorraine Elliott
Preparation time: 20 minutes
Cooking time: 60 minutes
For bottom layer
225g/8 ozs. glutinous rice
225ml/8flozs. thin coconut milk (my mother uses a 560ml Chef's Choice coconut milk which gives you the thin coconut milk and the cream below)
1/4 teaspoon of salt
For top layer
85g/3ozs. caster or superfine sugar
21g/0.7oz. cornflour/fine cornstarch
30g/1oz. plain all purpose flour
1 egg
315ml/11ozs. coconut thick coconut milk (the top of the can of coconut milk)*
1/4 teaspoon pandan essence
1/4 teaspoon salt
If you don't have access to Chef's Choice coconut milk then substitute the thick part of the coconut milk with coconut cream.
Step 1 - Soak glutinous rice in water for 6 hours. Drain the rice and mix with the coconut milk and salt. Grease a 9 inch/22.5cm round or square tray and pour the rice mixture into the pan. Smooth over the top and steam for 15 minutes.
Step 2 - Press the mixture well with a spatula until compacted-don't rush this step, my mother took about 2-3 minutes to make sure that this was pressed down well. Steam in a wok fitted with a steamer stand for 10 minutes (make sure to refill with water if it is running low).
Step 3 - In the meantime, make the top layer. Mix the egg and sugar until well incorporated. Add in the cornflour, flour and salt and mix well. Add the thick coconut milk and pandan essence. Strain the mixture through a fine sieve and set aside.
Step 4 - When the bottom layer is ready, remove from the pan and add more water and bring to a boil. Pour the pandan layer on top and turn the heat down to low. Steam for 30 minutes or until set. Don't cut the kueh when it is hot.