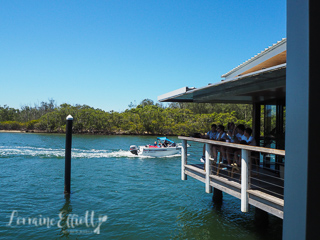 Woy Woy's Fishermen's Wharf is a popular stop on the Central Coast for day trippers or those staying on the Central Coast. It is a casual restaurant known for its simple approach to seafood. There you can order fresh seafood and sit on the wrap around deck watching boats go by.
Woy Woy Fishermen's wharf has been in operation for almost 50 years and is a third generation family business of the Cregan and Clayton family. It started in the 1970's when Pat and Anne Cregan retired from working and bought a country escape.
Originally the boatshed that it sits in was purchased to rent put-put boats but people would visit looking to buy seafood as they had in the past. Pat's retail instincts created a business where they sold prawns, then oysters and then the fishermen who fuelled their boats nearby asked if they wanted to buy their catch.
Each section (takeaway, market and restaurant) is run by different sections of the family and the restaurant opened in 1983, named after the San Francisco Fishermen's Wharf in the city that the Anne Cregan loved.
All three sections are under the same roof and on the right hand side slightly tucked away is the entrance to the restaurant. There's a squadron of pelicans that are busy posing for photographers. These photogenic birds have been there since the beginning, sometimes up to 50 at a time.
Diners are asked to check in and adhere to club rules by wearing masks while moving around in the restaurant only removing them when they are seated. The indoor section has an 4 metre fish trap made by the Maningrida community in the NT by artists Bonny Burarn.gara and Feda Ali Wyartja.
Reservations are definitely recommended as it is very popular and one usually needs to book at least a month in advance. I'd recommend booking on a week day for a more relaxed vibe as it can be very busy on weekends and the deck is definitely the area of choice on a nice day. Woy Woy Fishermen's Wharf is also one of the small handful of restaurants on the Central Coast open on a Monday.
Cynar Spritz and Limoncello Spritz $12 each
The menu features everything from fish and chips, seafood platters as well as sashimi and raw seafood. Laura orders a selection of goodies at the counter.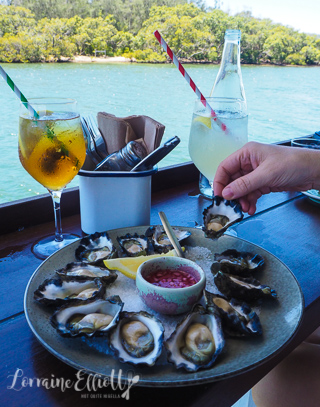 A dozen Sydney rock oysters $32
The first thing to arrive are a dozen Sydney rock oysters with a mignonette and ginger dressing. We squeeze the lemon and add some red wine mignonette dressing and these slip down easily.
Anchovy Toast $10
The anchovy toast is grilled with cheese and finely chopped brown anchovies with olives on the side. It's a generous serve, enough for four and it is salty, fishy and tasty.
Spicy tuna tostadas $15
The spicy tuna tostadas come three to a serve and are perfectly seasoned with a hint of chilli with avocado and flying fish roe on a crunchy fried tortilla.
Bbq sardine fillets w/ lemon parsley salsa 19.90
My favourite dish is the barbecued sardines with a lemon parsley salsa. The sardines are coated in tapioca flour and pan fried and then served with a salsa made with lemon, parsley, dill, red onion and olive oil and caper berries. The result is a beautifully balanced sardine dish that really showcases the flavour of sardines without being overwhelmingly fishy.
Tuna tartare loin & belly & scrapings $25
The tuna tartare is served with pickled red onions. We add some hot sauce and a bit of salt to it as it needs a bit of seasoning. We're not quite sure what the scrapings are as it looks like tuna fillet.
Chilli blue swimmer crab Singapore style $37.50
The Singapore chilli crab comes as either blue swimmer crab or mud crab. As we've ordered so much already we go for the blue swimmer crab version. We don bibs (aka lobster tea towels) and dig into the crab. It's two blue swimmer crabs cut in half with plenty of sauce. The sauce is very sweet although plentiful and it's best for dipping the salty anchovy toast in.
Snapper ceviche Citrus & coconut milk $25
Another favourite dish is the snapper ceviche with Pacific Island vibes. It is served in a mixture of coconut, lime juice, onion and tomato with crisp cos lettuce leaves and crunchy fried tortilla chips. It reminds me of Fijian Kokoda with flying fish roe on top.
There is dessert on the menu but all we needed was seafood!
So tell me Dear Reader, what is your favourite seafood? Do you like raw seafood?
This meal was independently paid for.
Woy Woy Fishermen's Wharf
The Boulevarde, Woy Woy NSW 2256 Monday to Thursday 9am–5pm Friday & Saturday 9am–7pm Phone: (02) 4341 1171