Today we check out the new Steam Mill Lane in Darling Square and visit a couple of eateries there. Steam Mill Lane is located just between Darling Harbour and Paddy's Market behind the old Entertainment Centre. While there are outposts of businesses like Gyradiko, Marrickville Pork Roll and Belle's Hot Chicken there's a new player: Melbourne's 8 Bit burgers as well as Matcha-ya, a matcha cafe devoted to all things matcha!
I'm early for once but this gives me time to check out what else is in Steam Mill Lane. It's a mix of mostly food and boutiques. Belle's and Sandwich Shop are closed this Wednesday evening. It's smaller than I expected to be honest but it's good to see otherwise quiet areas activated.
8 Bit is the largest vendor occupying a corner, glass fronted spot with indoor and outdoor seating. There are two arcade games against the back wall and plenty of seating. Everything is arcade game themed from the fonts and colours to the packaging and names of the burgers. Service is very friendly and accommodating.
Viggo and I go up to order while Louise and Mr NQN wrangle baby Henry. Food and drinks come fairly quickly and we start with the strawberry cheesecake shake. Just as the name promises it's a sweet treat and just like the dessert in liquid form without being too thick. 8Bit is also licensed and Viggo orders a beer while Mr NQN gets a cider.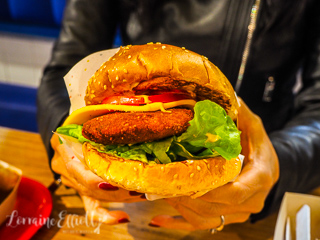 All burgers are named after arcade games. We start with the burger that ends up being everyone's favourite of the night. There is only one chicken burger on the menu and it's called the Golden Axe named after a late 80's arcade game. The crispy fried chicken burger is a juicy, spiced, breaded fillet with cheese, Sriracha mayonnaise and coleslaw. We're all big fans of this because the chicken is so flavoursome and it has the right balance of salad, sauce and chicken.
The 1UP is named after a popular video arcade in Brisbane. We wanted to love the mushroom burger but it really was the least popular. The crumbing on the mushroom itself was quite bland and not as spiced or flavoursome as the chicken one. We kept thinking that they could add chilli or spices or even parmesan to give it an added boost of flavour.
We tried one of the hot dogs just to see what they were like. I love a loaded hot dog and this is a grilled bratwurst with pickle relish, curry ketchup, slaw, mustard mayo and spring onions. It's pretty good with a decent amount of meat to salad to bun ratio.
The last burger to arrive is the Altered Beast and by now I'm pretty full (but saving room for dessert) and this is the richest burger of the lot. It's beef, bacon, cheese, grilled onions, lettuce, 8bit sauce and bbq sauce. I'm all for extra sauces and this was super saucy with a very generous amount of grilled onions but it is super rich.
I asked the nice guy behind the counter if it were possible to do half potato gems and half beer battered fries as I wanted to see which would taste best and it wasn't a problem at all. The fat potato gems worked best with this. There's chilli beef, cheese sauce, bacon, pickle relish, grilled onion, jalapenos, salsa and spring onion. I wish there was a bit more cheese sauce and I will say I preferred this with some extra sweet, spicy bbq sauce added to it as it needed it (the bbq sauce is free and you can help yourself which is a win as far as I'm concerned).
Louise is a big fan of onion rings, these ones made with real onion and they're nice although I go more for the loaded potato gems.
Now I'm not one to talk toilets but the walk in to the one here is pretty fun. I even took a pic for you because I like you so much :) We pull Mr NQN and Viggo away from Street Fighter for dessert.
Because 8bit doesn't have any desserts, and because I'm a dessert maniac that plans food in advance and scouted the location for a potential dessert, we walk a few metres to Matcha-ya. As you can imagine it features all things matcha. They've also got houjicha, which I actually prefer to matcha which is a roasted green tea that is gorgeously nutty.
We order at the counter - Viggo has never had a matcha latte so he orders a regular one. The matchas actually come in a variety of flavours-spicy, strong, caramel, chocolate, sakura and more. Mr NQN and I share a houjicha latte while Louise goes for the matcha sakura watermelon ice drink. We decide to share a matcha shiratama parfait and a fondue for two.
There are two sizes of drink-regular and large and regular is surprisingly huge. In fact I have to check that they haven't given us large instead. Viggo quite likes the matcha latte - not enough to overtake coffee as his brew of choice but he can see himself ordering it again. I'm smitten by my hojicha latte which is perfectly sweet, nutty and creamy (if you haven't tried houjicha you really must!). Louise's drink is really just watermelon juice with matcha jelly and some sakura or cherry blossom flowers but in all honesty it tasted like watermelon juice.
The parfait arrives in a long, skinny glass. There are layers and the trick is to get to the bottom layers. I think you're meant to stir it up because there's plenty of goodness deep down. The last time I was served a parfait this tall was in Texas where the waiter saw that I was struggling with it and came over and kindly brought a bowl and emptied it out for me. I wish they would give you a bowl too because as pretty as this looks with its matcha soft serve, matcha jelly, shiratama rice cake ball, taiyaki green bean fish, cubes of castella, honeycomb and freeze dried orange, it was difficult to eat. But delicious when you scored a soft mochi ball, scoop of shiratama or red bean.
Then fondue comes out last and we had ordered the matcha chocolate and the hojicha chocolate with one lots of dipping items. Truthfully you do need double the dipping items to make use of all the chocolate fondue goodness. Both the matcha and hojicha are mixed with white chocolate so that they're appealingly sweet. I particularly like the fruit and mochi dunked into both.
So tell me Dear Reader, are you a matcha fan or do you prefer hojicha? Did you play arcade games and do you have a favourite?
Both meals were independently paid for.
8bit.
Steam Mill Lane, Darling Square, 51 Tumbalong Boulevard, Haymarket NSW 2000
11am-11pm 7 days a week
Matcha-ya
Steam Mill Lane, Darling Square, 51 Tumbalong Boulevard, Haymarket NSW 2000
11:30am-10pm 7 days a week