This chocolate cake is a chocaholic's dream. Say goodbye to dry cakes or ones that merely only suggest chocolate. This is a full on rich, chocolate dream. 10 layers of chocolate cake are spread with a rich hot fudge Milo ganache icing and for added chocolatey goodness I added two layers of rich, dark chocolate mousse! I called her Cleo the chocolate cake.
I've never made a chocolate cake as moist, dense and chocolatey as this. And I don't think I was quite prepared for how intensely chocolatey it is. I mean logic should have told me because of the sheer amount of chocolate I used.
I made it to bring to Ivy and Ryan's house for a steak dinner. I decided on this cake as they are American and were serving a dinner very much like that at a steak house. One steak house I went to years ago served us an amazing sky high red velvet cake but all I want for winter is to be buried underneath a layer of chocolate.
This may sound odd but I don't really like chocolate flavoured things preferring other flavours like caramel. I prefer actual chocolate. But this cake crosses that threshold because it has so much chocolate in it.
This cake is a production, it's a special occasion number but it isn't insanely difficult. What it does require is a lot of washing up as you're dealing with lots of layers here. It can be done in a day and the rewards are aplenty because it is so moist and delicious. There's no need to brush the cakes with syrup as they're already super moist.
I told Ivy and Ryan the name of the chocolate cake which popped into my head because it was so decadently chocoatey. Ryan said, "That's directed at me isn't it?" because he and I bicker a lot because we're on opposing political teams. But at dinner, I didn't need to bicker with him because he found another person to argue with. Ryan who is a conservative met another conservative and it was highly entertaining watching an American conservative argue with an Australian one over which country was better. We even had popcorn on hand. Ivy and I are friends because we are both very left leaning but Ryan loves to provoke and debate.
Over steak, sides and 12 layers of chocolate cake I watched her eyes glaze over as they argued in measured but passionate tones. When Ryan went to the bathroom she told us that every time voting comes around she has to make sure that she gets to the polling booth to vote because she knows that her vote will cancel out his!
I expected Ryan to say that he wished my chocolate cake was a key lime pie, something that he always mentions when I bring a cake that isn't key lime pie. But apparently he ate it for breakfast declaring it an exceptional cake to Ivy although you know he definitely would not have said that to me ;)
So tell me Dear Reader, are you on the same side of the political spectrum as your friends and or partner? What is your favourite flavour-chocolate, caramel or strawberry? How many is the maximum number of layers that you've made in a cake?
DID YOU MAKE THIS RECIPE? Share your creations by tagging @notquitenigella on Instagram with the hashtag #notquitenigella
"You're Going Straight To Chocolate Hell" 12 Layer Chocolate Cake!
An Original Recipe by Lorraine Elliott
Preparation time: 120 minutes
Cooking time:
3 cups plain or all purpose flour
3 cups brown sugar
2/3 cup cocoa, sifted
3 teaspoons bi carbonate of soda
2 teaspoons salt
3 cups water
1 cup mild flavoured vegetable oil (eg. canola oil)
6 tablespoons white vinegar
6 teaspoons vanilla extract
150g/5ozs. dark chocolate finely chopped
Frosting
700g/25ozs. milk chocolate, finely chopped
300ml/10.6flozs. cream
2 cups icing sugar, sifted
1 cup Milo or choc malt powder
Chocolate Mousse Layers
1 teaspoon gelatine
1.5 tablespoons water
200g/7ozs. dark chocolate
375ml/13flozs. cream
To decorate
4 tablespoons chocolate hail
Step 1 - Make the cakes first. You can make them a day or two ahead of time. Line 10 x 18cm/7.2inch round tins (you can also do this in batches and the batter can wait around for this to be made in batches). Preheat oven to 180C/350F. Whisk the flour and sugar together. Sift in the cocoa, bicarb and salt and whisk again. In a jug measure the water, oil, vinegar and vanilla and pour into the dry ingredients. Stir until lumps disappear and add in the chopped chocolate.
Step 2 - Ladle in the batter in even proportions. It will rise a little so don't fill the tins too high. You want thin layers. Bake for 25 minutes or until the centre springs back when pressed. Cool in the tin for 5 minutes and then cool completely on a wire rack.
Step 3 - For the chocolate mousse, line two of the round baking trays with parchment. Sprinkle the gelatine over the water and heat in the microwave for 30 seconds or until melted. Melt the chocolate and 1/4 cup of the cream over a double boiler and then add the gelatine syrup and mix until combined. Cool slightly. Whip the remaining cream until you start to get stiff peaks. Stir in the chocolate gelatine mix and fold until combined. Divide into the two tins and refrigerate. They're relatively thin so they should set in about 30 minutes.
Step 4 - For frosting heat the cream and pour over the chocolate and stir until melted. Sift over the icing sugar and beat until smooth. Add the Milo and mix.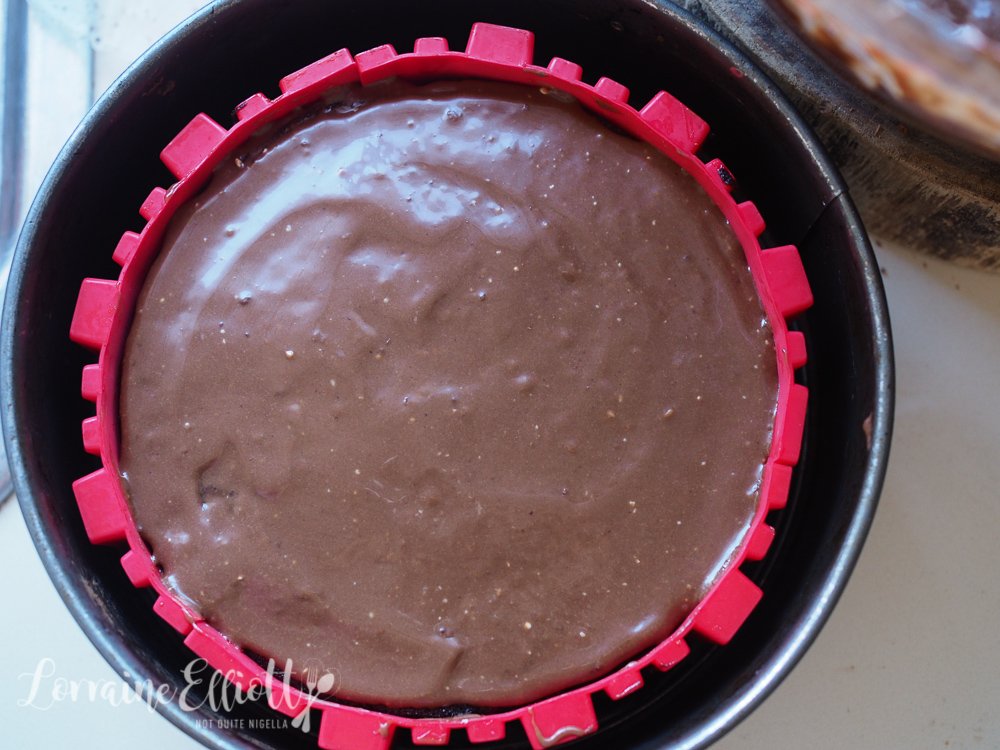 Step 5 - To construct the cake, take two springform tins and line the base and sides-I use an oiled cake snake to fill in the gap as my springform tins were larger than the tins that I baked the cake in. Also clear your freezer (this is really more an instruction for me as my freezer is always full). Place one layer at the base and spread with the frosting. Repeat with another 4 layers and then finish with a layer of chocolate mousse. Place in the freezer. Repeat with the other springform tin and the other 5 layers of cake and layer of chocolate mousse. Freeze until firm.
Step 6 - Place one layer cake on a serving plate and then add the second one. Spread with the remaining frosting and then press the chocolate sprinkles on the bottom.