Want to land in the middle of foodie heaven? Chicago's West Loop is brimming with eateries. It was within a couple of hours of touching down in Chicago that I found myself eating. I was at Roister, chef Grant Achatz's more casual/less theatrical place in West Loop and they had just set down a juicy pork butt dish in front of me. And I had forgotten any traces of jetlag.
The West Loop is Chicago's culinary hub, adjacent to downtown and across the Chicago River. A former industrial area, it is undergoing huge renovations. It is also the site for many of Chicago's hottest restaurants many of whom take up space in "restaurant row" on Randolph Street between Halsted and Ogden Avenue.
I had two days to myself before the official itinerary began and I had my list of places to eat and not surprisingly, many of them were located in West Loop so I found myself an Airbnb rental there and based myself in West Loop for the first two days.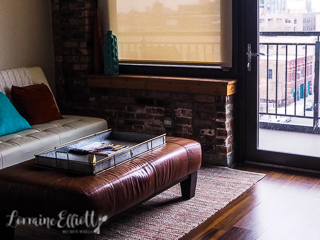 Roister
And that's how I ended up at Roister. Unable to get a reservation at chef Grant Achatz's Alinea or Next, Roister (meaning boisterous party) would do instead. To book a table you do so online and there's none of this phone call business. You leave a deposit of $5 to secure the table.
It's an unseasonably warm day today at 29C/84.2F (the previous week it was all mid teens) and the front doors are thrown open. The music throbs, the bass is loud but the playlist is bright and cute with tracks like Steal My Sunshine and dance versions of Lana del Rey songs. As I am dining alone they ask me if I would like a seat at the bar or at a table-I choose the latter for ease of photography as it's still bright out at 5:15pm.
There's a wine list but I don't dare tempt jetlag and worry that I may fall asleep at the table. The menu is really made for groups of four or more because a large part of the mains section is large platters with meats cooked in the 6-foot-tall, brick hearth. I go with the recommendations, rich as they are, balmy weather be damned because I just love luscious, fatty food so much.
It's then time to choose your weapons. There's a pouch of forks, knife and spoon and resting atop these lopped through a hoop is a pair of smooth wooden chopsticks. Service is delightful and accommodating.
The crab rice has two types of crab: blue and red and is served atop sushi rice with butter. There is a generous amount of crab on top and an unexpected hit of sweetness from the orange zest. They also use Pedro Ximinez to make their house made sushi vinegar for the sushi rice and the dish is finished off with some more of this.
And then comes the butt. The pork butt is a luscious, fatty cut, a cut usually used in pulled pork. It's cooked with a dark and stormy glaze (based on the dark rum and ginger beer cocktail) with freshly grated ginger on top and fried, chopped pecans to give the gelatinous, soft meat texture and zestiness. There's also cubes of bacon and red peas (more like red beans and slightly smaller than azuki beans). It's the sort of dish that I want to keep eating and eating because of those textures.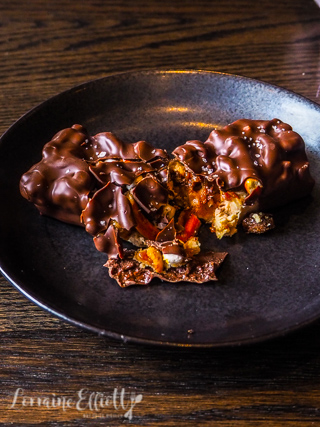 I mentioned a rich dessert. They don't get much richer than this. It's foie gras that has been given the liquid nitrogen treatment and it is served with pretzels and coated in dark chocolate, tiny dabs of marshmallow and salt. Although everyone raves about this, I wanted to like this more than I did. It was very salty and I wish the pretzels were crunchier as they hit my teeth with a dull thud.
Beatrix
If you're looking to eat light and lean which I was after the previous night's dinner, and to get rid of any jetlag, I head towards Beatrix, on W Fulton Market Street. The menu is a mix of freshly pressed juices and mostly salads with a chicken burger and fries that sells out quickly. Also make sure to take a peek at the pastry case with a pretty range of cakes, cookies and sweetie delights. For busy periods you may need a reservation especially for larger tables.
Despite my love of burgers, I decide to go for the Thai chopped salad as the weather is so balmy. There is the option to add a protein (chicken, beef with chimmichurri or ahi tuna) but I go with it as it is. It's a good size portion-not too large, not too small with a base of napa and savoy cabbages, asparagus, pickled fresno chillies which are satisfyingly hot as well as puffed brown rice to give it extra crunch and a sweet plum ginger dressing. This hits the spot perfectly and it is a wonderfully balanced salad that really doesn't need a protein unless you are feeling particularly hungry. The juice is also delicious although there is a lot of ice (they do love ice in America).
For an afternoon snack I buy a raspberry macaroon to take away. It's enormous and chewy delicious with a raspberry jam centre.
French Market
I take a walk around West Loop and head towards the French Market, a year round indoor market with over 30 vendors. Despite the name, it isn't entirely devoted to French food. In fact it seems to do its hardest to be as diverse as possible with everything from French to vegan, sushi, Italian, Korean, raw, tea, poke, Belgian, empanadas, meatballs, lobster rolls, kosher and crepes as well as fresh produce and cakes. I mostly browse shops as I'm still full from lunch and have an early dinner booking.
Girl and the Goat
One of the restaurants that is almost a given when visiting Chicago is Girl and the Goat and was one of the first notable restaurants to move into West Loop. The woman behind it Stephanie Izard who was the first female winner of Top Chef in 2008 also taking in fan favourite prize. Girl and the Goat is located on W Randolph Street aka restaurant row and bookings are hard to come by with many bookings weeks or months in advance.
But where there's a will there's a way and if you're willing to front up when the restaurant opens at 4:30pm you may be able to get a table. And that's what I do at 4:20pm and I'm not the only one. There's a whole crowd of people who are sitting in the waiting lounge area. The menu is interesting crossing all borders and pairing flavours that you wouldn't necessarily have seen before.
I'm a fast order because I already knew what I wanted to order (and it wasn't goat, despite the name and the almost half dozen goat dishes on the menu). It's the pork shank and lemon pound cake that everyone waxes lyrical about (I had also heard raves for the pig face too). I pair this with a half serve of cauliflower and a cocktail called The Ring of Fire with maestro​ dobel tequila, tarragon, pomegranate, jalapeno, lime and ginger.
Shortly after the pork shank comes out on a wooden board. The pork shank is not as almighty huge as the ones you tend to get in German beer houses but that's not a criticism, I mean it's more meant for one person. To the side are a buttermilk garlic and herb dressing and a hot sauce. There's also a warm naan bread and a fabulous grilled spring onion & radish kimchi salad. The pork itself is crispy on the outside but on the inside it's very tender and flavoursome and you could conceivably eat this by itself without the sauce but then again you'd be missing out on the extra kicks of flavour from the two sauces. I tear off some naan and shred the pork that prises apart easily and then The only change I'd make is more of that gorgeous salad to help balance the rich pork.
The roasted cauliflower salad is good as you do need some vegetables to go with the meat. It is paired with onions, pickled peppers, pine nuts and mint and it also goes really well with the hot sauce from the pork shank. I would have loved the pine nuts to be a bit crunchier to give it some more texture.
And then there's dessert and it's another no brainer as so many people online raved about the lemon cake. When the bartender sees how I've been unable to make a dent into the pork shank he asks if I would like a half serve of the cake which is really nice of them. I didn't realise that restaurants did half serves and I gratefully take him up on the offer. It's half an individual warm lemon pound cake with a scoop of sorrel ice cream, almond and oat crunch and a creamy, delectable cheesecake sauce. And it's just as good as everyone says that it balancing flavours and textures like a ballerina on a tightrope.
Au Cheval
The West Loop is also home to what many say is Chicago's best burger. Grab a seat in a cosy leather diner booth at Au Cheval and peruse the menu that shows you that this isn't an ordinary diner. Service is diner style friendly and welcoming (all employees get free health insurance here) but the menu details roasted marrow bones with beef cheek marmalade or foie gras, scrambled eggs and toast or crispy potato hash with duck heart gravy.
But I'm here for the burger (which is available from when they open at 10am). They explain that a single cheeseburger is actually two patties (oh America! :) ) and they recommend this over the double (three patties-oh America! :) ). I also order a root beer float as the root beer is on tap here and comes from Berghoff bar, an old skool downtown bar. It has a giant scoop of gorgeous malt vanilla gelato from Zarlengo. It's pretty much as good as it gets in terms of a root beer float although I don't know how anyone can down it along with a burger.
The burger itself is a thing of beauty. It comes on a toasted brioche bun with two medium rare patties, two thick slices of maple bacon, pickles, a mustard mayonnaise and melted cheese. There's also a dill pickle on the side. And oh my this is heavenly even without lettuce which I love on a burger. It's soft and every bite is a bit sweet, melting and juicy. Honestly nobody does burgers as well as they do in America. It comes without fries so I ordered some hand cut fries that come with garlic aioli. And just sit back and enjoy the easy, comfortable atmosphere.
Formento's
I also took another look at West Loop with Chicago Food Planet's food tour of the West Loop area. They have around 4 stops for each 3 hour tour and it's an easy walking pace centred around 3-4 blocks. They choose their stops based on award winning to iconic to Chicago or off the beaten track. Our guide is stand up comic Jennifer.
We meet at Nonna's and Formento's. Nonna's is the tiny take out place connected to the much larger Formento's that spans 8,000 square feet. Its founder is John Ross who named the restaurant after his grandma Lucille Formento who he remembers cooking enormous Sunday meals for the family.
We introduce ourselves and give our fondest, favourite food memory over our first taste of a large meatball which has a good spice and texture as well as sauce and parmesan on top. Jennifer tells us that the secret is that all of the ingredients ie the pork mince and the spices are all ground together instead of added separately and that the meatballs are roasted not fried.
Jennifer also explains that the West Loop was a popular neighbourhood because it was near the railroad tracks, lumber yards and the river. Now it is an upscale and desirable neighbourhood to live in. It is also said to be the only area that was immune to the recession (along with Beverly Hills) with rents for a one bedroom one bath around $1,700USD. She quips that it is a good place to eat good place to start a dog catching business $1,000 reward compared to $100 where she lives in Wicker Park. And an added bonus: it also smells like chocolate here thanks to the winds wafting from the nearby Blommer chocolate factory.
The West Loop is also home to some ghosts. In 1915 there was the S.S. Eastland ferry disaster which occurred just 10 feet from the shores of Lake Michigan. 844 people perished which was three times as many as the Great Chicago Fire. The Armory became a temporary morgue. This Armory would later become home to one of Chicago's most famous exports: Harpo studios which was of course Oprah's studio.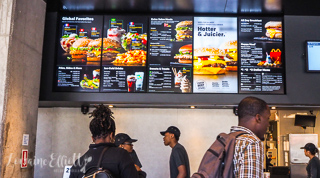 Jennifer tells us that Oprah made a rule that employees were not allowed to be in the office alone after 9pm as one of her show's producer's found herself meeting "The Grey lady" who spilled water on her keyboard. Now it is home to McDonald's international headquarters where the first or ground floor is dedicated to an International McDonalds with around 8-9 international food and drink selections. Items from Hong Kong, Brazil, Italy, Canada and Australia feature-our contributions are the loaded cheese and bacon fries on the main menu and the chai latte and flat white on the McCafe menu.
Bonci
Our second stop is Bonci, where chef Garbrila Bonci has set up his only location outside Rome. He wanted to test to see how popular Roman style pizza would be in a pizza obsessed town like Chicago. The menu changes often - what you may see on the morning may not be available later that day. It's extremely popular here too with staff cutting off pieces of pizza with scissors and selling it by weight like in Rome.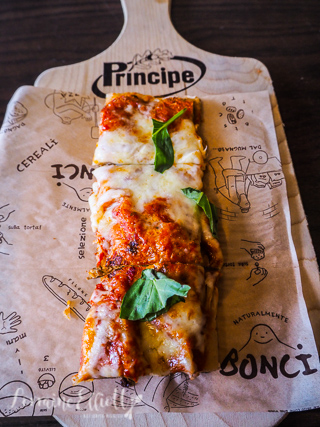 As part of the tour we try a Margarita which actually tastes very much like the pizzas we had in Rome's Campo de'Fiori which are thicker and puffier-something between a pizza and focaccia. The bases are nicely crispy. I go and buy a few others just to try them including a double layered pizza called a "sandwiche" with prosciutto on the base and then mushroom and parmigiana on top as well as a meatball pizza. But my favourite one is Crostino with sausage and leek.
Kuma's
Our third stop is a little bit heavy metal and a bit of a burger place. Their motto is: "Eat beef, bang your head and support your community". Kuma's is named after the owner's dog Kuma and they have boutique beers and sliders on offer. Every month they pick a charity where they donate $1 from sales of a certain beer to-this month it's guitars over guns.
We each get a Led Zeppelin, a beef patty with sweet pulled pork, melted cheddar, Applewood smoked bacon and pickles on a pretzel style bun. They offer this with glasses of their maple IPA.
Cemita Pueblo
Our last savoury stop is at Cemita Pueblo. Owner Tony Alvarez introduced the Cemita sandwich from Puebla, Mexico. It is similar to a torta and the history goes that after the French spent some time in Puebla they left French bread in Mexico.
They filled with toppings like steak, chicken or vegetables. We are trying a chicken cemita which is on a daily baked roll topped with sesame seeds. There are three sauces to go with it and they are spicy guacamole and two chilli salsas.
Do Rite Donuts
Our last stop is a sweet one at Do Rite Donuts Donuts and Chicken. It was started by Jeff Mahin an Francis Brennan who wanted to bring good quality donuts to Chicago. The donuts here are made using a dough with long fermentation so that it is slightly acidic. They also have vegan donuts and Dark Matter coffee for $1.
We each get a buttermilk old fashioned with our coffee (although truthfully the old fashioned is never my favourite kind of donut and I wish we could have chosen a donut). And after hearing that they are also known for their fried chicken donut burgers I have to order one too on a donut. The CBR has chicken, Tillamook cheddar, bacon & ranch mayo and for $1 you can get it on a donut. I've never actually tried one of these so I order one. I think I prefer my chicken on a regular bun but I'm glad I tried it!
So tell me Dear Reader, have you ever tried a fried chicken burger on a donut? And would you eat at 4:30pm to get a reservation at a place you really wanted to eat at? Which eatery did you like the look of the best?
All meals were independently paid for except for the ones with the Chicago Food Planet West Loop Tour. NQN visited Chicago as a guest of Choose Chicago but all opinions remain her own.
Roister
951 W Fulton Market, Chicago, IL 60607, USA
roisterrestaurant.com/
Beatrix
519 N Clark St, Chicago, IL 60654, USA
beatrixrestaurants.com/
Girl and The Goat
809 W Randolph St, Chicago, IL 60607, USA
girlandthegoat.com/
Au Cheval
800 W Randolph St, Chicago, IL 60607, USA
auchevalchicago.com/
Chicago Food Planet
chicagofoodplanet.com