Get off the beaten path and eat your way around some of Los Angeles' neighbourhoods from Koreatown, Thai Town to Little Armenia. Try Korean BBQ, fava bean felafel, a cheese borek and Thai desserts on this three hour tour!
Please note that this story was written before the start of the COVID19 pandemic but has been edited to show the restaurants that are still in operation. Urban Adventures' LA tour is not in their current rotation but you can still visit these businesses.
"I'd describe LA's cuisine as very diverse with a lot of variety. You can get anything you want," as if to prove that point our Urban Adventures tour guide Cheyenne (an actor) is taking us across a few neighbourhoods of Los Angeles, a little off the beaten path.
We start in Koreatown a 3 square miles stretch west of Downtown L.A. that was officially designated in 1999. The first wave of Korean migrants arrived in 1960. One man called Hi Duk Lee (often dubbed the "Mayor of Koreatown") opened Olympic Market. It was so successful he made enough money to open many businesses and encouraged other Korean immigrants to open their own businesses and take ownership of this area.
Laura and I are ready for our first bite of the tour. Ham Ji Park has been open for 14 years and is still family owned. It was one of the stops in Anthony Bourdain's Layover series. The restaurant's founder is a biologist from South Korea who takes a scientific approach to cooking dishes.
It is here that we feast on six types of banchan and a sweet and spicy pork rib that is deliciously smoky. The banchan are all very tasty, particularly the sweet and meaty textured burdock root.
Cheyenne points out Chapman market built in 1928. This Spanish style building was the area's first drive through grocery store.
Our next destination involves hopping on a bus. Cheyenne hands us all a tap card and we take the 10 minute ride to little Armenia designated in 2000. It is the second largest Armenian population outside Glendale. There were 3 major waves of immigration, the first fleeing persecution from the Ottoman Empire. Then came another wave in the 70s with the Iranian revolution, then the early 90s before the collapse of the Soviet Union where they gained independence.
Our first tasting is a Lebanese Armenian tasting. Cheyenne explains that there are two or three sects of Armenian food: Lebanese Armenian, Russian Armenian and Turkish Armenian.
Sasoun bakery opened in 1983 by owner David. He moved from Syria to Lebanon and started as a farm worker then progressed to becoming a baker. He now has six stores. It's a very simple looking bakery with a small menu of around half a dozen bread including Manoosh and Lahmajune.
We share a small cheese borek, still slightly warm and made with made with Cacigue cheese, Aleppo pepper onion, parsley and butter. It is utterly delicious and an inexpensive but tasty snack.
Although we are in little Armenia our next stop is for Thai food at Spicy BBQ. Nong and Kay were friends from Northern Thailand that moved here in 2010. Nong grows the vegetables for the restaurant. We are trying the Khao soi noodles.
These are perhaps some of the best Khao soi noodles I've eaten because a lot of Khao Soi in Thailand can be watered down because coconut milk can be expensive. This is sweet and creamy and utterly moreish and we wash this down with a sweet Thai milk tea.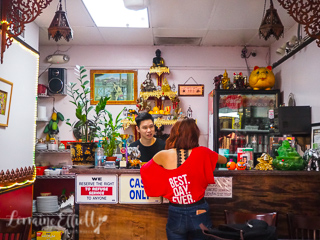 "Our next stop is quite a hike away," warns Cheyenne before psyching is out because next stop is next door at Felafel Arax. She really fooled us but then again she's an actor!
"That man is Tony and he's s precious gem," says Cheyenne. These falafels have been nationally acclaimed by a lot of press and these are made with fava bean rather than chickpeas.
The result of balls with excellent flavour, moist and lightly crunchy. "It has fried chicken vibes" says Laura crunching into a ball.
Next up is actually a 15 minute walk away which allows us time to digest all the food.
We follow Cheyenne and she shows us a mural that acknowledges the Armenian genocide. That has not been acknowledged by the Turkish or American governments. On the mural are flags of other countries that have also experienced genocide.
Our last stop is for dessert at Bhan Kanom Thai in Thai town. This was designated in 2000 and has approximately 80,000 Thai residents. There is a large Thai dessert selection and Cheyenne asks us to choose the crispy crêpe topped with either egg yolk or shrimp and coconut.
We try the shrimp and coconut one which is good because it has a nice balance of sweet and salty where as I find the egg yolk one very sweet. For good measure we also try the Pangchi taro cake with bits of corn in it which is nice and coconutty and not overly sweet.
She brings this around the corner to the Thai spirit house where she bids us a goodbye!
Cheyenne hands us a card with a discount code for any tour (in any country) and they also have a help line for if you are stuck and want a food recommendation, you can contact them and a person will respond with some recommendations.
So tell me Dear Reader, which stop did you think sounded the most interesting?
NQN was a guest of Discover LA but all opinions remain her own. She travelled to San Francisco and Los Angeles with United Airlines.
United Airlines
https://www.united.com/en/us
Urban Adventures LA
https://www.urbanadventures.com/destination/los-angeles-tours