The French Laundry restaurant by Chef Thomas Keller is as synonymous with Napa Valley as wine. The three Michelin star restaurant serves up French and Californian cuisine from a pretty little town called Yountville. So what is The French Laundry experience like and does it live up to expections?
First, there's no sign for The French Laundry. You just have to know it's there. The charming cottage made of river rock and timber is covered in a dizzying range of fresh roses in a variety of colours. It's only when you get to the front door nd see The French Laundry sign that you know you're there. The restaurant is housed in a historic building that dates back to the late 19th century. Originally, the building was constructed as a saloon, and it later served as a residence for French steam laundry operators, which is how the restaurant got its name.
My booking at The French Laundry is for 4pm. Which is a slight concern as the Bay Bridge traffic is showing my arrival after 4.30pm. But a call to the restaurant returns a friendly "No problem, thank you letting us know". I arrive, breathless (why? I didn't run I came by car) and they come out to help me with my luggage. I had all intentions to check into my hotel, get changed and then go there but I walk in in my decidedly unswanky travelling clothes.
Situated across the road is their 3 acre farm where they grow a lot of their produce; at the moment it is being re-tilled so there isn't much to see there currently and they have a range of local farms where they draw from for their produce.
There are two floors for the indoor portion of the restaurant, the bottom floor having several rooms. There is also an expansive outdoor area. This first came about during COVID but has become so popular it has remained. The room in shades of eggshell and ecru is abundant with fresh flowers courtesy of the gardening team. Perfectly ironed double tablecloths cover each table; these are adorned with a hurricane candle and vase of flowers. A flurry of suited waitstaff glide in and I'm shown to my table. Each chair has a slide out table for bags. I look up and see Chef Thomas Keller fist bumping a customer who rhapsodises about his meal. If this were a cartoon the customer would have love hearts or stars for eyes.
Service is lovely and it's less stuffy than one might expect. Some servers will deliver a course with a "How's it going?" and introduce themselves with a handshake. Folks are nicely dressed but I don't see any exaggerated extravagance. Which is a relief as I am wearing a dress with sneakers. I slide my feet under the table hiding them behind the tablecloth. Now I see why people like tablecloths so much.
There are three menus available: the tasting menu, the Tasting of Vegetables (vegetarian) menu and the evolution menu. They can cater for any dietary and are happy to given notice. The only dietary that cannot accommodate is kosher as that requires a dedicated kitchen.
They present the 168 page drinks menu on an iPad. The wines are mostly made up of domestic, French, Italian and Austrian wines as well as a few Australian and New Zealand wines. If you're on an expense account or celebrating there's a bottle of Domaine de la Romanee Conti for $2,000USD or Château Mouton-Rothschild for $3,125USD or guests can BYO at a cost of $200 for each 750ml bottle with a limit of one bottle for every two guests at the table. There are also reasonably priced bottles of wine and wines by the glass. The drinks menu ends with an 8 page Cigar menu including some aged cigars and pre embargo Cubans. The soundtrack is 80's and current day mix with songs like Bad Moon Rising, Once in a Lifetime, Miss You and As It Was by Harry Styles. I start my experience with a complimentary glass of Krug Grande Cuvée.
Smoked salmon Cornet
The meal starts with a savoury cornet with a layer of smoked salmon mousse topped with cream cheese cheese with an everything bagel seasoning on top. It's a delicious few bites with distinct layers of flavour and was inspired by a visit to Baskin Robbins.
Ritz Cracker
This is accompanied by a "fancy Ritz cracker", a thin cracker sandwich filled with feta cheese and Cabot clothbound cheddar. It's richly creamy and crisp and could definitely spoil you for any future Ritz crackers.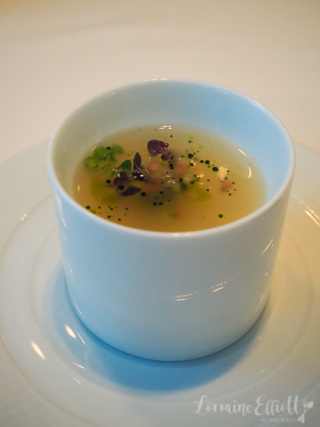 Tomato Water Consommé
The next course is a chilled tomato consommé with micro greens, tomato relish, tomato water gelee and tiny pieces of tomato and cucumber and fresh basil poured at the table. It has the flavour of fresh tomatoes with a finish of fresh basil.
"Oysters and Pearls"
Perhaps one of the most famous dishes is the Oysters and Pearls. It starts with a gelatinous base of "sabayon" pearl tapioca with shelled Island Creek oysters from Duxbury Massechussets and a Regiis Ova caviar, one of their own brands of caviar. Every spoonful is luxurious and creamy and a textural sensation.
Hen Egg Custard
"Can you guess what is this?" they ask. I panic, not knowing what to answer. "An egg? A golden egg?" I answer. They lift up the lid to reveal an egg custard that is steamed in the egg shell with a black truffle sauce. Protruding from it sits a thin, crisp potato chip with single chive. I eat the chip first as instructed and then dip my spoon into the ragout of Perigord truffles that blankets the egg custard. Holy heavens, the egg custard has an incredible texture that is incredibly creamy and coats the palette and the truffle sauce is intense. It's the best egg custard or chawanmushi I've ever eaten. This absolutely belongs in a golden egg for presentation.
Garden Lettuce Salad
Be sure to dig deep to get the creamy Brokaw avocado mousse at the bottom underneath the layer of little gem lettuce, cured radishes and mustard blossoms topped with salt and pepper tuille. It's dressed with a preserved Meyer lemon dressing. It's a crisp, fresh contrast to the rich custard.
Sautéed Fillet of Pacific Yellowtail
The next dish is sautéed yellowtail loin with yellowtail butter. My server explains that they use the rest of the loin trimmings to make the yellowtail butter mixed with dill. On the side is a dill lavash cracker sitting upright in an egg mousse and a Bantam hen egg terrine sandwich where a layer of yolk is sandwiched between egg white. A cucumber dill emulsion brings this all together and I particularly love the loin with the egg mousse.
Sweet Butter Poached Nova Scotia Lobster
Up next is the butter poached Nova Scotia lobster with roasted chanterelles with creamed arrowhead spinach and "sauce Vin Jeune" (a white wine made in the Jura region of France) with a lobster mitt spinach ravioli. The lobster is succulently textured and the sauce so light and foamy really showcasing the flavour of the yellow wine.
In the restaurant during lunch there are a couple of birthdays that are celebrated with a cake and sparklers and a round of happy birthday from the staff.
"Mac and Cheese"
The next course is an unforgettable truffle Mac and Cheese featuring hand cut macaroni by "The Supplant Company" with a black winter truffle mousseline, under a parmesan cheese disc crisp. On the side is a laminated brioche by sister bakery Bouchon bakery given its striated appearance thanks to bitter cocoa. The pasta is beautifully al dente and although I'm getting quite full my mouth is telling me that it wants it all.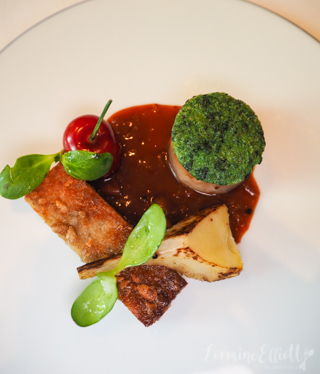 Quail Rillettes
This course doesn't appear on the menu but I'm so glad that I got to try it as it's another favourite course. The quail rillette is topped with a crust made of brioche with sunflower sprouts. On the side is a whole pitted sour cherry with the stem on and a barbecued artichoke and a poached cherry sunflower seed toast baton. The sour cherry sauce brings acidity to the quail perfectly.
Charcoal Grilled Japanese Wagyu
The main event is a beauty. Char-grilled Japanese Miyazaki Wagyu A5 grade. Bordelaise sauce. A Yukon gold potato stuffed with caramelised onion. Potato purée encircled with an onion ring. Triangle of house made merguez sausage. A single plump perfect morel. These are a few of my favourite things. This dish is all about textures starting with the almost indecent unctuousness of the wagyu. You pick your accompaniments for each bite: I loved the merguez with the caramelised onions while the pommes puree melts with the wagyu.
Gougère
To segue from the richer mains to dessert the next course is a pâte à choux gougère filled with cave aged Comté cheese on a bed of black truffle fondue covered in the finest iridescent gold dust. It's rich and intensely flavoured and I'm approaching complete satiety at this point.
"You saw me coming didn't you?" says the server smiling bearing a tray full of half a dozen culinary objets d'art. "I was hoping you were heading for me" I Iaugh. He sets down each course describing each dessert.
Field Grown Rhubarb Sorbet
I eat them in the order in which he describes them. The field grown rhubarb sorbet is paired with a Tahitian vanilla bean cremeux and whipped rhubarb and is tangy and refreshing but also creamy.
Aptos Farm Kiwi
When you take a spoon to this it is like you're cutting the lightest of desserts. It's a yogurt matcha panna cotta baton with basil coulis and Aptos Farm Kiwi fruit. If I were to describe a green tastes like it would be this dessert.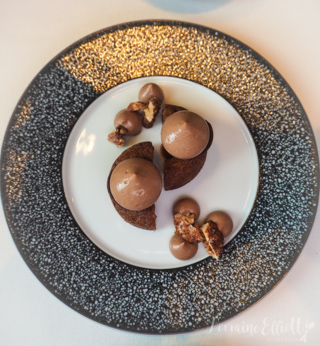 K&M Chocolate Mousse
The K&M chocolate mousse tops a brown butter financier with toasted candied pecan and is lovely and bittersweet. The chocolate is a collaboration between Chef Keller and partner Armando Mannia and uses extra virgin olive oil to give it a silky mouthfeel.
Cappuccino Semifreddo
But my favourite is the cappuccino semifreddo which they warn is not to be drunk from the cup lest it spill on your clothing. It's best savoured with a spoon and inhaling the divine warm speculoos spices.
Then I try the range of mignardises include light as air brioche cinnamon sugar donut holes, a lemon verbena macaron, a chocolate macadmia truffle with a whole macadamia inside and a mango and passion fruit soft caramel.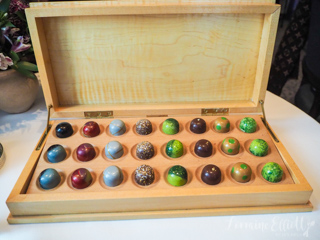 Last to come out is wooden box that holds eight glistening types of bonbons hand made by the pastry team.
"Please take as many as you would like," the server says presenting them with a flourish.
"Could I...have one of each?" I ask.
"Of course you can, and if you can't finish them I'll box them up for you," he says smiling.
I try the soba truffle which starts with a buckwheat short with honey and white chocolate. There's also peanut butter & jelly (made with Skippy peanut butter), hazelnut, S'more, mint, salted caramel, pistachio and olive oil using Armando Manni olive oil (who make the chocolate itself).
There's one last stop for every diner and that is a visit to the Kitchen. The kitchen sits in a modern addition to the building at a cost of $10million USD. Thomas is busy attending to something, he is a blur headed a different direction but Chef de Cuisine David Breeden is there and has been with Thomas for 25 years. They explain the different areas of the kitchen. There's also a live video feed of the chefs hard at work at Per Se, his New York restaurant with an inscription below. Both kitchens are connected by this live feed and they can watch each other.
They have my bags ready and hand me a lovely departing gift. In it is a book, a box of sugar cookies, a box of the chocolate truffles that I didn't finish (plus extras to make a complete box set), a bar of K+M chocolate, a bar of their version of a Snickers, a copy of the menu and a booklet detailing their suppliers. Does it live up to my high expectations? No. It surpasses them.
In the kitchen there's an inscription below the screen that reads:
"When you acknowledge as you must, that there is no such thing as perfect food.
Only the idea of it.
Then the real purpose of striving towards perfection becomes clear: to make people happy.
That is what cooking is all about."
So tell me Dear Reader, have you ever been to The French Laundry? What is a meal that has really impressed you? What do you think of the food here?
This meal was independently paid for.
The French Laundry
6640 Washington St, Yountville, CA 94599, United States
Open 7 days 4-8pm
https://www.thomaskeller.com/tfl