Lumaconi or large snail pasta shells are perfect for filling with all sorts of rich ragu goodness. Here pork ribs are slow cooked with a tomato based sauce until they fall off the bone. The meat then fills the shells with a saucy filling like little baskets of ragu-ey goodness!
Lumaconi means "large snail" although with the handles on them, they looked more like baskets to me. I should start taking note of where I buy pasta shapes because people often ask me where to buy them from and this shape makes ragu eating so much more pleasurable. I have a minor obsession with them and always buy any interesting shapes when I see them. I made this dish when I had some extra pork ribs in my freezer and we were pretty much exactly in the middle of winter and I needed to bury myself underneath a mountain of saucy ragu pasta. Note I said needed, not wanted. It was mandatory for my sanity ;)
My issue is that my Italian (menu Italian really) is really poor. I constantly mispell words and can never quite get the hang of the double letters vs single letters. And when I went back to the shop where I thought I bought it to ask if they still had any, I completely forgot the name of the pasta. "Luna...not that's moon I think, lina, lona...?" I said to the confused store assistant who wasn't sure what language I was speaking.
Garth recently told us about a friend of his who is Italian. We had all just had dinner together and he told us that his friend always thought that when people said goodbye to each and would tell each other to "take care," (which I guess is a pretty typical and affectionate Australian way to farewell your friends), he thought that they were saying, "take a car". He used to wonder what that meant, was he just meant to take a car from the street or from their home? Were they in fact offering the use of their car to get home? And it wasn't until he asked whether he could take a car that they explained the misunderstanding!
So tell me Dear Reader, do you find a particular language hard to spell or learn? Do you have a gift for languages? And have you ever seen this pasta shape?
DID YOU MAKE THIS RECIPE? Share your creations by tagging @notquitenigella on Instagram with the hashtag #notquitenigella
Lumaconi Pasta Stuffed with Slow Cooked Pork Rib Ragu
An Original Recipe by Lorraine Elliott
Preparation time: 20 minutes
Cooking time: 2 hours
Olive oil for frying
1 large onion, peeled and diced
1 large carrot, peeled and diced
1 stick celery, diced
3 cloves garlic, peeled and diced
500g/1.1lbs pork ribs
2x400g/14ozs tins diced tomatoes
1/2 cup tomato paste
1/2 cup white or red wine
3 bay leaves
500g/1.1lbs lumaconi pasta
Parmigiana cheese and basil to serve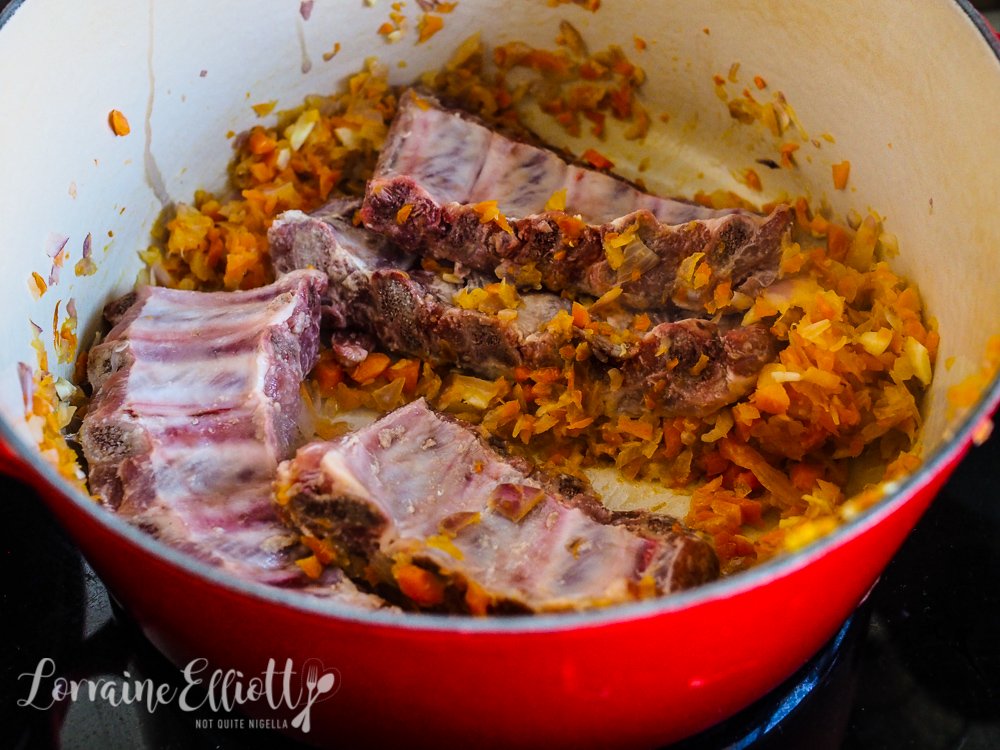 Step 1 - Heat some olive oil in a large cast iron pot on medium heat. Add the onion, carrot and celery and saute until soft. Add the garlic and fry for a minute. Then add the pork ribs (no need to cut them up unless you want to save on cooking time). Also add the tomatoes, tomato paste, wine and bay leaves. Bring to a boil, reduce heat and simmer for 1.5 hours with the lid on (alternatively, cook this in the pressure cooker for 25 minutes). Remove the ribs from the pot and with two forks, take the meat off and return the meat to the pot.
Step 2 - Put a very large pot of salted water to boil. Cook the pasta for 8 minutes until al dente. Drain and place in the pot-you may have to add the pasta in two lots. Gently turn it so that the ragu fills the cavities and sprinkle with cheese.