Want to sample one of Rome's most famous sauces (without getting on a plane?). This Pasta All'amatriciana or Amatriciana sauce recipe is simplicity at its finest. Made of just a few top quality ingredients, it's a wonderful dish to make for a weeknight dinner but is delicious enough to serve to guests too.
Amatriciana is one of Rome's classic 4 sauces. The four sauces are simple sauces based on combinations of the following: tomatoes, guanciale, pecorino and black pepper. The other two are Carbonara, Gricia (like amatriciana but without tomatoes) and Cacio e Pepe.
Bucatini vs spaghetti: Bucatini is the traditional pasta served in Rome. Spaghetti is the traditional pasta used in Amatrice.
Onion and garlic: in Amatrice, the sauce is simple-with just guanciale and San Marzano tomatoes seasoned with pecorino cheese. In Rome, they use onion and garlic in the sauce too. I haven't been to Amatrice but I have eaten it quite a bit in Rome and it's delicious so I went with the Roman version. But if you want to try it the traditional Amartician way you can simply omit the garlic and onion.
Guanciale: guanciale is cured pork jowl and is a deliciously fatty and flavoursome cured pork. If you're lucky enough to get some guanciale, pasta carbonara and Pasta All'amatriciana should be the first two things that you make. You can use speck in a pinch or even bacon but do try and get some guanciale because it is wonderful.
Italian food is one of my very favourite foods and especially during this whole COVID-19 situation I've found myself making Italian food a lot because of the comfort factor. Recently I had a disappointing Italian meal out. There was a lot of build up about this restaurant because there were some good names behind it.
When Laura and I arrived the staff were very friendly and we took a seat. Although tables were spaced there was a large table of diners behind Laura that cackled so loudly that it went through your core like lightning had struck your skull and travelled down your spine. Mercifully this group left after 45 minutes. They were replaced by a group of four men who strutted in like roosters. They were quizzing the waitress about the marble rating on the steaks. Their steak talk morphed into discussing dropping roofies in people's drinks. Laura and I looked at each other and communicated through our eyes that we had to leave.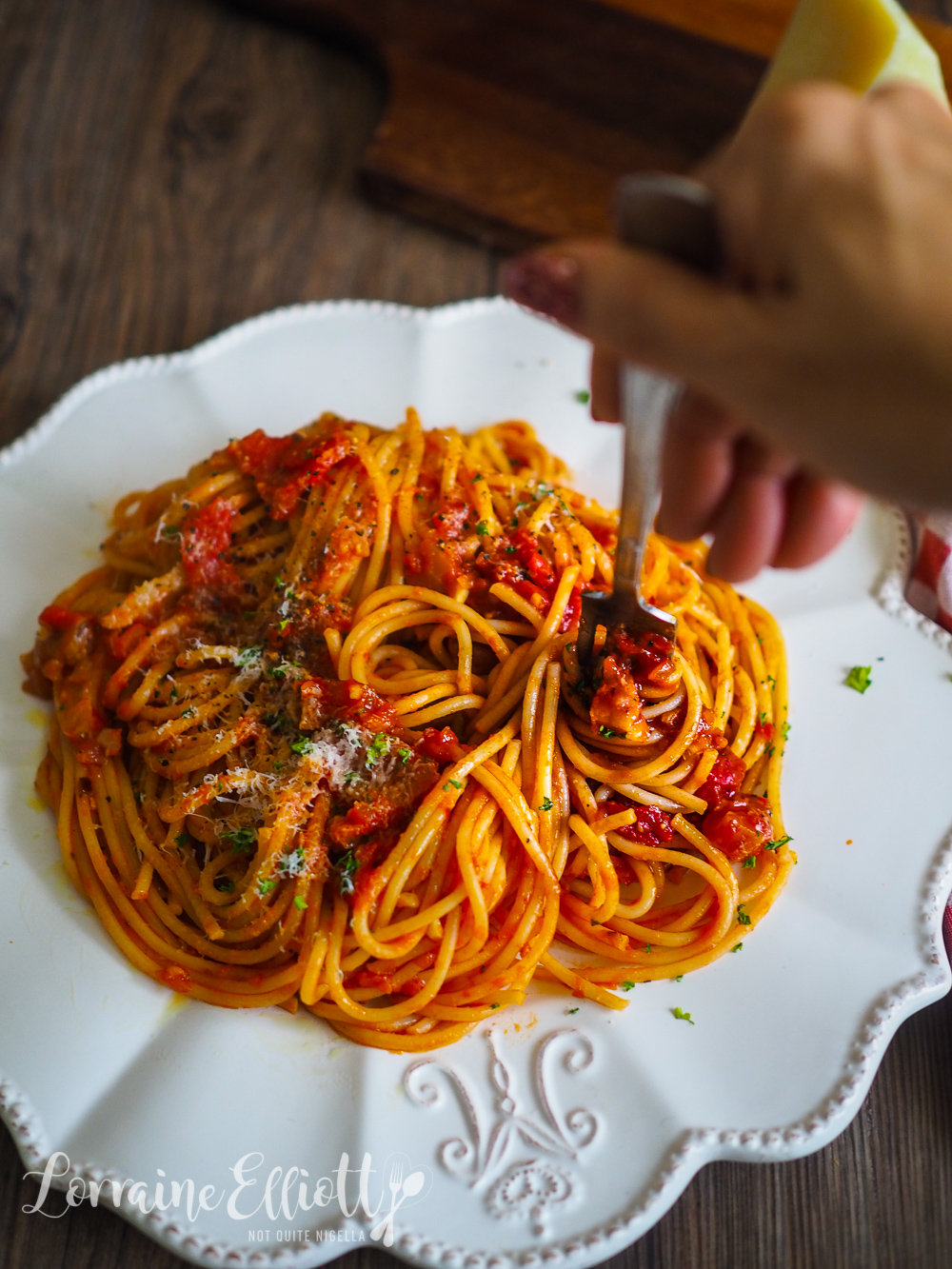 The food? Well it was disappointing and just plain bland. A vegetable gratin had uneven sized pieces or undercooked vegetables-not the comfort food we were looking for. The milanese had no flavour nor did its sauce and not wanting to spend another minute with the roofie guys next to us we cut our losses, paid the bill and fled without ordering dessert. I mean I would have much rathered a plate of this for dinner in front of the television at home. It was as though the universe was purposely saying "See, this is what happens when you dine out!".
So tell me Dear Reader, do you sometimes regret going out? How often do you feel like you could have made a better meal at home? And can you and your friends communicate with each other through a look?
DID YOU MAKE THIS RECIPE? Share your creations by tagging @notquitenigella on Instagram with the hashtag #notquitenigella
Amatriciana Pasta
Rated 5.0 out of 5 by 2 readers
An Original Recipe by Lorraine Elliott
Preparation time: 10 minutes
Cooking time: 30 minutes
Serves: 4
200g/7ozs. guanciale
1 onion, peeled and finely diced
3 cloves garlic, peeled and finely diced
400ml/14oz tin San Marzano tomatoes
2 tablespoons tomato paste
2 teaspoons red pepper flakes
500g/1.1lbs spaghetti or bucatini
Plenty of pecorino cheese
Salt and black pepper
Step 1 - Cut guanciale into small pieces using a very sharp knife (rind, fat and all). Heat a large frypan on low to medium heat and cook own the guanciale for around 8-10 minutes to render out the fat.
Step 2 - Add the onion and garlic and sauté on medium heat until the onions are translucent but not browned (if they start to brown, turn down the heat). It will take around 10 minutes to cook the onion slowly. Add the tomatoes, tomato paste and red pepper flakes and simmer for 8-10 minutes. Taste for seasoning.
Step 3 - While the sauce is simmering, start cooking the pasta in a large pot of salted, boiling water. Take the pasta out of the water with tongs and add to the pan and coat in the sauce. Serve with black pepper and pecorino cheese.