Strozzapreti is a pasta with quite a tale! Originating from the Emilia Romagna region of Italy it has a fascinating history tied to the priesthood. There's a reason why the name strozzapreti means "priest stranglers" (strozza means strangle and preti means priest). And in today's post we delve a bit into the history and how to make this delicious pasta accompanied by a divine prawn and tomato based sauce!
My friend Monica's eyes shine when she talks about strozzapreti. We first met years ago in a restaurant-she was sitting at another table and was a reader of the blog and came up to me. We got to talking, connected on social media and became friends through our mutual love of food, Liz Lemon, politics and a mutual understanding of buying random food to cook (she tells she has whole pig's head in her freezer and I understand completely why she had to buy it).
She explains the pasta, "Basically when Papal States took over Emilia Romagna the church confiscated meat, milk and eggs from farmers. So farmer ladies got pissed because they had to make pasta without eggs. So they named the pasta strozzapreti or priest strangers because they hoped the priest who came over for Sunday lunch would choke on them." Bottom line: do not mess with Italians and their pasta.
Cacio or Cheese the cat
Strozzapreti dough is as a result a very simple dough made of 00 flour and water rolled out by hand and then cut into strips. Monica rolls it out with her metre long pasta rolling pin. "This is exactly how a nonna would have done it," she says. The pasta is then twisted in between your palms in one deft move (deft being something that comes with practice). It cooks in 2 minutes and has the most incredibly wonderful, chewy texture to it.
Pepe or Pepper the cat
She shows me how to roll them. She takes one long strand and presses it against the base of her thumb on the palm. With the other hand and palm the noodle is rolled and then pinched when it reaches the pinky and she pinches off a piece. One long strand of pasta can makes 4-5 pieces of strozzapreti. The key is not to have too much flour on your hands otherwise the pasta won't roll properly and will just slide along your palms.
As for the sauce, Monica explains, "Strozzapreti are from Romagna which is the Eastern part of the Emilia Romagna region, much of which is on the Adriatic Sea, so lots of recipes from there feature seafood. Strozzapreti can also be made with traditional ragu but this recipe works so well for me because of the texture of the pasta and how it traps all the sauce in its little twists and the simple seafood sauce makes it feel lighter."
Monica is just like me- she's a notorious over server. She piles plates high with food and fills bowls until they almost overflow, apologising at the same time as smiling as the over abundance of serving. I take a bite mentally thinking I'll eat about half the bowl. The texture is incredible-a wonderful chewy al dente texture that is so satisfying yet begs for another piece.
And the flavour? It sings with the simple flavours of a fresh tomato sauce, prawns and seafood and a hint of basil and garlic. It's so moreish that before I know it I can see the scarlet flecked base of my once overflowing bowl and I'm taking a tub home with me to give to Mr NQN (but spoiler alert: I ate it all too!).
So tell me Dear Reader, have you ever tried strozzapreti pasta before? Are you an over server? And do you ever eat what you're meant to give or share with others? ;)
DID YOU MAKE THIS RECIPE? Share your creations by tagging @notquitenigella on Instagram with the hashtag #notquitenigella
Strozzapreti With Prawns
An Original Recipe by Monica Luppi
Preparation time: 60 minutes
Cooking time: 30 minutes
4 portions
Strozzapreti
400g/14ozs. 00 flour
250g/8.8ozs. hot but not boiling water
Monica's note: In Italy you would use mantis shrimp but prawns will work!
Step 1 - Put flour in bowl or shape into well shape on counter, add water slowly until incorporated. Once dough is ragged and all dry bits have been absorbed start working the dough for about 5 minutes until smooth. Let dough rest for at least ½ hour on counter wrapped in clingfilm.
Step 2 - Once ready work dough for another couple minutes and cut off 1/3 of the ball and roll out thin as if you were making tagliatelle. Cut into ½ inch strips and roll between your palms, pinching off into 3 inch pieces until you have worked through all the dough.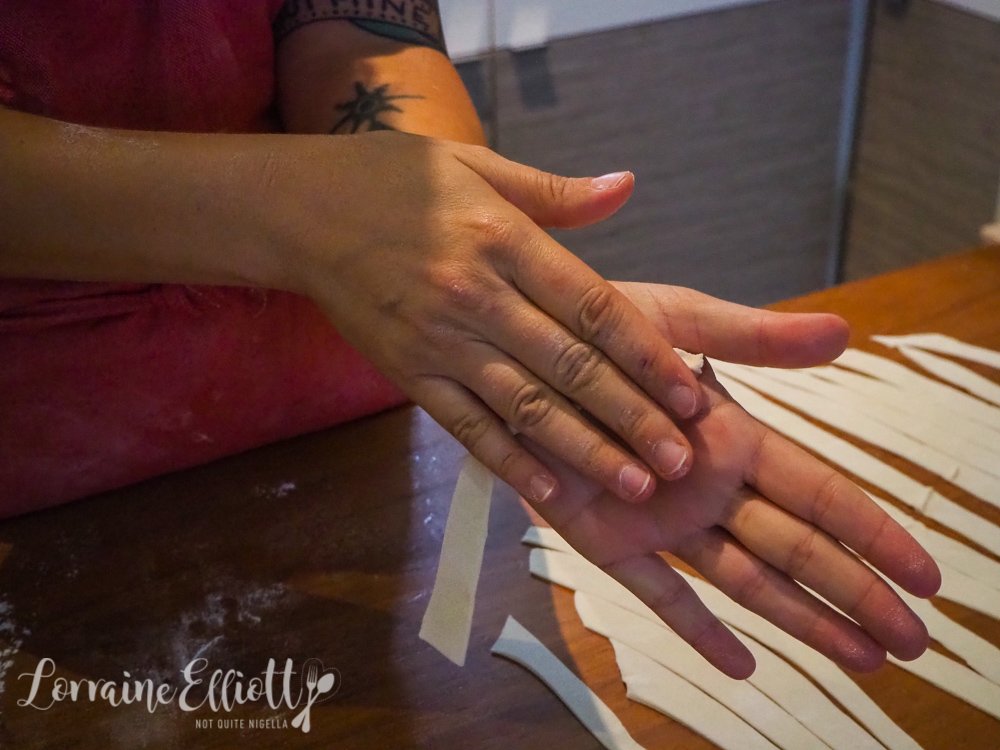 Step 3 - Dust strozzapreti with flour on a baking tray to keep them from sticking together. You can freeze them directly on the tray and then put them in a bag when they are frozen to eat any time. To cook add to pot of heavily salted boiling water for approximately 2 minutes.
Sauce
400g/14oz tin pelati (peeled) tomatoes, crushed
500g/1.1lbs fresh prawns
2/3 cloves garlic, roughly chopped
olive oil to taste
2-3 tablespoons crustacean butter (see recipe below)
4-5 whole leaves basil
Parsley to taste, finely chopped
Dried chilli
Salt
Step 4 - Put olive oil in pan on medium heat, throw in garlic until soft (do not let it brown) and then the prawns chopped into small chunks. Sautee prawns until almost cooked through then remove from pan. Add pelati, salt, chili and basil to pan, adding olive oil if you wish. Let it cook for about 30 minutes or until quite thickened and reduced.
Step 5 - When you've put your pasta in the boiling water add prawns and prawn butter to sauce and turn on medium heat again. Remove Basil leaves. Saute for 2 minutes and then add cooked pasta to pot. Add finely chopped parsley, Stir well, taste for salt and serve.
Crustacean butter
500g/1.1lbs Crustacean shells and heads (prawn or other)
150g/5ozs. room temperature butter
Monica's note: this can be scaled up but should not be scaled down. Can be made one day to one week ahead.
Step 6 - Put shells, heads and butter in electric mixer with beater attachment and beat on lowest setting for at least ten minutes. Cover bowl with tea towel to avoid flying prawn debris!
Step 7 - Once butter mixture is incorporated, put in small saucepan and heat on low for 15/20 minutes, never letting the butter come to a bubble. We don't want the milk solids to separate. Let prawn butter steep for an additional 15 minutes, then add 4 cups hot but not boiling water to pan. Place pan in fridge overnight as is. Butter will harden on top and water will have separated to the bottom, with most of the prawn shell bits. Scoop butter off the top and put into another pan.
Step 8 - Heat butter again for at least 10-15 minutes to remove any remaining water that may be mixed in. Do not bring to boil. Strain butter through muslin cloth to remove any remaining debris. Butter can now be kept in fridge for up to a week.