Dear Reader I cannot tell you how much people love this cheese and Vegemite pullapart bread. It's soft, it's cheesy and buttery with just the right amount of Vegemite. And if you're having people over for Australia Day or just having the day off, this is a great way to impress friends while requiring a modest amount of effort. And did I mention how glorious it looks?
The amount of Vegemite that you use in this bread is a topic for much debate and as such it is also completely up to you. I am a bit of a learner with Vegemite. Although I grew up in Australia I didn't grow up eating the salty, yeasty spread and as such I tend to use it to flavour stews or pies rather than on toast. But I know some people absolutely love the stuff and can slather it on. But the cheese? That's not optional. That's a mandatory if I can be so pushy (and yep this is a pushy recipe! ;)).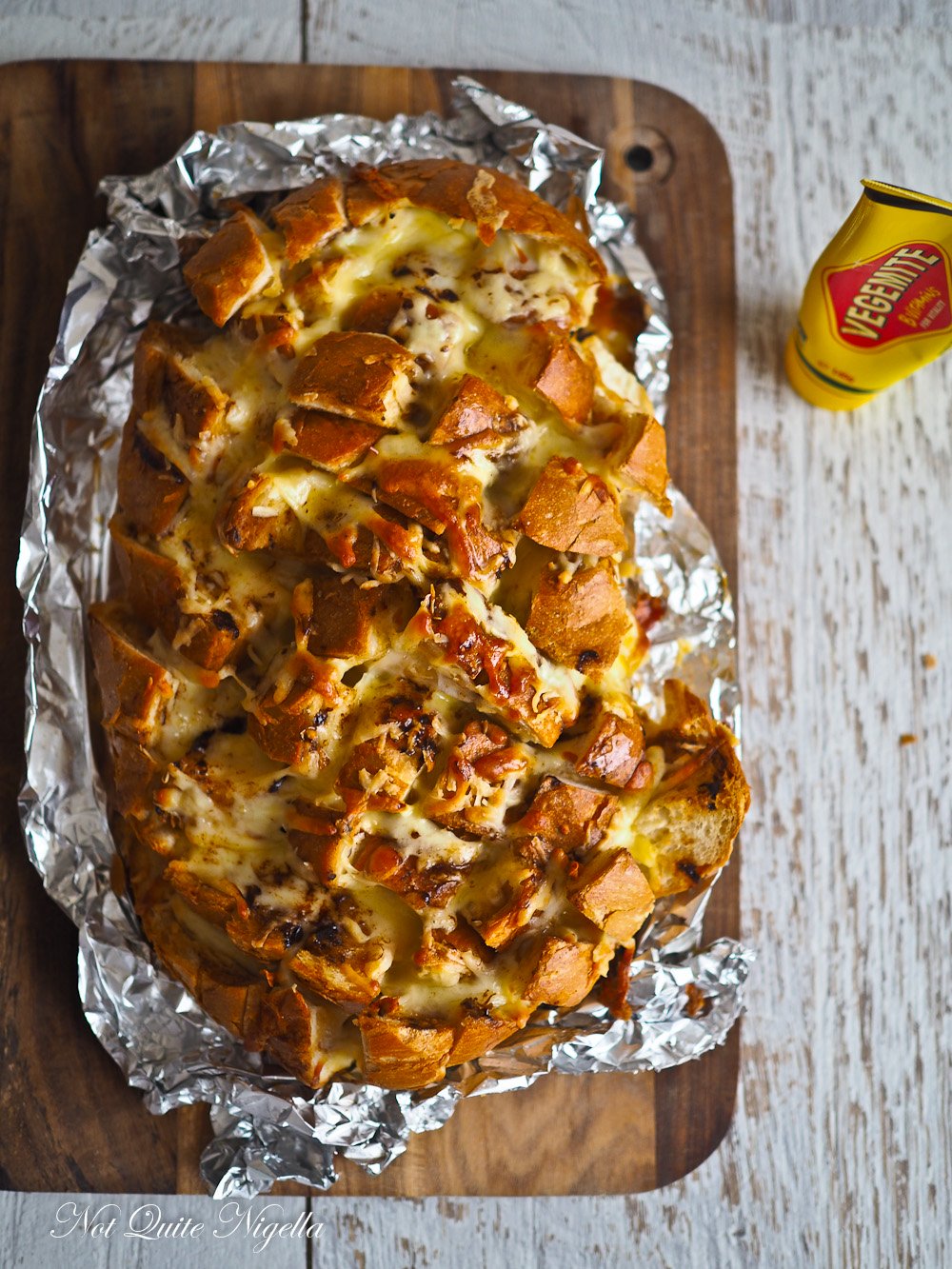 This cheese and Vegemite pullapart bread is extraordinarily versatile and the combination of flavours is endless. You can make it a garlic cheese bread and serve it with a salsa or a marinara sauce to dip the bread pieces in. Or you can also make this a sweet one too with cinnamon sugar, Nutella or honey cream cheese.
Mr NQN grew up eating Vegemite and he loves the stuff while I generally ignore it in the cupboard. My parents who made us speak to each other using English at home as we were growing up so we would assimilate easily, well they didn't ever have a jar of Vegemite in the cupboard. My dad actually calls it Wegemite (he sometimes pronounces his V's as W's). Hence pavlova is a pawlowa and you remember that Iced VoVo Pavlova I made last week? Well that's an Iced WoWo Pawlowa. Apart from that, my dad speaks with almost no accent. Except when it comes to national food icons it seems! ;)
So tell me Dear Reader, did you grow up eating Wegemite or Vegemite? Would you add more Vegemite to the mix, the same or less? And what do you plan to do this Australia Day? Are you taking the Friday off too?
How to make a cheese and Vegemite pullapart loaf!
DID YOU MAKE THIS RECIPE? Share your creations by tagging @notquitenigella on Instagram with the hashtag #notquitenigella
Easy Cheesy Vegemite Pullapart Loaf!
An Original Recipe by Lorraine Elliott
Degree of difficulty: very easy
Preparation time: 5-8 minutes
Cooking time: 30 minutes
1 loaf of bread (any shape really as long as it is whole and not sliced)
125g/4ozs. butter, softened
1 teaspoon of Vegemite (or however strong you like it)
2 cups grated cheese (I used a 50/50 mix of mozzarella and tasty cheese)
Step 1 - Preheat oven to 180C/350F. Cut the loaf of bread on the diagonal with a sharp bread knife making sure not to cut all the way to the bottom. Then cut the other way creating a diamond shaped pattern.
Step 2 - Mix the butter and Vegemite together until melded. Spread in the "cracks" of the cuts making sure to get into all those little crevices. Then place little clumps of grated cheese in the cracks. Wrap the loaf in foil and oil the top of the foil that touches the cheese on top. Bake for 15 minutes. Open foil up and bake for another 15 minutes. Serve immediately and people can help themselves to pieces.