This double cheese bread is something very special Dear Reader. It's simple to make and yet produces such an incredibly amazing bread you will find yourself craving this soft, spongey and crunchy delight. The texture is like a feta studded Turkish bread or focaccia bread topped with a crispy crunchy layer of cheddar cheese. This is definitely a pushy recipe Dear Reader!
I first tried this bread when I went to an event for the Monday Morning Cooking Club's new book "Now For Something Sweet". These four remarkable women Lisa Goldberg, Merelyn Frank Chalmers, Natanya Eskin and Jacqui Israel meet up every Monday to bake and make recipes to celebrate their Jewish heritage. All the proceeds from their cookbooks go towards a range of charities.
Lisa explains, "We got together as the MMCC when Natanya approached me in 2005 to join her in writing a cookbook for charity." They decided that they would go ahead, but only if they could collect and feature the best recipes from the best cooks in their Sydney Jewish community and then "Produce a world-class cookbook that could sit in Border's (yes, it was 2006) next to Neil Perry's latest," says Lisa.
This sisterhood from Sydney's Jewish community come from a range of backgrounds: Merelyn is from Perth, with Hungarian heritage. Jacqui is originally from Sydney's north shore with an English background. Lisa is from Melbourne, of Polish heritage while Natanya is from Sydney with Shanghai and Russian roots. Watching them at work you can see how they finish each other's sentences and how they anticipate each other's needs bringing tools and ingredients when the other needs it.
Merelyn says, "We often laugh out loud about how Jacqui and I are the middle children in our sisterhood, watching Lisa and Natanya passionately discuss/debate/argue over the merits of a recipe. Lisa is without a doubt our team leader and Natanya is ridiculously passionate about heirloom recipes and baking. I love the precision of well measured ingredients and take the time required to make all the components of a recipe exactly right. Jacqui loves organising us all, and as well as keeping all the paperwork ship shape in order, she is the best, most accurate lemon zester in town".
Frojalda is a bread made in the Jewish Turkish community. When Lisa took out a large tray of this still warm from the oven cheese bread, I knew it was going to be something special just based on the buttery cheese aroma. Then when she cut into it, the sound of the crunchy crust and the sight of the downy texture of the bread intrigued me even more. I took a piece, a corner piece, and sunk my teeth down on it. It was the most glorious combination of textures-the blistered crispy cheese on top and the soft, spongey buttery bread with tiny chunks of feta underneath.
When your bread already comes buttered!
When they offered me another slice I went against all my usual policies-I never ever go for seconds but I wanted more with desperation. I ate my second piece more slowly, relishing the crunch in my ears and the softness on my palate. Truly, if they had offered me a third piece I would have probably eaten that too I was so enamoured of it. I went home with a range of goodies including their new cookbook, "Now For Something Sweet" featuring mostly sweets in which this appears in their only savoury chapter.
That afternoon my sometime vegetarian friend Laura messaged me when she saw the bread on my Instagram stories. "OMG. I need this. If you make it, or do your own version, can I come and eat it from your oven?". "Haha yes. You know I rarely have seconds!" I responded. "You NEVER have seconds. That's why I have to have it!" she replied. She and I have eaten out so many times and she knows that to me eating seconds are verboten.
I had to eat this cheese bread again and I needed it soon. So one rainy Sunday afternoon, after checking about our COVID-19 statuses Laura came over and we stood 1.5 metres apart and I slid this hot cheese bread out of the oven. Mine was browner and more caramelised than the MMCC one but it had the tell-tale crispy crunch on the outside and a soft, spongey focaccia style bread underneath. We ate this crunching on the bread, forgetting the crazy world that we now live in and talking about everything under the sun. Thankful, so thankful that such a delicious thing as cheese bread exists.
So tell me Dear Reader, how often do you go for seconds? What is your comfort food? What is your cultural heritage and is there a book that you turn to for its recipes?
Frojalda Turkish Cheese Bread
Recipe adapted from Now For Something Sweet by the Monday Morning Cooking Club by Harper Collins. Originally from Jewish Soul Food: From Minsk to Marrakesh, More Than 100 Unforgettable Dishes Updated for Today's Kitchen by Janna Gur.
Preparation time: 10 minutes plus 2 hours resting time
Cooking time: 30 minutes
Serves around 12 or just me
500g (3⅓ cups/1 lb 2 oz) plain (all-purpose) flour
2 teaspoons active dried yeast
2 tablespoons chilli flakes
2 teaspoons garlic powder
500ml (2 cups/17 fl oz) warm water
300g (10½ oz) feta cheese, crumbled
150g (5⅓ oz) unsalted butter, melted
120g (4¼ oz) cheddar cheese, grated
Step 1 - You will need an extra large rectangular (preferably non-stick) roasting pan or deep tray around 40 x 30 cm or 16 x 12 inches. Combine the flour, yeast, chilli flakes, garlic powder and water in a large bowl and knead with your hands or using the dough hook in an electric mixer until a very soft (almost runny) dough is formed, about 5 minutes. Add the feta cheese and mix through the dough.
Step 2 - Pour half the melted butter into the roasting pan, add the dough into the pan and then flatten with your fingertips (if it springs back too much let it rest for 5 minutes) until it reaches the sides of the tray. Brush with the remaining butter, making sure the dough is covered with butter on all sides.
Step 3 - Cover with another roasting pan or deep tray, facing down (so the dough has room to rise), then cover with a towel and leave for 2 hours or until doubled in volume. Preheat the oven to 200°C (400°F/Gas 6). Sprinkle the grated cheddar cheese over the dough and bake for 25-30 minutes or until golden and crisp on the top and bottom. Allow to cool slightly then remove from the pan onto a board and cut into large squares to serve.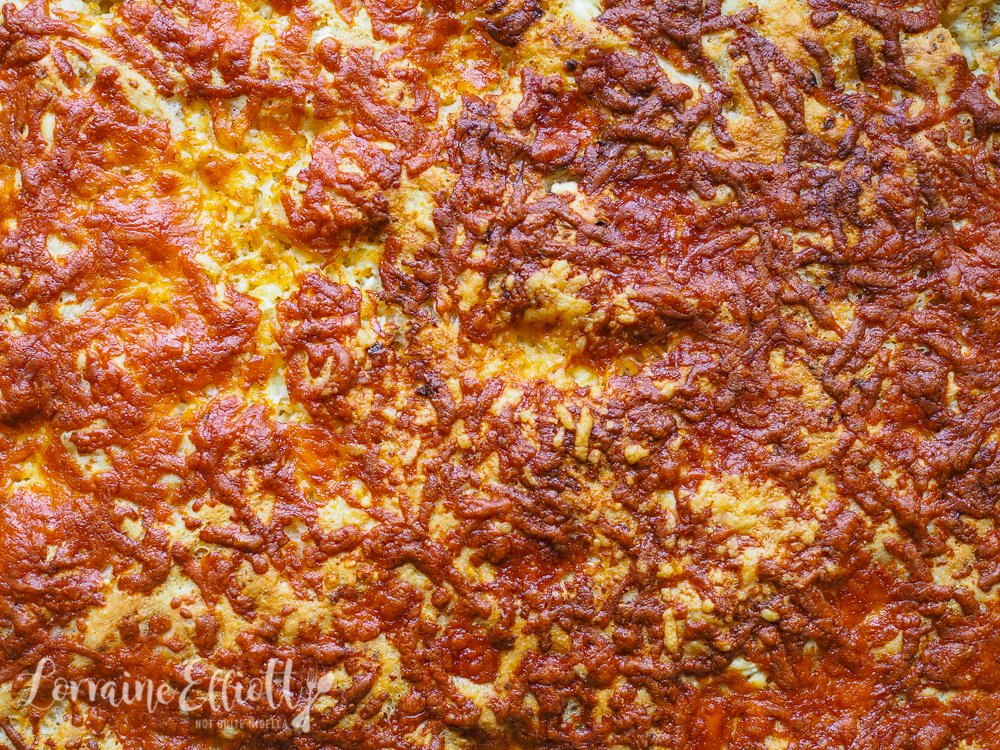 Note: this bread is best eaten warm. Store leftovers in the fridge for up to 3 days and reheat for 15 minutes at 180°C (350°F), or until sizzling.