This post is brought to you by Destination NSW.
It was a girl's weekend in Albury that saw my sometime vegetarian friend Laura and I eating our way across the picturesque border town of Albury. There was plenty of food, fireplaces, spa, leaf throwing and giggles as we discovered and rediscovered the fun in Albury.
"I've brought six bags of chips," I whisper to Laura on the flight from Sydney to Albury. Whenever we go away together it always features crazy moments involving food, some of it chip related in a candidly girly food fest. Little did we know, there would be absolutely no need for extra food during our long weekend there. With a population of over 50,000, Albury is a town with a large military population, something that we keep in mind for Laura who is single.
Breakfast at Early Bird Cafe
First things first: we are in need of food. Breakfast at Early Bird cafe is a busy affair as the cafe is clearly popular. It attracts a young, vibrant crowd and Laura and I say to each other that it feels like we are in the Inner West of Sydney.
Early Bird Breakfast Toastie $16.50
Although this isn't what you envisage when you think of a toastie (it's more a lightly toasted sandwich) and it seems to hold an obscene amount of iceberg lettuce, it is actually pretty fabulous despite our initial misgivings. With lots of local bacon, local Adele and Dale tomato chutney, vintage cheddar, mayo and greens we have been won over, even if it doesn't fit our image of a toastie. I think there's a lesson to be learnt there about being single and looking for someone outside your comfort zone but I refrain from saying that to Laura.
Chicken bagel $14.90
They have four different bagel fillings on their real, boiled bagels. Call us basic but both Laura and I adore a chicken sandwich. This is a rosemary poached free range chicken with avocado, cucumber, lemon pepper, mayonnaise and rocket. Next time I would ask for the bagel to be toasted but apart from that the filling is really tasty.
The big fat house made pork, apple and rosemary sausage roll $18
We order the sausage roll to take with us for a snack or lunch although we are at no risk of starving. It's a fat, tasty sausage roll that goes well with the tomato chutney. To the side is a salad and more bread (carb on carb is a thing in Albury).
Baklava French Toast $14.90
And for dessert the baklava French toast is made with large, thick, soft wedges of the white sourdough bread with a spiced honey syrup, a scoop of Greek yogurt and crushed, toasted nuts.
Lunch at The River Deck
Then we head towards The River Deck, a popular local lunch spot on the banks of the Murray River. Here chef Ludo Baulacky serves up modern Australian dishes in a chic dining room with both indoor and outdoor seating.
It's clearly a popular place as families with young kids sit outside and make use of the kiosk, large park and playground equipment while others sit in the restaurant. We spend time playing with the leaves and throwing them in the air and we feel like kids again.
Service is terrific - friendly and knowledgeable even with the first day of the new menu. We order drinks first starting with a Beechworth apple juice which is clean and crisp and a sticky wet chai tea (there are three types of chai on the menu-love!). The breakfast is an all day one with an excellent range of offerings from chia porridge, eggs benedict to a Thai congee. But we are more in the mood for lunch at this stage.
Snail Arancini 4 for $12
Snails in arancini? We had to try it because you don't often see them as an arancini filling. Laura is a bit hesitant because she hasn't had the best experience with snails but these crisp, golden balls are delicious and served with an excellent mayo. The snails actually don't have a strong flavour, they could actually be like mushroom if you didn't know and they're tender and not at all chewy.
Beef Cheek Pie $22 (right)
The beef cheek pie comes with a layer of house made butter puff pastry. The beef cheek chunks are soft and cooked with mushrooms, potatoes, carrots and a gravy that could be a bit thicker. Perhaps it is for the slices of toasted bread. It also comes with a fantastic house salad with salad leaves, Persian feta, avocado and a vinaigrette dressing.
Gnocchi $22.50
Holy heavens this gnocchi is ridiculous. Hand made gnocchi is a mainstay on the menu and they change it up depending on the seasons. This is paired with a foraged and local mushroom tomato ragout, herbs and a citrus gremolata and thick shavings of parmesan. This gnocchi takes me straight to the South of France (although we are in the depths of winter during our visit).
Warm Waffles de Liège $12
I adore liege waffles with their sweet caramelised sugar edge. This is served with caramelised banana, Gundowring ice cream, salted caramel popcorn and maple syrup. It's utterly delightful and for sweet tooths.
Beechworth Apples $12
The Beechworth apples are served in a layered verrine with white chocolate crumble, apple mousse and caramel cremeux. This is sweet, rich and intense and best for sharing. "I'm learning something new about you," says Laura, "If it's got caramel, you'll order it." She's quite right there.
Vanilla Slice $4.50
The reason why Laura and I get on so well is because we're the naughty kids in class that egg each other on to live our best lives. And to this end, when she sees a vanilla slice in the cake display she orders it. It's everything we want it to be. Creamy, thick custard, a pastry layer with a thick blanket of white feathered icing it's amazing how much of this we demolish (we had intended to take it to the hotel). "I'm going to lunge all the way to the car," Laura promises.
Stay At The Atura Hotel
It's time to check into our hotel, with luggage and bags of chips in tow. Our home is the Atura hotel on the main street of Albury. It's a colourful, funky hotel brand that is a sister brand to QT and Art Series Hotels that is based in outer suburbs of Sydney and regional areas. It attracts a young clientele.
Check in is smooth and there's a shop with everything you could want right at check out. There's also a bar downstairs and restaurant.
Lobby and check in area
They give Laura and I adjacent rooms. My room #308 has a view of the street and is well appointed with quirky touches. There's a mini bar, coffee machine, a very comfortable king sized bed with couch and table and chairs in the corner.
The bathroom is colourful and stocked with Malin and Goetz basics and there is a shower but no bath. Internet is fast and free for multiple devices. Some things are baffling-both bedside lights don't work in mine or Laura's room and neither does the phone when trying to call housekeeping or reception about said lights.
Try the Community Pizza Oven
Every second Sunday families gather at Hovell Park for a picnic and to have food cooked using the Community Wood Fire Oven sponsored by Albury Council. People can bring anything they want cooked in the oven be it breads, pizza, cakes or meat and the chef will cook it for you. We spy some frozen pizza boxes. Intrigued Laura and I look at each other thinking exactly the same thing: "Let's cook a pizza in the oven for dinner!".
This community oven has been an institution here in Albury for 12 years attracting around 100 people every weekend. The chef tells us that people bring a range of things from a tray of baby octopus to chickens. It is also a popular past time with Indian families who bring naan, roti and tandoori items to cook in the 400C oven.
Laura being adorable
There is a pizza shop just across the road but that is closed so we take a drive to Downtown pizza on the main street in Albury who sell us an uncooked Margarita pizza. We drive back just in time for us to have it cooked in the oven. And you know what? It's absolutely delicious. I wish we had something like this in Sydney suburbs, or even Centennial Park.
As we drive back to our hotel, I look left and see the sun cutting through the avenue of trees at the Albury Botanical Gardens. "Stop! We need photos!" and Laura pulls over and parks while I run off to catch the light. "Don't get run over!" she calls out.
It's the perfect spot for some selfie photos as the sunlight hits the trees and then disappears.
Breakfast at Cafe Musette
The next morning I can't wait to wake up for breakfast. We drive to Cafe Musette located just next to the majestic Albury City Railway building. This too is popular with a large outdoor section so there are cute dogs aplenty (I miss my little Mochi so much). Service is friendly but they let us know that there will be a 45 minute to 1 hour wait for our food.
Nourish Bowl $20 plus eggs $4 and avocado $4
We're tempted by the nourish bowl as we've been eating so much. It turns out to be a fortuitous decision. We've added avocado and poached eggs to ours and it also features coconut rice, tofu, pickled carrots, bean sprouts, pickled onion, kim chi and a divine miso dressing. It's actually one of the best nourish bowls I've eaten. I usually find them a tad punishing but this one has so much flavour. It does end up quite pricey for breakfast though once you add in the eggs and avocado (I would have assumed avocado would be included already).
Mascarpone Hotcake $16
And because life is all about balance, we follow this with a Tiramisu Hot Cake. It is one large, fluffy hot cake topped with squirts of vanilla mascarpone, coffee syrup and an absolutely delicious mocha crumble. Heaven.
Visit MAMA (Murray Art Museum Albury) and Lunch At Canvas
Our next stop is the MAMA aka the Murray Art Museum Albury for a browse of their exhibitions and a shop at the colourful gallery store. Entry is free and there are two floors with three current exhibitions including rotating exhibitions and local artists. We become quite fascinated by the close up body photos artfully draped and fallen on the walls. Laura whispers to me, "I think they dropped their art."
On the ground floor there is Canvas Eatery that looks out onto a lush green paddock dotted with large sculptures. On a sunny day it is the perfect place at which to perch and sip on an Aperol Spritz or Bloody Mary and order a pizza. We could have stayed there the whole afternoon just sipping and eating slices.
Badabing pizza $21 and Virgin Mary $6.50
We try the Badabing with San Marzano tomatoes, provolone, pork and fennel sausage, oregano, chilli and basil and it's crispy on the bottom with a good amount of topping. Not quite Napoletana style but still a solid offering.
Chocolate Chestnut Cake $14
Dessert is a soft centered chocolate chestnut cake with whisky caramel and a burnt butter ice cream that perfectly completes the meal.
Visit Corowa, The Little Town That Could!
Pulling on more layers for this afternoon's and evening's adventures we get dressed while Laura does my hair. We are headed out to a little drive to the town of Corowa about 45 minutes drive away. I put on my music and Laura raises an eyebrow, "I didn't know you were so angry," she says at my music choice of Foo Fighters' Monkey Wrench plays. "You know I have a dark side!" I tell her reminding her of my Halloween love.
Corowa has a population of around 5,000 but there are quite a few things to do here to cater for visitors.
We start with just the thing to warm us up: whisky and chocolate. At Corowa Whisky and Chocolate you can join one of their whisky tours at 10.30 and 2.30 daily. They'll show you the bespoke designed copper stills-the design was conceived after a 2014 research mission in Scotland where they visited 15 distilleries in 2 months.
Their first whisky will be released in September this year and one of the founders Dean explains how they're experimenting with different types of oaks-there's an experimental whisky ageing in a 20 year bourbon barrel that has had red wine in it. From the current tasting it has a candied flavour to it. The actual stills and the old malt barley grains were designed to make the whisky sweeter. The barrels are located above the cafe with cold nights and warm days.
The building is also a popular spot for weddings. Dean bought the property for the mere sum of $1 in 2010. While that might seem like a bargain they've poured in so much time and money that he says, "They should have paid us to take it."
Even if whisky isn't your thing, there's always chocolate. And if you head towards their chocolate shop you can make your own giant milk chocolate freckle. You don't need to book for this, it takes a minute and you can do it at any time of the day. The single freckle is $5 but for $10 you get the freckle, a non alcoholic drink of your choice in the cafe and some chocolate tastings.
Rocky road muffin $5 Hedgehog slice coconut bar $4
We follow the friendly lady into the freckle room where we pour molten chocolate onto a plastic plate and then shake hundreds and thousands over it. She tells us to come back in 10 minutes once it has set so we go and order drinks at the adjoining cafe. The Turkish delight hot chocolate is wonderful and tastes exactly like rose flavoured Turkish delight. The house made ginger beer is also fantastic as it isn't overly sweet but perfectly gingery. The muffin and chocolate bar are fine but the drinks are the pick.
Our next stop is also in Corowa. Circa 1936 is a art deco style boutique hotel, named after the year it was first built. When Ririn and Kevin Yaxley purchased it in 2013, it was an 80 year old, vacant and derelict former bank building. There are just three suites here (alas they were booked out when we tried to stay here). They are also known for their day spa which is said to be one of the best.
Laura and I are both booked in for facials-a Circa facial for her and a stem cell facial for me. It's a beautiful space with swirling bamboo fans overhead and we relax straight away. They bring us rooibos chai tea and a hand towel and start with feet washing. My therapist Indi guides me to the warmed massage bed and tucks me in. The facial is so relaxing that I doze in and out and when she chimes the bell afterwards I just don't want to get out of my cocoon. But then food beckons.
Circa's restaurant is also the lobby area. The bank vault now holds the hotel restaurant's wine collection where diners can select the wines that they would like to eat with dinner.
Turkish Bread
Theirs is an unusual proposition: 10 course tapas sized dinner for $69 a person. It starts with a course of Turkish bread with dukkah, olive oil and tzatzki.
Smoked salmon prawn cracker
The smoked salmon is curled up on a prawn cracker with a square of cream cheese, caviar and a nut free dukkah with wasabi mayonnaise. It's Laura's favourite course of the night.
Turkish bread with horseradish sauce and smoked duck breast
There are quite a few dishes with Turkish bread. This course is a slice of bread with horseradish sauce, a slice of smoked duck breast from Wagga, orange reduction with balsamic, crushed pistachios and coriander. There's a lot of flavours going on here the orange and horseradish being the most predominant and it's perhaps too many.
Lemongrass chicken lollipop
The lemongrass chicken lollipop is juicy and comes with pickled carrot, coconut flakes and aside of sweet chilli minted yogurt. It doesn't really need the yogurt as the chicken is well flavoured on its own.
Kevin Yaxley, the owner of Circa 1936 Kevin brings around his 5 year old daughter Bella around to say goodnight to all the guests. We admire her unicorn boots and Laura covets a pair.
Chicken yakitori
The next course is also on sticks-it's chicken yakitori marinated in rice wine and mirin and topped with pickled mango and lots of sweet yakitori sauce. We both eat all of this, the sweet sauce irresistible.
Medjool date
The next course is an unusual one that works. It is a hot medjool date served with melting blue cheese and wrapped in bresaola with chilli honey. I actually really like this, even without the bresaola. Laura quips, "This is the hottest date I have had in a long time!"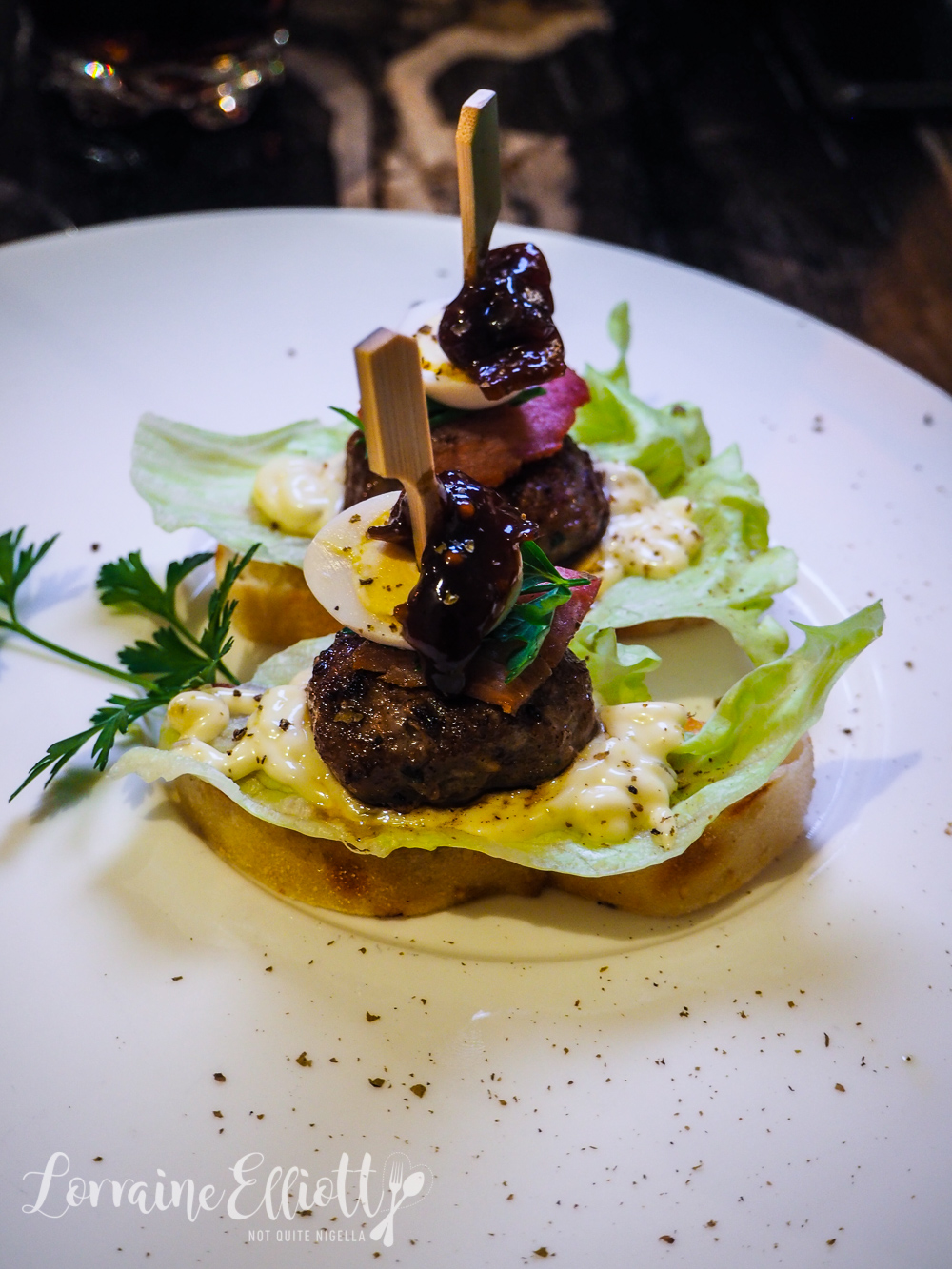 Bambi burger
Dubbed the "Bambi burger" this is a venison croquette served atop a piece of iceberg lettuce, jalapeno mayonnaise with turkey bacon, quail egg and caramelised onion. Again there is a lot going on in a small mouthful and this was very awkward to eat as we only had small triangular shaped plates. I feel it would have been better with the venison meatball off the Turkish bread.
Scallop with chickpeas
Our last savoury course is an individual bowl of perfectly cooked scallops with a chickpea and coriander puree. There's also some dehydrated orange and soy beans. It doesn't really need the orange but the scallops and the sauce are delicious.
Meringue mountain
There is a choice of three desserts and they are enormous specimens. Laura is smitten with the meringue mountain with a nice touch of ginger, with whipped cream and fruit.
Spiced date pudding
I'm more interested in the spiced steamed date pudding with a butterscotch sauce and cream. It's light and spongey and perfect for this cold evening.
We retire to sit in front of the fireplace to have our cheeses. There's Edam, spiced Gouda, Camembert and apricot and almond cheese with rice crackers, apricot jam and a brandy fig with a real boozy kick to it. It is with great reluctance that we take our massaged, whisky, chocolate and dessert filled bodies back to Sydney. Sigh...
So tell me Dear Reader, do you often do a girls or boys weekend away? Have you ever been to Albury? And what do you think of the community oven idea? Would you use one if you had one locally?
NQN and Laura were guests of Destination NSW but all opinions remain her own.
Early Bird
1/553 Dean St, Albury NSW 2640 Monday to Friday 7am–2:30pm (Wednesday closed) Saturday 7am–1:30pm
Sunday 7am–1:30pm
Phone: 0451 674 053
The River Deck
48 Noreuil Parade, South Albury NSW 2640
Open 7 days 8am–4pm
Friday and Saturday 5:30–8:30pm
riverdeckcafe.com.au
Atura Albury
648 Dean St, Albury NSW 2640
Phone: (02) 6021 5366
Cafe Musette
2/480 Young St, Albury NSW 2640
Open 7 days 7am–3pm
cafemusette.com.au
Phone: (02) 6021 5288
MAMA and Canvas
546 Dean St, Albury NSW 2640
Phone: (02) 6043 5800
mamalbury.com.au/
Corowa Whisky & Chocolate
20-24 Steel St, Corowa NSW 2646
Open 7 days 9am–4pm
Phone: (02) 6033 1311
corowawhisky.com.au/
Circa 1936
145 Sanger St, Corowa NSW 2646
Phone: (02) 6033 5371
bycirca.com/