It's a three day road trip exploring the border towns along the Murray River starting in Albury to Corowa and Moama exploring all that the Murray region has to offer. There are fantastic Italian restaurants, a chance to pilot a plane, sleep in a yurt and glamp in style as well as paddle steam our way down the Murray River to a winery lunch!
This is a 3 day itinerary that will make you want to pack your bags and go. There are some absolute gems in the Murray region for both New South Wales and Victoria residents. Border towns between NSW and Victoria were hit badly during COVID-19 and many establishments shuttered for months while their Victorian customers were in isolation.
Day 1 1pm: Lunch At Norma Pasta and Bar, Albury
Walk into Norma Pasta and Bar and it feels like it would be at home at any cool suburb. The former convenience store and residence has been transformed with white washed walls, a spacious open kitchen and feature tiling.
Whilst it may look familiar, the story behind Norma Pasta and Wine Bar isn't your typical one. For starters the chefs are all young with a non traditional career path. Owner Matt Carrington mentors and trains young staff on the job. Today our chefs Ethan Ryan and Ben Pedler are just 18 without any formal chef training having learnt everything at Carrington's other restaurant Hapi. Between them they turn out a great menu of hits.
Dressed Cos Lettuce $5, Polenta Chips $12
The wine list also has all wines available by the glass. Dishes are designed to be shared and they do come out individually. Customers fill out the menu on the table and take it to the bar and they deliver the food to your table. The polenta fries are a must order - one of the best we've had with rosemary salt and a dreamy oregano mayo.
Creamed Salted Cod $15
There's also creamed, salted cod and house dill pickles and tiny toasties (the pickles are so good I want to buy some).
Eggplant Meatballs $15
Eggplant meatballs with sugo are tasty, crunchy and flavoursome while the butter broth mussels with sourdough are remarkably tender. Or of course go for the pasta of which there are four house made varieties.
Butter Broth Mussels $15
The sweet list is short - there's lemon sorbet or a pitch perfect Jen's Tiramisu. Split that between two with a cup of stove top coffee for your onward journey.
Tiramisu $10, Stove Top Coffee $5
Norma Wine + Pasta, 500 Guinea Street, Albury M: 0404 917 953 https://www.normawineandpasta.com/
Day 1 4pm: Check Into Circa 1936, Corowa (45 min drive)
Our accommodation for the night is in the town of Corowa, which is a 40 minute drive from Albury. Corowa is known for being one of the places that was pivotal in the federation of Australia. Prior to 1901 it was a collection of 6 British colonies—New South Wales, Victoria, Queensland, South Australia, Western Australia and Tasmania.
After federation they all united to become the commonwealth of Australia. Becoming a commonwealth was important to border towns like Corowa because they would often live under two sets of rules from each state. Corowa became instrumental in the federation process and was the site for federation meetings and speeches.
Although a small town with a population just over 5,000, our accommodation is a grand Art Deco hotel in a former Rural Bank of NSW. Jen and John West bought the three suite hotel from the former owners (who still own and operate the Circa 1936 in Albury). They were former guests and made a lifestyle change from Sydney to Corowa. It is also their first venture in hospitality. Jen offers us a welcome drink and we sip gin and tonics and nibble on olives and warm up next to the fireplace.
The Wests took over in January 2021 and for now are concentrating on the hotel so the spa and restaurant are closed for the time being. Each suite is decorated differently although the decor echoes the Art Deco black and white theme.
We are staying in the West Suite, the only suite with a balcony and the hotel's largest suite. There is a roomy, firm king bed and a fireplace in the main room.
Slide open the wooden door to reveal the 20 square metre marble bathroom and balcony with a generously proportioned bathtub and separate shower with full sized Hunter Lab toiletries.
Heated floors also provide warmth during chilly nights and mornings. French doors open to look out onto the main road of Corowa.
The stay includes a nightcap of your choosing (fresh strawberries and Rutherglen sticky or herbal tea), wifi, Netflix, breakfast and mini bar including wine, soft drinks, chocolate and chips.
The Continental breakfast includes fruit salad, granola, yogurt and berries as well as a selection of pastries including fruit toast, an almond croissant and locally made jams and honey.
Circa 1936 Corowa. 145 Sanger Street Corowa NSW 2640 T: (02) 6082 9476 https://www.circahotels.com/circa-1936
Day 1 7pm: Dinner At D'Amico's, Corowa
The place to head for for dinner in Corowa is D'Amico's on the main street of Corowa. The restaurant is so popular that each night is usually fully booked and you have to reserve ahead of time.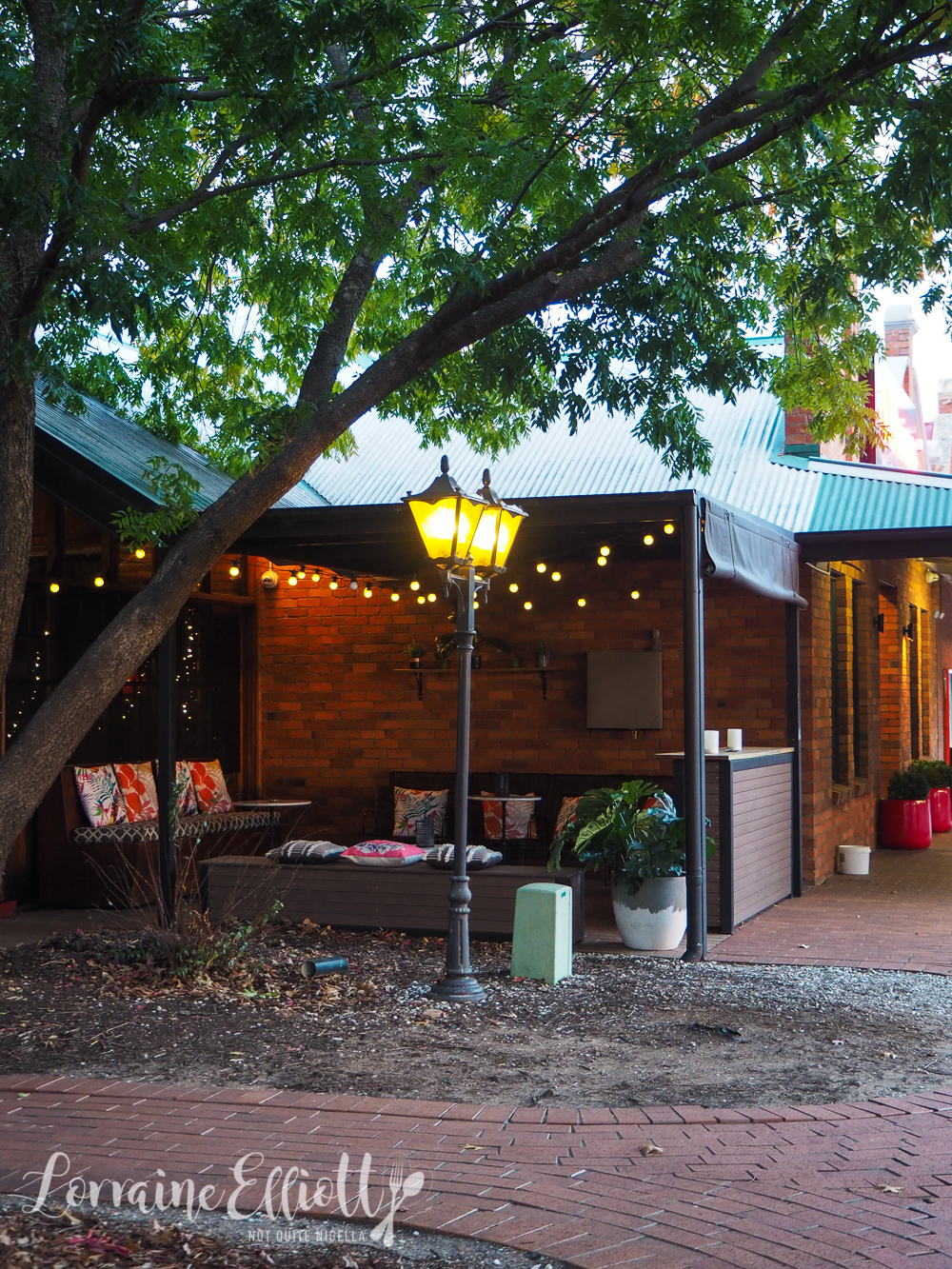 The D'Amico family run restaurant in Corowa has been open for 23 years while the original D'Amico's in Wangaratta for 36 years. Leesa D'Amico is welcoming and has hospitality running through her veins.
D'Amico's is about warm service but also delicious, hearty Italian fare with a menu that tends more towards the classics (except their gourmet pizzas, which have some interesting topping combos).
Fried olives $8
Start with crumbed and deep fried olives and a glass of wine and then segue onto more substantial things. The seafood crepe has been going for 36 years and customers won't allow them to take it off. Pair this with a crisp, refreshing beetroot, rocket and orange salad.
Seafood Crepe $17
Ricotta and Parmesan Dumplings with lamb ragu $22
Another must have is the slow cooked lamb ragu on parmesan and ricotta dumplings. These melt in the mouth and will have you scraping the bowl for more. Leesa's husband Glen runs the kitchen and the food comes out in a timely manner.
Beef scallopini $32.50
Another best seller is the beef scallopini. It's their version of the classic dish but theirs is rib eye instead of veal with a mushroom cream sauce and ham as well as potato gratin, sauteed cabbage, capsicum and broccoli. It's ridiculously moreish especially one a chilly winter's night. And dessert wise the special of the apple and pear crumble with lemon curd semifreddo hits the spot.
D'Amicos Italian Restaurant and Pizzeria 237 Sanger Street, Corowa, 2646 T: (02) 6033 0666 https://damicositalianrestaurant.com.au/
Day 2 11:30am: Pilot A Plane At Corowa Recreational Flying School
Corowa Recreational Flying School owner Steve McIntosh first got into flying planes when his wife forgot to buy him a birthday present. She rushed out to buy him a gift certificate for a flight and a lifelong obsession with flying planes was borne. And the irony of many people being gifted these as presents isn't lost on him. Mr NQN in particular is very excited to try his hand at piloting a plane.
Steve offers a mix of flight instruction and recreational flights. Some people want to get their hours up to become recreational pilots while others are curious about what it is like to cruise high above in the skies. "Flying a plane is like driving a car," Steve says who has been teaching it for 12 years.
Piloting your own plane is surprisingly well priced - one hour where Steve will take you over where you want is $220 and you can be as participatory as you want. You steer using the pedals at your feet and you can help take off and land (all under supervision). He takes me over the Murray River and I'm surprised at the curving waterways of this long river.
We fly over farms growing wheat, corn and grapes. Cows and goats look like tiny fluffs of cotton or beetles. He knows about the geography and history and peppers the magnificent views with anecdotes and points out various sites of interest. When Mr NQN goes up for his flight he comes back, eyes shining in excitement and he can't stop talking about it.
Corowa Recreational Flying Corowa Airport, Redlands Road, Corowa NSW 2646 M: 0429 328 053 http://corowaflying.com.au/
Day 2 4pm: Check In at Perricoota Station (3 hours drive)
Take the three hour drive from Corowa to Perricoota to arrive around 4pm at Perricoota Station. It's a very popular wedding venue with accommodation on site. The Murray River runs by it and at times you can hear boats going past.
Our room is the Valencia Suite, the main bridal suite of The Quarters' 6 rooms (there is also a separate 5 bedroom house to rent). This homestead and surrounding buildings were built in the 1860's and it is mostly booked as a whole for weddings, events and family birthdays.
It's very much self contained and we were given a gate code and room code and didn't meet anyone in person so if you're looking for a rural retreat where you don't really have to see a soul this is perfect.
The Valencia Bridal is a beautiful suite with a comfortable king bed with exposed and painted brick and copper finishes. There is a microwave and plates and cutlery so you can eat in the room. Although the fridge doesn't have a mini bar there is tea and coffee and nearest shops are around half an hour's drive so you are best to bring supplies with you.
There's a tv with Netflix and prime although you'll need your own account and wifi is fast and free for unlimited devices.
The bathroom is a feature here and it is expansive with a free standing tub, double sinks and a separate shower with two adjacent shower heads. We also love the environmental and community friendly touches. There are no plastic bottles provided and all of the water in the accommodation is from town water that has gone through filtration.
The bathroom amenities are Wallawa ecostick products that come in little paper based pouches rather than plastic bottles and take a fraction of the time to decompose than plastic. And sales from Wallawa products are channelled to helping indigenous communities. The bath is wonderfully relaxing and we soak away the stiff joints of the drive before getting ready for dinner.
Perricoota Station Perricoota State Forest Road, Moama NSW 2731 M: 0418 253 764 https://perricootastation.com.au/
Day 2 7pm: Dinner at Junction At Moama
The Junction at Moama is a gorgeously outfitted restaurant famous for its gilded birdcage which is the best place to warm your hands at when you first arrive.
The restaurant is located in the Moama Bowling Club so we sign in and walk past the bistro and pokies to Junction, the furthest restaurant within. It's a outfitted with repurposed bricks, packing crates and verandah poles with polished tile tables, murals and finished joinery.
When Life Gives You Yuzu $20, Peachy Keen Mocktail $10
We start with cocktails, a When Life Gives You Yuzu with Ketel One vodka, Yuzu liqueur, lemon, cinnamon, coriander and sparkling which is fantastic and a Peachy Keen mocktail with Seedlip Grove, Monin peach, lemon, apricot jam (although this could be more peachy).
There is a 3 course option for $65 which isn't a bad option considering mains are around $40 or you can go a la carte and choose your own options. Whatever you do, the pork belly is a must order with a slice of pork belly cooked so that all the fat is rendered and melting with a side of sauerkraut and a date and walnut sauce with shaved fennel salad.
Mains wise I adored the Murray River cod (such an obvious choice, given the location right by the river). The skin is superbly crispy while the flesh is succulent and moist. It is paired with Tuscan kale leaves, nasturtium and a macadamia and chestnut puree.
Mr NQN likes the poached chicken breast with bacon, red elk leaves and smoked corn puree with a chicken skin crisp on the side.
And if you love your vegetables as much as we do, the Brussels sprouts with bacon and sour cream are an absolute treat as are the resoundingly crunchy thrice cooked hand cut chips with salt bush and vinegar dressing.
Poached rhubarb, rose foam, rhubarb jelly, raspberry sorbet and pistachio praline
The rose dessert is a delicately flavoured one with a super light rose foam, rectangle of rhubarb jelly and a quennelle of raspberry sorbet with crunchy pistachio praline. It's not an overly sweet dessert and is more tangy than anything.
Pumpkin mousse, speculaas, creme fraiche ice cream, caramelia, VSOP sultanas and pecans
My choice was the pumpkin mousse for the speculaas component with a scoop of creme fraiche ice cream on a speculoos biscuit and crunchy VSOP sultanas and pecans and a triangle of caramelia nama-style chocolate.
Junction Moama 6 Shaw Street, Moama NSW 2731 T: 03 5481 3777 www.junctionmoama.com.au
Day 3 11am: Paddle Steamer to Morrison's Winery For Lunch, Echuca Moama
The next morning we head North towards the historical town of Echuca. It is a well preserved town that is famous for its paddle steamers that travel up and down the Murray River.
Echuca is technically in Victoria and is across the Murray River from Moama which is NSW. The twin river towns are connected by a bridge and the river is the border between the two states. While we board on the Victorian side, as soon as you step onto the water you're in NSW territory. Moama will also play host to Moama Lights from 8 to 22 May 2021 with light and sound installations.
During our 30 minute trip along the river they explain that the paddle steamers only need 2 feet of water to operate. Logs line the Murray River and these are an important part of the ecosystem as the famous Murray Cod fish lay their eggs on the logs. There are three species of turtles found in the river, with prosaic names like short neck, long neck and broad shell turtle.
Day 3 12:30: Lunch at Morrison's Winery, Moama
Our destination for today is Morrison's Winery on the banks of the Murray River for the Wharf to Winery experience which is $100 per person and includes a 2 course lunch and a glass of wine. While they seat most people inside, the pick is definitely an outside table with a view of the vines (and dogs!) which they switch us to when we request it.
Crispy Cauliflower
The chicken and pork terrine with fig jam and toast is delightful. The crispy cauliflower florets with Kashmiri gravy and yogurt are also very tasty indeed. All of these are accompanied by the wine of our choice.
Chicken and Pork Terrine
The mains are a beer battered market fish with chips and a tasty cabbage and bacon slaw with a chunky tartare and lemon.
Sticky Pork Belly
I really enjoy the sticky pork belly main with sweet potato puree, sesame green beans and pickled shiitake mushrooms.
Fish and Chips
Wharf to Winery experience with Murray River Paddlesteamers and Morrisons Winery and Restaurant Departure address:- Riverboat Dock, Watson Street Echuca 3564 T: (03) 5482 5244 Winery Address: 123 Merool Road, Moama, NSW 2731 T: (03) 5480 0126 http://www.morrisons.net.au/
Day 3 3pm: Yurt Stay At Talo Retreat
Our home for the third night of our road trip is the most unique of the three nights. Talo Retreat sits within the more kid-friendly Moama on Murray resort. Talo is their adults-only accommodation with a more luxe glamping proposition.
The accommodation is made up of deluxe yurts which are traditional Mongolian dwellings. The yurts are made of Australian hardwood and wool while the bathrooms are made of Australian colourbond steel designed to blend in with the bush.
The queen beds are comfortable with heated blankets and there's a well stocked kitchen and small sink within the yurt as well as a heater and air conditioning unit, fan, bath robes and slippers. I will say that if you do feel the cold as I do, the separate shower and toilet may be a bit of a challenge especially late at night and early in the morning.
The shower and toilet is outside the main yurt. There is also a hot tub next to this to warm you up as well as loungers and a hammock the relax in. The only noises you'll hear as the birds and frogs.
Talo Retreat guests can access all of the resorts amenities on a complimentary basis and that includes the canoes, bikes, pools and mini golf. While they do provide tea, coffee and milk and a nice welcome cheese and cracker and local chocolates there's no mini bar as such. You can make use of the store in the main reception area open from 9am-5pm.
Talo Retreat 69A Dungula Way, Moama NSW 2731 T: (03) 5480 3031 http://taloretreat.com.au/
Day 3 6pm: Dinner at Border Inn Hotel
Our dinner tonight is back in Moama town. The Border Inn Hotel is one of those popular country pubs that does things well and it's packed this Sunday evening. Service is super friendly and efficient and the menu has something for everyone be it a salad, nasi goreng, pizza or steak. We start with a Pink Gin spritz and Aperol Spritz.
Roasted Beetroot Salad $22
I am a fan of the salad especially with all the rich food I've been eating. The roasted beetroot salad has mixed greens, chunks of roasted beetroot, orange segments, toasted almonds, goat's fetta and a carrot puree with a mustard dressing. It is also a huge serve as we will learn is the theme here.
Beef Ribs $38
While something more filling is the slow cooked BBQ beef ribs with kale slaw and crunchy chips. Everything is done well here from the piping hot chips, the meltingly tender beef short ribs with a slightly sticky sweet sauce and the crunchy kale slaw.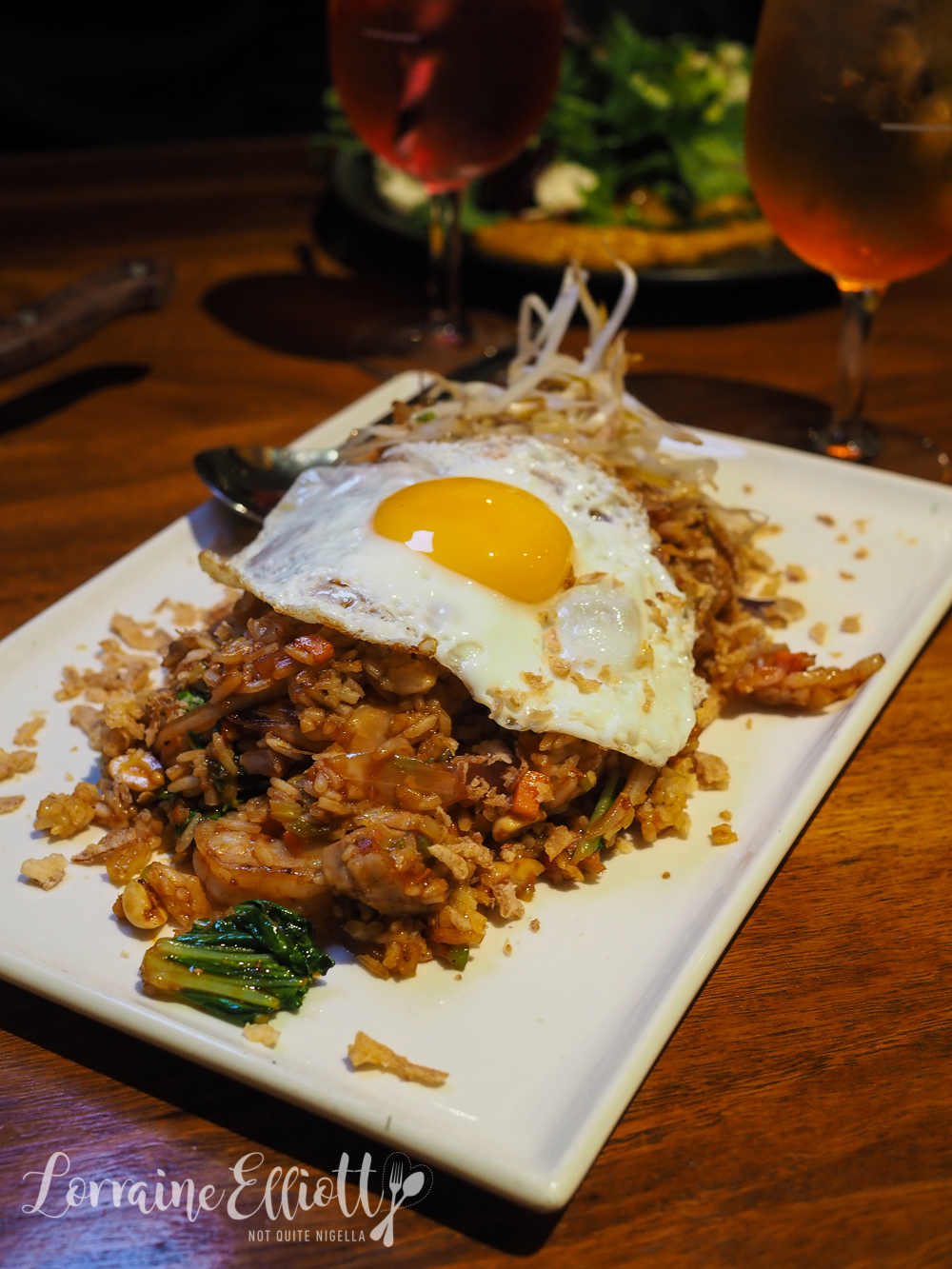 Nasi Goreng $28
One of the most popular dishes is the Nasi Goreng which has plenty of chicken, prawns, bacon and vegetables in a sweet and lightly spicy sauce.
Sticky Date Pudding $10
There are four dessert specials from affogato to puddings. The sticky date pudding is topped with chocolate honeycomb for crunch and is served with extra sauce and vanilla bean ice cream. Not a crumb goes back to the kitchen as Mr NQN devours this warm, soft, saucy pudding.
And another pleasant surprise? We've finished our dinner in just over an hour which gives us plenty of time to go back, shower and sleep ready for our early morning return home.
Border Inn Hotel 19-21 Meninya Street, Moama NSW 2731 T: (03) 5480 9966 https://www.borderinn.com.au
Day 4 8am: Breakfast At Three Black Sheep, Moama
The alarm goes off at 5.45am and it's still dark and eerily quiet in our yurt. I make a cup of tea and work out and then shower and we head off back towards Albury for our flight home. But first there's one stop for breakfast.
Three Black Sheep is a spacious cafe in Moama town. Don't be alarmed by the multiple signs outside with COVID safe procedures, the staff are warm and welcoming even at this very early hour.
Mexican Pulled Pork Benedict $22
The coffee is great which is so necessary at this time of the morning. For food, we order the pulled pork benedict, a rich and luscious concoction of pulled pork, house made hash brown, guacamole, two local free range poached eggs and apple cider vinegar hollandaise on a milk bun. The egg yolks aren't quite runny but I'm being picky here because it's absolutely delicious and rich.
Zucchini and Persian Feta Rosti $18
On the healthier end of the spectrum are the zucchini and Persian feta rosti or fritters with beetroot hummus, fresh herbs, local free range poached egg with a delicious pickled fennel salad.
And just a little life tip: grab one of Three Black Sheep's vanilla slice to take away with you. It's one of the best I've eaten (and I've eaten many of these) with a gorgeously creamy custard filling. A most fitting sweet end to our trip.
Three Black Sheep Shop LG06, 290 Perricoota Rd, Moama NSW 2731 Phone: (03) 5482 5770 https://bopple.app/menu/5563
So tell me Dear Reader, would you enjoy piloting a plane? Have you ever stayed in a yurt? Have you visited any of these areas before?
The meal at Three Black Sheep was independently paid for. NQN and Mr NQN were guests of Visit NSW but all opinions remain her own.