The town of Byron Bay is a very popular holiday spot for those on the East Coast of Australia. It's beaches, laidback lifestyle, superb weather and thriving food scene ensures that it is a busy spot for a weekend away or for an extended break. So why has it taken me so long to get there?
Mr NQN's eyes flicker as he looks around and a smile plays on his lips, jolted by a memory. It has been decades since he was born in Byron Bay but I can see the memories come flooding back. "That didn't used to be there," he says while driving and he chuckles as he sees what progress and an abundance of time has done to the alternative town.
It is my first time in Byron Bay which admittedly is a terrible oversight. The region, mostly known for the alternative lifestyle, awe inspiring surf breaks and humpback whale migration has now evolved to become more touristy and commercial. As distressing as that may be for some that yearn for the simpler times, it also means that alongside the food scene has changed over the years too and now it is strong with lots of dining options for visitors and locals alike.
Our first stop after arriving at Ballina airport is to pick up a rental car and drive the 30 minutes to our accommodation. The Byron at Byron Resort and Spa is ten years old and is a resort that spans 45 acres of tropical rainforest. There's a hive of activity near the reception desk as they are busy setting up the annual champagne dinner. We take a short drive to our room and park nearby. We are staying in the Waterlily area adjacent to Tallow beach and our room #92 is upstairs.
The room is deluxe spa suite that spans 65 square metres and as soon as I walk in I am enveloped by the scent of fresh lilies. It opens onto a veranda with two chairs and this is all screened so that you can keep all of your windows and doors open should you wish. You can also pull the white plantation shutters for privacy.
We walk into the galley style kitchen with a fully stocked mini bar as well as a kitchenette facilities and washing machine. This opens out into the lounge area where Mr NQN promptly lies down and takes a nap. Outside of this is another veranda area with a large day bed.
The bedroom is adjacent to this and this has a side lounge suite and a California king sized bed. There are two televisions, one in the lounge area and one in the bedroom. There is a small robe section although this is too small to fit luggage and this leads into the bathroom. It is an all white affair with a standalone spa tub and Sanctum body products. The resort facilities also include a gym, two restaurants, infinity, pool, day spa and a complimentary yoga class every morning at 8am. Internet is complimentary and runs at a moderate speed.
One of the loveliest things about staying in the midst of a rainforest is the birdsong. When one stops, another picks up as if prompted by a conductor. Even the weather, obviously by complete luck just happens to be perfect. There's a gentle breeze that ebbs and flows and the 27C temperature is perfect, not necessitating the need to cover up shoulders even in the sun dappled shade.
The restaurant tonight is playing host to 86 guests for the annual Champagne dinner. This is a fantastic event as it is put on by the Champagne Bureau rather than one house of champagne and there is a very generous amount of champagne poured all night. The champagne is matched with food by Tasmanian born Sydney based chef Massimo Mele whose challenge was to match Italian food with French champagne. He is cooking with The Byron at Byron Head Chef Gavin Hughes and the media partner is Country Style magazine. Designer and artist Lisa Madigan is in charge of decor.
The evening commences with canapés from fresh Sydney rock oysters with a finger lime eschallot vinaigrette, prawns wrapped in prosciutto with a cube of compressed watermelon and a glass of Champagne Ayala Blanc de Blanc The aromas in this fine beaded champagne are floral with white peach and honey.
Everyone stands around to chat and we meet an old friend from Sydney that we haven't seen in years. She and three friends have flown up for the weekend-two of them had attended last year and were so impressed that they had to come back. The crowd is a real mix of locals and non locals.
We are ushered inside for the first course and introductions. Our first course is the cured Cobia, a fish similar to kingfish that is cured for three hours. This dish has a pronounced sweetness to it from the sweet and sour eggplant relish (more sweet than sour), pomegranate molasses, saffron dressing and pomegranate arils. It's very moreish though and everyone murmurs their appreciation. This is served with a Champagne Pommery Brut Silver. This champagne is described as "butter like" with pink apricot accents along with a mix of hazelnuts, light tobacco and shortbread.
Slow cooked veal tenderloin, smoked tuna cream, fresh tuna, crispy capers and dried olives served with Champagne Larmandier Bernier Latitude a Vertus NV
In contrast to the cobia, the veal is a very savoury dish and is a twist on vitello tonnato. Massimo explains that he deliberately steered clear of using that name as this is a deconstructed version thereof. While the veal is a tad dry the rest of it including the fresh tuna cubes, divine smoked tuna cream, witless and generously scattered dried black olives balances this dish perfectly and I want to take to the plate with the bread and mop up all of the sauce. It is served with a Champagne Larmandier Bernier Latitude a Vertus NV which is a 100% Cote des Blancs chardonnay mainly grown in the southern vineyards if Vertus. this champagne is a favourite at our end of the table.
Tiger flat head tails cooked over the coals with fragile and prawn, mussel and crab broth served with Champagne Bollinger Special Cuvee NV
The tiger flat head are individual serves and here they are cooked over coals. It is served with fregeola (round pasta balls from Sardinia) with an intensely flavoured sauce with prawns, mussels and crab and a touch of sweetness. The fish is strong in a fish flavour and whilst I like sardines, I think you would have to be a fan of strong fish flavour to really appreciate this. It is served with Champagne Bollinger Special Cuvee NV made of black grape varieties with fine bubbles.
This is a recipe from Massimo's mum and it is a ricotta tart with diced local peaches, raspberry yogurt and vincotto to finish it off. The candied citrus gives it a marmalade flavour and it is paired with Champagne R de Ruinart that has a strong fruity aroma of pear and apricot and is made up of Chardonnay 40% Pinot Noir 57% and Meunier 3%.
By the end of the dinner it is past 11pm and the warm weather and the generous pours of champagne lull some diners into impromptu sitting naps at the table. We take a cue from them and retire early mindful of an early morning the next morning. I have some trouble sleeping - the sheets are a little rough (keep in mind I am an absolute sheet freak where sheet smoothness can stop me from sleeping well, yes I'm annoying).
We are up early the next morning for breakfast at the Byron Beach Club, about 8 minutes' drive from our hotel. The position right on the beach is perfectly sublime and we look out onto the beach listening to the waves crash. A bush turkey sits in one tree while a water dragon lays perfectly still on another. We take a look at the menu in between stealing glimpses at the view. The menu is short and sweet drinks on one page and food on another. Prices in Byron are similar to Sydney and breakfasts are around $25.
Our drinks arrive first - a mixed juice and a long black for Mr NQN and a chai latte for me. The chai latte is good although it is on the sweet side. He enjoys the fresh juice made with carrot, beetroot, ginger and apple.
I've always said that Mr NQN and I have different tastes and this breakfast is an example. I love the crispy skinned Atlantic salmon fillet on top of a roesti potato cake. A surprising hit is a simple mango and quinoa salad that I have plans to recreate at home with perfectly ripe and juicy summer mangoes.
Mr NQN loves the smashed avocado on toast with a spicy corn and chilli salsa and a pool of minted yogurt with two soft yolked eggs. The corn is from the cob and sings with freshness and sweetness and the spiciness is a hit with both of us.
After breakfast we take a walk around the main strip of town. It's a funny time to visit Byron Bay - we are mid- "schoolies" (the Australian equivalent to America's Spring Break) so there's the ever present police that seem to be on active duty stopping cars and driving in convoy in the streets. Then there are the chain stores that inhabit the main road. I think I was expecting more of a hippy's paradise.
And certainly there are combo vans, palm readers, a flower covered double decker wedding bus and a man wearing a rainbow tie dyed t-shirt rapping "Go with the Flow." A woman dances past the police who are busy stopping one driver. It's certainly a scene to behold. There's no shortage of health food and vegan/wellbeing stores and we buy a per and ginger kombucha from Fundies, a store and cafe where a man is sitting on a chair his head resting on his duffel bag having a peaceful nap. Nobody interrupts him.
Our next stop is a must do in Byron Bay. The farm is a collective of several businesses that lease space on an 96 acre farm. Owned by Emma and Tom Lane the idea came from when their young daughter was picking green beans in their garden. She gathered them up and was eating them fresh and seemed so happy that they wanted to be able to do this on a large scale for their family and for others. They bought the property that was originally zoned for housing and six months ago, opened it to the public.
The farm's operations manager Johnson Hunter shows us around the property. We get into the dust covered truck and he tells us that we are in a treat today. 22 year old Shelley has recently had a calf and we are going to feed her some lucerne - for cattle, this is the equivalent of chocolate brownies.
The Scottish Highland cattle are striking and as the herd approaches you are struck by their gentle disposition and their curious nature. The farmhouse has two full time farmers: Cass and Kirst and they tend to all of the livestock and the market gardens. The farm's livestock is a mixture of heritage breeds (where the bloodline is close to their ancestors hundreds of years ago) and industry breeds.
Heritage breeds, when locally sourced have several advantages as they are more pest and disease resistant as well as being more fertile. They make no secret of the fact that the livestock is used in the restaurant Three Blue Ducks. Here they also do not chop off the cattle horns as they don't feel the need to traumatise the cattle and they are especially striking given how large their horns can grow but how gentle and sweet natured they are.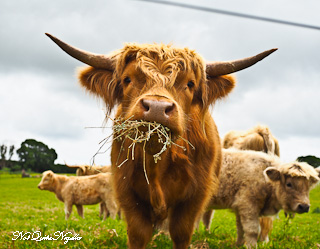 We drive past corn fields and stop at the pig enclosure. There are two large English Black heritage pigs in this enclosure and there are also some cross bred pigs in another one. The pigs are given an enormous space to roam and forage and it is 650 times the industry standard (which he tells us is a 0.5 metre enclosure per pig). The pork is used in the restaurant and The Produce Store and in the six months that they've had the pigs, they've used 35 pigs in charcuterie, sausages and for fresh meat.
Our next stop is at the chickens. The other type of breed of livestock they have as opposed to the heritage breed is the industry breed which is usually chosen for reasons of production. When they started to farm they weren't able to get any heritage breed chickens but they have now secured 350 Bon Black heritage hens which will arrive in the new year. They will retire the current ISA brown chickens to be backyard hens. The other advantage to the Bon Black hens is that they don't have to be debeaked but because they are free range chickens there is less need to debeak them as they won't live in close quarters. Their enclosure is 450 times the industry standard. And how do you tell a healthy chicken? A vibrant red comb!
The last section is their market garden where they are busy harvesting ginger and garlic. They also grow mixed crops and have an incubator program where potential farmers can lease a plot to grow and they also get the added benefit of a restaurant buying their produce at the Three Blue Ducks. Which is where we end up going for lunch. It's just after noon so there are a few tables free but come 1pm people need to put their names down and they are called when their table is ready as it is a very popular spot.
The ever present gentle breeze is soothing as the temperature climbs higher and the sun shifts into midday position. We start with a cocktail: a Hail Mary made with vodka, house spiced tomato juice, kombucha and chilli. I ordered it because I was curious about how the kombucha would work and it is superbly fitting and the cocktail is refreshingly spicy.
At 12:15pm the menu switches over from breakfast to lunch and we order a few tidbits from the smalls menu and two from the large. The oysters are fantastic-fresh and creamy and dressed simply with a finger lime eschallot vinaigrette.
We love the hot chilli spice with the raw sashimi fish slices and the cooling paw paw which is sweet but not as sweet as mango so it keeps this dish squarely in the savoury territory.
Since we had just been through the farm it seemed fitting that we would try the farm salad with roasted vegetables from thyme roasted radish, fennel and turnip with leaves and grains. It isn't bad but out of the three small plates we prefer the flavours of the other two dishes.
And then the mains arrive. The fish is well cooked and I can imagine that this would be very versatile with a lot of fish or even by itself. I'm all over the wonderful salad that accompanies the fish. It has a bit of everything from soft cooked zucchini to a delicious macadamia cream, crunchy wild rice, almonds and quinoa. I want to make a version of this at home.
It's definitely country sized serves here! The porchetta is a thick piece of rolled pork belly stuffed with herbs, spices and pancetta. The crackling on this is fantastic and I have to physically pull myself away from this instead of just unzipping everything and eating with abandon (there is dinner coming up in a few hours). It is served with braised cabbage, roasted parsnip and apple and a lie of rosemary focaccia bread.
There isn't quite enough space for dessert except for perhaps a little bit of passionfruit ice cream from the stand outside the restaurant. This is made in Lennox Heads and is creamy and refreshing.
We take a drive up towards the Byron Bay lighthouse situated at the most eastern point of the Australian mainland for some photos. The sky is rippled with white cotton wool like clouds and it's a popular place to take in the view of Tallows Beach below or to go for a walk. Watego's Beach is replete with surfers in various stages of surfing, some changing, some newly arrived, all trying to get a prized park alongside the beach. "That's where I fell over when I was five years old," Mr NQN says pointing to the black rocks. As we drive past the hospital he was born he points out a small weatherboard structure that looks like four houses put together and he jumps out to take a photo, his excitement uncontained.
So tell me Dear Reader, have you ever had a nap while sitting up during a meal? Are you a sheet freak? And which city or town did you grow up in?
NQN and Mr NQN travelled to Byron Bay as guests of Destination NSW.
The Byron at Byron
77-97 Broken Head Rd, Byron Bay NSW 2481
Phone:(02) 6639 2000
https://www.thebyronatbyron.com.au/
Byron Beach Cafe
Lawson St, Byron Bay NSW 2481
Phone:1300 583 766
http://byronbeachcafe.com.au/
The Farm
11 Ewingsdale Rd, Ewingsdale NSW 2481
Phone:(02) 6685 5008
http://www.thefarmbyronbay.com.au/