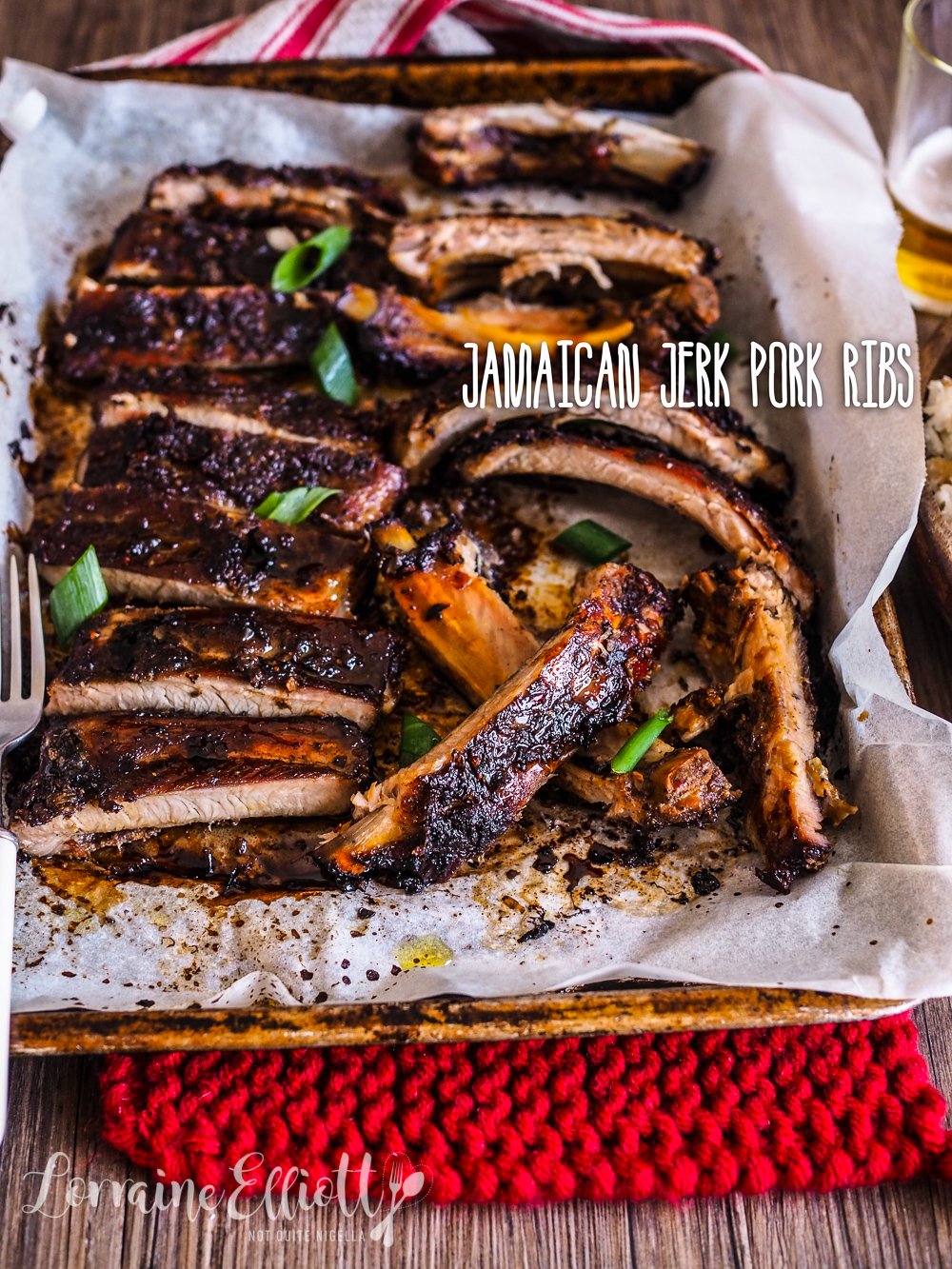 Ever made jerk seasoning from scratch? It's one of the tastiest ways to flavour meats. Spicy and sweet and ambrosially aromatic, Jamaican jerk seasoning can be applied to all sorts of meats and here we baste some baby back ribs with this mouth watering, lip smacking sauce. The pork ribs are served with a delectable coconut rice-this meal is a great one to serve guests too (and yes this is a pushy recipe!).
The predominant flavours of jerk seasoning are Scotch Bonnet peppers and allspice and while the list of spices can look intimidating, when it comes together you'll see how well they combine.
Although chicken is now most commonly used meat with jerk seasoning, pork was historically how jerk seasoning came to be served. It started with the Arawak Indians or Tainos who were said to have settled Jamaica. In 1492 Christopher Columbus claimed Jamaica in the name of Spain and enslaved the Arawak Indians. Most died due to mistreatment and exposure to disease and the Spanish needed more workers for their plantations and so they brought over enslaved Coromantee Africans.
Some of them escaped while others were freed when Spain surrendered to the English in 1655 and they fled to the Blue Mountains of Jamaica and became the Maroons. The Maroons would cook wild pigs using whatever spices and ingredients they found in Jamaica. This gave rise to Jamaican jerk pork or chicken.
Nowadays the ones best known jerk stations are found in the north-eastern part of Jamaica at Boston Beach. The open air stands have thatched rooves where the meat is cooked on pimento wood lined with plantain leaves. Some say jerk refers to the turning motion or cutting the meat. Others say that it came from the Spanish word charqui which means "dried meat".
These Jamaican jerk pork ribs are mouth watering and are for those who like sweet and spicy food. The coconut rice is a non spicy accompaniment to the juicy ribs that is addictive in itself. I would say that Mr NQN would have eaten the whole lot of these ribs if I had let him.
Speaking of ribs and rib tickling, the other night we went to a comedy show. For the last year or two I've gravitated towards stand up comedy on tv. I guess it is because the world hurtles from one violent storm to another and all we can do is get angry and then bury ourselves in something that makes us feel good. And we have definitely needed to laugh this past two years.
Nina suggested the best shows had multiple comedians-if you didn't like one, there would be another coming right along in a few minutes. The show she picked featured six different comedians. It didn't start off well with the first comedian bombing. "He's terrible," I whispered to Nina. "The worst," she concurred. We figured we could sneak out between sets if it didn't improve.
Thankfully as each comedian came out the quality improved markedly. Everyone had their own favourite comedians and after around 1 and a half hours even those beaten down by a hard week of work were laughing. Because sometimes you've got to choose laughter and happiness!
So tell me Dear Reader, do you like stand up comedy? Do you have a favourite comedian? Have you ever tried jerk meat?
DID YOU MAKE THIS RECIPE? Share your creations by tagging @notquitenigella on Instagram with the hashtag #notquitenigella
Jamaican Jerk Pork Ribs & Coconut Rice
An Original Recipe by Lorraine Elliott
Preparation time: 20 minutes plus overnight marinating time
Cooking time: 3.5 hours
1/2 large red onion or 2 golden shallots, peeled, quartered
3 Scotch bonnet chillies (I used habaneros)
3 garlic cloves, peeled
1/4 cup brown sugar
1 tablespoon allspice, ground
1/2 tablespoon black pepper, ground
1 teaspoon nutmeg, ground
1 teaspoon fine salt
1/2 teaspoon cinnamon, ground
1/2 teaspoon thyme leaves
1/2 teaspoon ginger, ground
1kg/2.2lbs baby back pork ribs
For coconut rice:
3 tablespoons oil
1/2 large red onion or 2 golden shallots, peeled and chopped
2 garlic cloves, peeled and chopped
400ml/14floz. coconut milk
50ml/1.7flozs. water
2 cups long grain rice, rinsed well
2 teaspoons chicken stock powder
400g/14oz tin of chickpeas or black beans or kidney beans, drained and rinsed
Step 1 - Place the onion, chillies, garlic, brown sugar, allspice, pepper, nutmeg, salt, cinnamon, thyme and ginger in a food processor and make a paste. Smear on the ribs especially on the meaty side and place in the fridge and allow to marinate overnight.
Step 2 - Preheat oven to 160C/320F. Bring the ribs to room temperature by taking them out of the fridge a couple of hours before you want to cook them. Line a tray with parchment or foil and place then ribs meat side up. Add 1/2 cup of water to the tray and roast for 1 hour.
Step 3 - After an hour, remove the ribs, add more water and cover with foil. Add another 1/2 cup every 30 minutes or so or when it dries out and cook for another 2 hours. Then increase the heat to 180C/350F and roast for 10 minutes.
Step 4 - Start the rice 30 minutes before the ribs finish. Heat oil in a saucepan and fry the onion until golden. Add the garlic and fry for 30 seconds or so. Then add the coconut milk, water, rice, stock powder and drained beans. Place the lid on the rice, bring to a boil and once it is boiling reduce the heat down to low. Make sure not to remove the lid once you've turned it down to low. Cook for 20 minutes. Then fluff the rice and serve with cut up ribs.