Mrs Underwood is a café in Stanmore on the corner of Douglas street and Railway Avenue opposite Stanmore train station. It was recently taken over by former Black Star Pastry owner Christopher Thé. Not surprisingly there's an emphasis on fresh baked goods of both the savoury and sweet variety with fluffy, crispy bottomed focaccia, creamy tartiflette and a large display of cakes and sweets.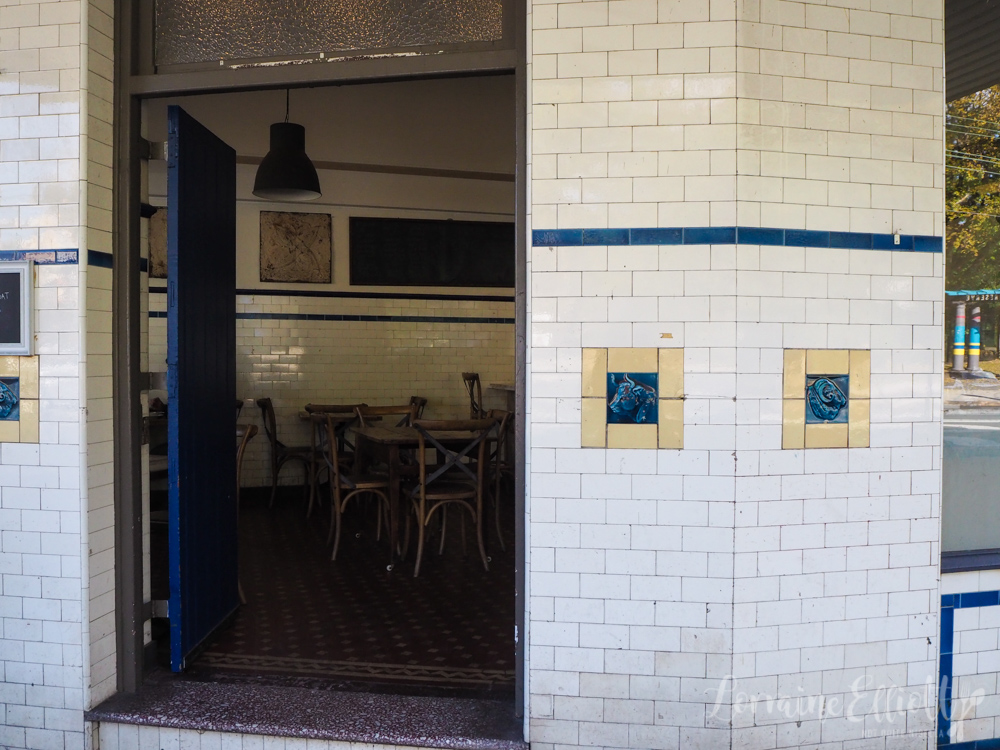 "Where is it?" I say popping Mrs Underwood into Google maps. Valentina is driving and she has gotten us to Stanmore but Mrs Underwood doesn't seem to be in google maps (along with the opening hours and a lot of info about it). Thé has been at the helm since mid May 2022 but has removed all of the Mrs Underwood signage and is operating it as an unbranded cafe for a couple of months before he rebrands with his new brand. From the 27th of June it will be the coffee window only for purchases.
The space was a former butcher's and you can see traces of this in the blue tiles emblazoned with cows and livestock on the outside of the building. It is now a cosy cafe with indoor and outdoor seating and a huge kitchen area. There's no menu as such, you go to the counter and take a look at the display and choose whatever takes your fancy. Savouries are on the left, the sweets are on the right fetchingly displayed in the window. If you just want a coffee and a pastry there is a window on the outside where you can order. The menu does change daily and popular items like croissants sell out quickly. Service is really lovely from all of the staff.
Latte $4, Almond Chai Latte $7
We take a seat outside and warm up with our drinks. Valentina really loves her coffee and my chai latte on almond milk is served in a pot for two people. The chai mixture is made in house with a strong flavour of black pepper.
Smoked Salmon Frittata $7.50
I start with the salmon filo frittata and it's a beauty. Most things come out served hot and this really benefits from being warmed up. It has a wonderfully creamy, jellied egg custard and big chunks of smoked salmon with dill. I could easily polish off the entire thing and go back for seconds (but I'm sharing so I don't).
Tartiflette with Salad $22
The tartiflette is a layered potato bake with lardon and onions made with washed rind cheese and is served warm with lots of gooey cheesy cream to dip your bread in. The salad is like a coleslaw with an Asian style dressing.
Focaccia $9
Oh and special mention must go to the focaccia, one of my favourite things that we had. It is served warm with a layer of thinly sliced potato and a sprinkle of salt. The bottom is crispy and it's thick, spongy and moreish. I contemplate going back to buy another wedge to eat in front of the fireplace at home. By myself. Watching trashy tv. The only thing stopping me is that it is a bit pricey for a wedge of bread.
Spinach and Mushroom Pithivier $13.80
The mushroom pithivier would no doubt be infinitely better if it was warm (we ask afterwards and it should have been served warm). It does feel like there's a bit too much pastry in it for the mushrooms and it's a thin slice that could do with something on the side.
Carrot Cake $7.50
The carrot cake is pleasant. It has carrots, sultanas and nuts with a brown sugar cream cheese frosting and dried lavender petals. I think perhaps I was hoping for something a bit more left of centre given the creative spins that were a feature of Black Star (perhaps he is saving those for his new venture).
Pistachio and Lemon Fudge Cookie $5
My last bite is the pistachio and lemon fudge cookie. This has a nutty, sweet chewiness reminding me of nougat and dusted with icing sugar.
So tell me Dear Reader, are you a sweet or savoury tooth?
This meal was independently paid for.
Mrs Underwood
16 Douglas Street, Stanmore
Monday to Saturday 6am-3pm