Dear Reader, a few weeks ago I did my first television appearance. I was being interviewed on Sky TV Business on the Your Career segment alongside Lorraine Murphy from my agency The Remarkables Group. It was going to be live.
Yep live. As in you can't beg or bribe anyone with cake to edit anything out. Gulp...
The producer Kim mentioned that I would be doing my own hair and makeup and all I needed to do was turn up at 2:15pm and the interview with Ingrid Willinge would start at 2:30pm. Unfortunately, a few days before the appearance, I contracted this dreaded flu that is going around. I postponed all appointments until the week after and buried myself under the doona. The flu didn't budge and wrapped in lots of layers the other Lorraine and I made our way to the television studio.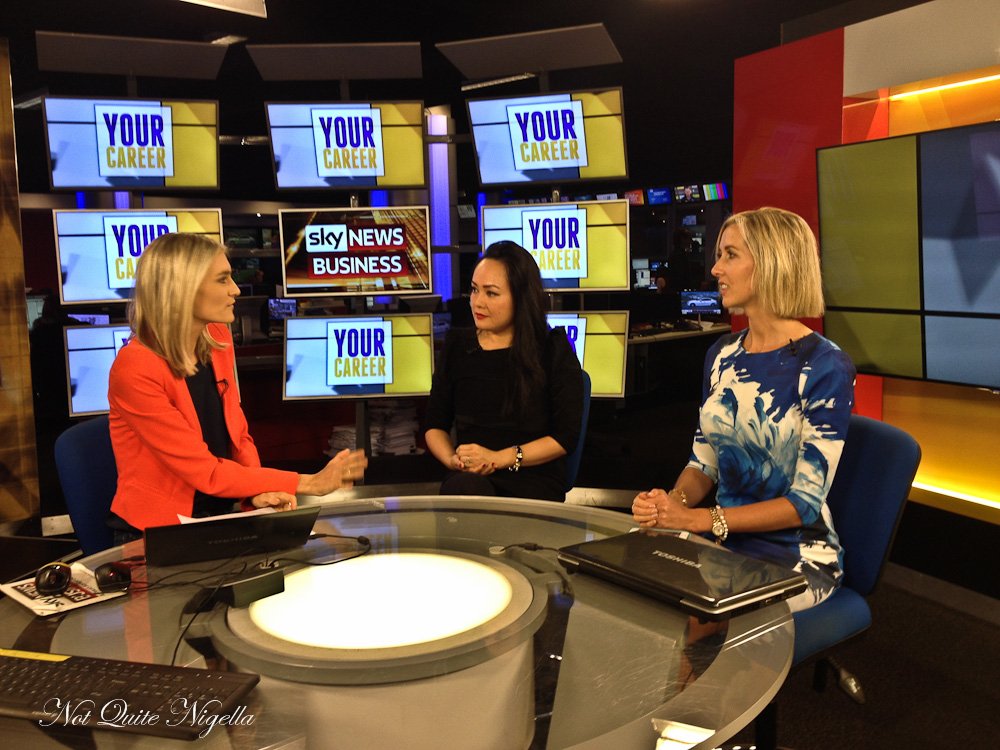 In my daze I realised that I hadn't washed my hair at the right time. You know how on day 2 it is clean but not too clean so that it is just right (am I alone with this whole hair thing?). I was on day 3 so it was what I called dirty. I asked if I could loan Lorraine M's dry hair shampoo just before we stepped on stage. After some spritzes she remarked, "Look at how much hair you have!"
And that my dear is how I ended up with Working Girl hair on live tv. You can laugh, I did too when I saw the pics ;) I wish I could share the footage with you but to share it here apparently requires a hefty licensing fee.
Anyway, the segment was actually really fun to do and after it was over I relaxed and put on my metaphorical sweat pants because the very next day we were leaving for a Christmas in July celebration in the Blue Mountains. I love the whole Antipodean tradition of celebrating Christmas in cold weather. Whilst seafood and salad often makes up an Australian Christmas dinner, we all secretly pine for a roast and cold weather food baked in an oven.
We rented a house in Blackheath and we headed up there early Saturday morning. I had a shopping list in my bag as well as equipment to cook with. Little did I know that the house we had would be so beautifully appointed. As soon as I saw the kitchen I knew that I would love to cook in it. There was even a pot filler! Okay little things make me happy...
Shopping and viewing
On Saturday we shopped, explored and ate out in Katoomba, Leura and Blackheath. I should have researched butchers a bit better because they were closed by the time we finished lunch and all we had to choose from was a supermarket roast pork. I wasn't able to get a rolled pork loin that produces reliably juicy results and settled for a boneless leg which is leaner (and drier).
Peeling chestnuts
Sunday was reserved for a stroll around Blackheath and afterwards I set about making the roast. I wasn't quite prepared for the oven - at home mine is a digital oven so it is precise but this wasn't and it ran hot. I opened the oven and the pork appeared to be rapidly on its way to becoming carbon. So the boys raced off to buy some foil and we covered the porky beast.
We started off with a creamy pumpkin and chestnut soup and followed this with a wooden board laden with the marmalade and ginger pork, Yorkshire puddings, smashed potatoes, parsnips wrapped in pancetta and a rich gravy made on the spur of the moment. Dessert was a creation hopefully designed to please everyone - a chocolate and fruit mince pie made with buttery shortcrust pastry (recipe to be shared soon).
Kris Kringle presents were opened-it was a lucky dip as to who you received for the $20 unisex present. Luck was on our side and it matched up perfectly. I received a book on Grumpy Cat from Mr NQN, Belinda received a jar of marinated figs from Nick because she loves cheese platters. Mr NQN received a stag head decoration from Belinda and Nick received a cactus from me that I insisted that he call "Lorraine." Because sisters can be pushy like that you know ;)
Later that evening, the leftover roast pork was sliced and made into toasted Cuban sandwiches with mayonnaise, pickles, ham and Swiss cheese. Eaten on the lounge in front of the fireplace while we watched movies. And the snow? Well we missed it by a day which is either a good or bad thing depending on who you asked :)
So tell me Dear Reader, have you ever celebrated Christmas in July? Do you usually have a hot meal or cold meal at Christmas? And when is your best hair day?
DID YOU MAKE THIS RECIPE? Share your creations by tagging @notquitenigella on Instagram with the hashtag #notquitenigella
Pumpkin & Chestnut Soup
I've made a straight chestnut soup before but I decided to add some pumpkin to this soup, mainly because I was feeling lazy and didn't want to peel one and a half kilo of chestnuts! In the theme of lazy, this is a variation of my lazy person's 3 ingredient pumpkin soup.
An Original Recipe by Not Quite Nigella
Preparation time: 30 minutes
Cooking time: 40 minutes + 20 minutes
Serves 4-6 people
500g/1lb. chestnuts in shell
500g/1lb. pumpkin to make 1.5 cups pumpkin
3 cups chicken or vegetable stock
400ml cream (can use coconut cream for dairy free version)
Salt and pepper to season
Step 1 - Firstly roast the chestnuts. Preheat oven to 200C/400F. Make sure that the chestnut is sitting flat side down on the chopping board (so that you don't cut yourself) and cut an "X" into the top of the chestnut. Roast for 10 minutes. Cool and then peel the shell and remove as much of the membrane as possible.
Step 2 - Keep the oven on 200c/400F. There is no need to peel or chop the pumpkin-a task I find dangerous in the hands of someone as clumsy as I at the best of times. Poke some holes in the pumpkin with a knife and roast the pumpkin whole in the skin or flat side down if you have half a pumpkin in the oven for 30-40 minutes until soft. Remove the seeds and skin to make 1.5 cups of pumpkin (you may have some leftover).
Step 3 - Heat the stock with the chestnuts and simmer for 10 minutes. Add the pumpkin and cream and then process using a stick blender until smooth. Season with salt and pepper.
Ginger and Marmalade Roast Pork
I know, that's a pork leg roast but I made the mistake of not bringing my own meat and relying on what the local supermarket had. Who knew that along with lots of clothing and layers I needed to bring my own meat. Lesson learned! Find a reliable local butcher and go to them before they close!
2kg/4 pound pork loin, rolled
1/2 cup orange or ginger marmalade (I prefer not too bitter)
1/2 cup orange juice
2 inches ginger, peeled and julienned (if using ginger marmalade, omit this)
3 cloves garlic, peeled and chopped
2 tablespoons salt plus extra for sprinkling
For gravy
Pan juices
4 tablespoons red wine
3/4 cup water or stock
1.5 teaspoons brown sugar
1 slice of fresh ginger
1 tablespoon flour mixed with 2 tablespoons cold water
Step 1 - Mix the marmalade, orange juice, ginger, garlic and salt in a bowl. Unroll the pork loin and score the fat in diamond shapes. Flip over to skin side down and slice horizontally where the fat divides the light and dark meat and spread with the marmalade mixture. Place in a baking dish and skin side up and pat dry with paper towels. Place in the fridge overnight uncovered but covering up the bottom with some cling film so that the skin dries out but the meat stays moist.
Step 2 - The next day bring the pork to room temperature and preheat the oven to 220C/440F. Sprinkle salt on top of the roast and remove the cling film. Bake for 20-30 minutes until the skin blisters up and then turn heat down to 180C/350F and then bake for 45 minutes. If the skin is browning too much, cover with a layer of oiled foil (oiled so that it doesn't stick to the skin).
Step 3 - To make the gravy, either put the baking tray on the hob or drain the juices into a skillet and on medium heat add red wine, water, brown sugar and ginger. Season with salt and pepper to taste. Once it has the right amount of seasoning, turn down the heat to low medium and add the flour and water mixture in to thicken.
Parsnips wrapped in pancetta
I think that you could pretty much wrap any food in pancetta or bacon and it would benefit enormously. Parsnips are ever present now that it is winter and par boiling them adds a nice texture to them so that they aren't too woody.
500g/1lb. parsnips
200g/7ozs. pancetta slices (I tried it with prosciutto too but preferred pancetta)
A little olive oil to drizzle
Step 1 - Preheat oven to 180C/350F. Slice parsnips into batons. Parboil parsnips until becoming tender (this only takes a couple of minutes). Wrap a bundle of parsnips in a slice of pancetta and drizzle with a little oil. Bake for 15-20 minutes until crisped up.
Yorkshire Puddings
I once went to an English friend's house for dinner where her husband made a roast with Yorkshire puddings. He was despondent that his Yorkshire puddings didn't work and he was beside himself. Everything else was delicious and he spent some time with his head in his hands beating himself up about the Yorkshire puds. To avoid disappointment, Yorkshire puddings really work when cold batter hits hot oil in a hot tray in a hot oven and that makes them rise.
Makes about 6-8 puddings
6-8 tablespoons oil
1 cup flour
1 cup milk
4 eggs
Chopped chives
Salt and pepper
Step 1 - Preheat oven to 230C/446F. Spoon the oil into the cavities of a muffin tin and place in the oven to heat up. Meanwhile, whisk the flour, milk, eggs and chives together with some salt and pepper. Place in a jug to make pouring easier.
Step 2 - When the oven has reached temperature, pour the batter into the prepared holes about two thirds of the way up and then close the oven door. Don't be tempted to open the door. Bake for 15-20 minutes until browned and puffed.