This cake is sure to create fireworks of the good kind. Vasilopita is a beautifully tender and buttery traditional Greek New Year's Day cake. You hide a coin or token inside the cake and when it is sliced on New Year's day, whomever receives the coin gets one year of good luck and cutting the cake blesses the house too. And this version is covered in a buttercream frosting in a fireworks pattern to really celebrate the new year!
Many associate this cake with the legend of Saint Basil. The story goes that the city of Caesarea was under siege and Saint Basil called for everyone to give what they could to pay the ransom. Gold and jewellery was generously given by the residents but the collective giving spirit embarrassed the enemy who called off the siege. Saint Basil was then tasked with the impossible task of returning the goods to their original owners. So instead all of the jewels were baked into bread or cakes and by a miracle, the jewels were returned to their rightful owners.
I liked the Vasilopita because it is a simple butter cake with flavours of orange. Another token filled cake is the French cake Galette des Rois but this is a bit more complicated because puff pastry isn't such a simple task to make in warm weather. The Vaselopita cake can be whipped up quickly with mostly pantry ingredients.
In Greece, there is a cake version as well as a bread version. I made the cake version because my father's birthday also falls on New Year's Day so this would be the perfect birthday cake too. A slice is cut for every one present from the eldest to the youngest.
I decided to zhush it up using buttercream fireworks because well you know me right, any excuse to learn a new skill or pattern. But even in its undecorated form it is a truly gorgeous butter cake. Even when cut into two days later it retained its lovely buttery texture. I was generous with the orange zest, vanilla and cinnamon because these flavours are ones that I associate with the holidays and I'm not quite willing to let those go just yet.
Christmas and New Year's is a time for rituals. This past week we had Christmas Eve dinner at our place and then went to the Central Coast for Christmas Day lunch with Mr NQN's Finnish family and friends at his aunt and uncle's house.
Every year his aunt and uncle serve the same things and I love it because I'm always trying to change things up for Christmas but it's also nice to look forward to ham, prawns, Porkkanalaatiko (Carrot Casserole), Perunalaatikko (potato box) and Lanttulaatikko (swede casserole), Joulutorttu (pinwheel prune pastries) and Sekahadelma Keitto (dried fruit soup) and sweet rice porridge (Riisipuuro).
Time really flies while when we are there-suddenly it's 3pm and almost time to head back to the city. But while everyone was eating the dessert, Mr NQN's cousin Liisa suddenly turned up the music on a song called Lasten Joululaulut and all the Finns in the room started singing and dancing in unison. It was as if it were a Finnish flash mob.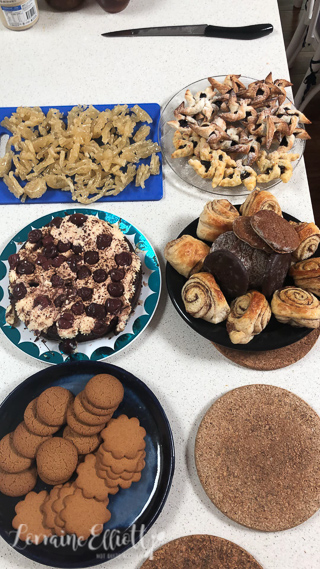 The non Finns among us looked around us in wondernment. They lined up and started doing a dance-it's a story about elves and how they sneak into a house while everyone is asleep and the chorus goes, "Tip Tap Tip Tap".
It is very cute especially when everyone does it in unison along with the actions. If you'd like to have a little look I put some videos of it up on my Instagram stories under the Christmas highlights. It's adorable. And while I love the new and doing things a bit differently, a part of me also adores traditions like these!
So tell me Dear Reader, are you into following traditions? What are your favourite traditions? What are you doing this New Year's Eve and New Year's Day?
"Fireworks" Vasilopita New Year's Day Cake