Want to do a twist on banana bread? This tahini peanut butter chocolate banana bread may be just what you need. You still get that moist texture from a classic banana bread but with the added flavours of dark chocolate, peanut butter and black tahini with cinnamon sugar sprinkled banana on top. Pair this with and a spread of delicious sweet tahini butter!
Dear Reader, think of all the banana breads that you've had. This one is different. You're unlike to find it at your local cafe but you may find something like this at a fancy or hipster bakery. The black tahini adds a slight smokiness and nuttiness to this moist bread, whose basic bones are a classic moist banana bread. And then the black tahini butter is another twist. This isn't basic banana bread but I like to think that it's still accessible and not too weird or unusual.
It was a rainy day when I made this. I'm not overly thrilled by rain, I love sunshine although I use the rain as an excuse to bake. The day was a busy one in which I was training with Nina. I went to see her around 3pm and she was in a rather grumpy mood. I asked her what was wrong and she let forth a tirade.
Her father in law was in hospital and there were some family dynamics at play (oh in laws!) and then she skipped onto another complaint merging the two before I told her that I was having trouble following her stories because she'd jump from storyline to storyline.
"I'M STAAAARVING," she said wailing. Generally bad moods have one of two sources with Nina: hunger or lack of sleep. She hadn't eaten all day and was desperately hangry. "Why didn't you tell me?" I said, "I just baked banana bread," I added. I pictured myself throwing a piece of banana bread into her gym before entering, like how they might do it for lions to distract them (I mean maybe lions are just hangry no?).
"You're supposed to know that I'm hungry. I'm ALWAYS hungry!" she said insistently. She cheered up a bit once she let her frustrations out and at the end I told her that she could swing by for some banana bread if she wanted. She knocked on my door a few minutes after I arrived back at home and tried some. Admittedly she was very hungry but she loved it and ate it, good mood finally and quickly restored.
So tell me Dear Reader, are you always hungry? Do you think lions are just hangry? Do you like banana bread?
DID YOU MAKE THIS RECIPE? Share your creations by tagging @notquitenigella on Instagram with the hashtag #notquitenigella
Tahini Chocolate Banana Bread
An Original Recipe by Lorraine Elliott
Preparation time: 20 minutes
Cooking time: 1 hour 15 minutes
140g/5ozs. butter, softened
1 cup brown sugar
2 eggs, room temperature
4 ripe bananas, 1 not overly ripe banana for adding on top
1 teaspoon vanilla
1.5 cups cake flour*
1 teaspoon bicarb
1/2 teaspoon fine salt
1/2 cup black tahini
1/4 cup peanut butter
90g/3ozs. dark chocolate, chopped
2 teaspoons cinnamon sugar
Sweet tahini butter
50g/1.7ozs. butter, softened
1.5-2 tablespoons black tahini
1.5 tablespoons honey
pinch of salt
To make cake flour, replace 2 tablespoons of plain or all purpose flour with cornflour/fine cornstarch. I found black tahini in a health food scoop shop
Step 1 - Line a loaf tin and preheat oven to 160C/320F. Cream the butter and sugar together for 3-4 minutes or until pale. In a food processor blend the eggs, 4 of the 5 bananas (reserve one for topping) and vanilla until you get a smooth mixture. Add this into the butter mixture and beat until combined.
Step 2 - In a jug measure and whisk the cake flour, bicarb and salt and fold into the wet mixture along with half of the tahini and peanut butter and chocolate until just combined. Scoop batter into the prepared tin. Spoon over the rest of the black tahini and swirl it using a butter knife.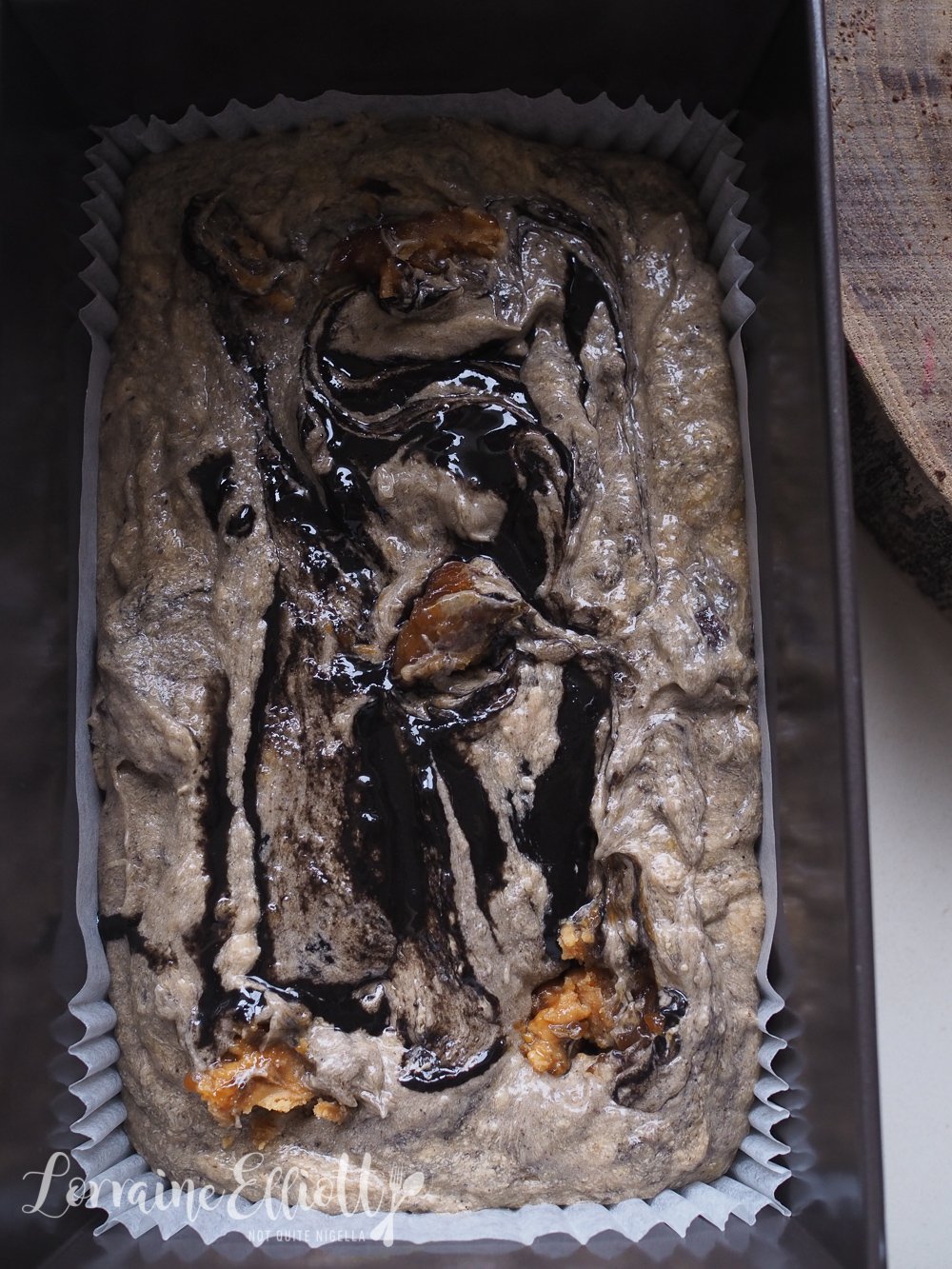 Step 3 - Halve the remaining banana lengthways and place on top of the bread pushing down gently. Sprinkle the cinnamon sugar on top of the bread. Bake for 1 hour 15 minutes or until done in the centre.
Step 4 - To make the sweet tahini butter process all ingredients together in a food processor.