I had a blogging friend once. Truth be told, I haven't had the best of luck with blogging friends. The few that I have now are great but there was a time when I swore I would never get to know another blogger because a couple of them were quite frankly crazy in a non charming way.
Fierce competition was a hallmark of one of these relationships and I prefer not to compete with my friends. It puts undue stress and an odd spin on a friendship. I'd rather celebrate my friends' achievements than slyly try to one up them. But one blogger friend once said to me,
"I'd have a blog as popular as yours but I just don't have the time to put into it."
I think that it was a compliment and a statement meant to put me in my place at the same time. It was as if she had said that my blog was only successful only because I devoted the hours to it. I wondered do friends say these sorts of things to each other? And don't you love (sarcasm) a good backhanded compliment?
I'd be okay with a backhanded compliment on this bread because it is quite quirky indeed. It was sent to me by a lovely reader Karen E. who sent me a link along with a little intro to it. I'm definitely not one to resist anything quirky and it was only a couple of weeks later that I decided to make it.
Whilst bananas and fruit breads are easy enough this is easy in another league of ease altogether. It's really just mixing three ingredients together in a bowl and then spooning it in a tin and baking it. Look at the directions below and tell me that they aren't a dream come true. What results is a sweet bread - not a loaf you can make sandwiches out of. The smell of it baking is incredible and you can certainly substitute or add fruit or nuts or anything that you feel would suit a sweet bread. I gave a slice to another friend to try and told her how I made it. She blurted out "This is so good for something without any effort to it!" which was actually 100% true. No backhanded compliment there at all.
So tell me Dear Reader, do you call friends or colleagues on backhanded compliments? What is the funniest or strangest compliment you've ever received? And do you like really easy recipes like this?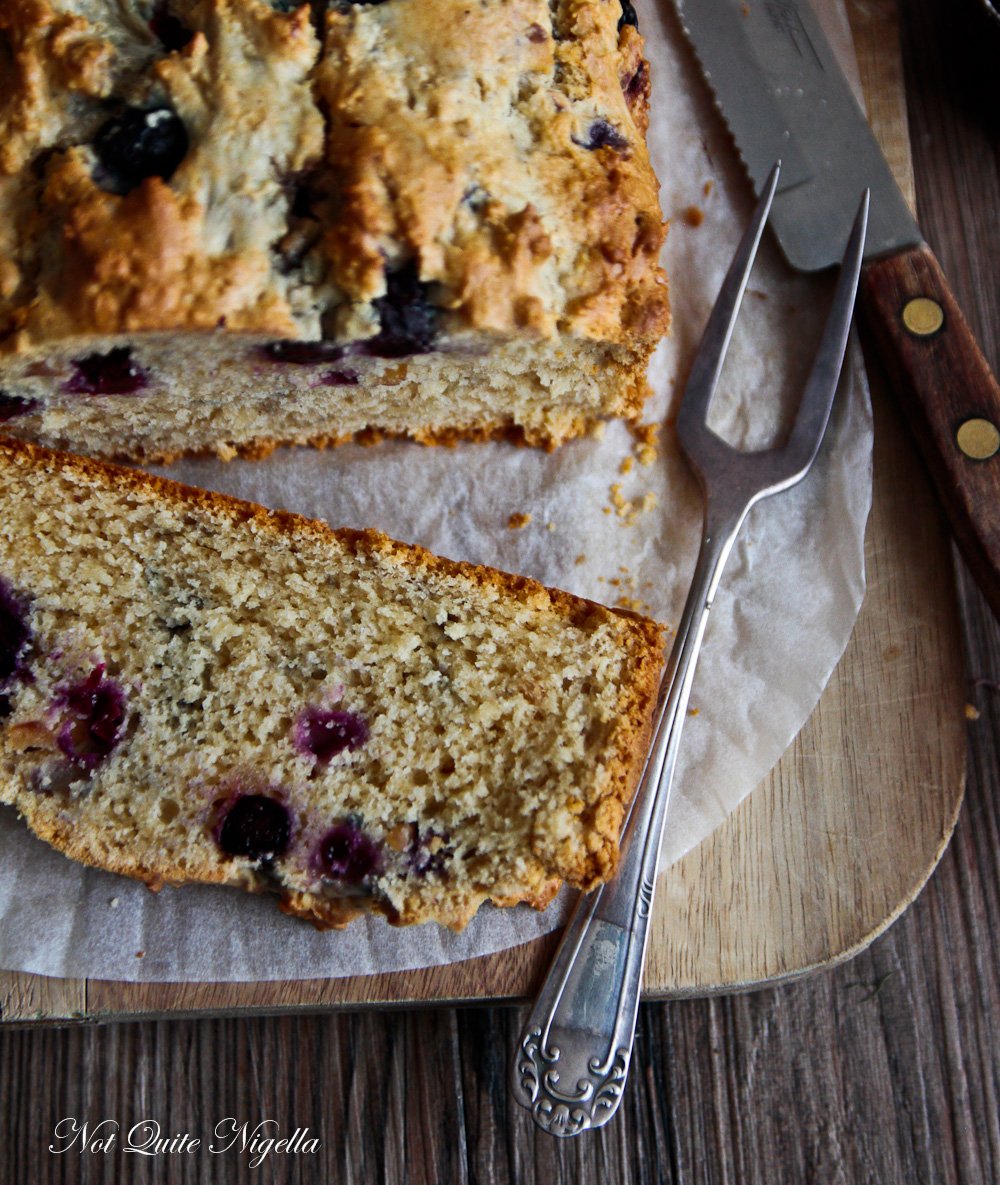 DID YOU MAKE THIS RECIPE? Share your creations by tagging @notquitenigella on Instagram with the hashtag #notquitenigella
Ice Cream Bread
Rated 5.0 out of 5 by 1 readers
2 cups ice cream, half melted in fine (you don't want it totally hard)
1.5 cups self raising flour
1/2 cup blueberries
Step 1 - Preheat oven to 180C/350F and line a loaf tin with parchment. Mix the ice cream and self raising flour in a large bowl until it forms a dough. Stir in blueberries and bake for 45-50 minutes until a skewer inserted comes out clean. Serve with butter and jam.