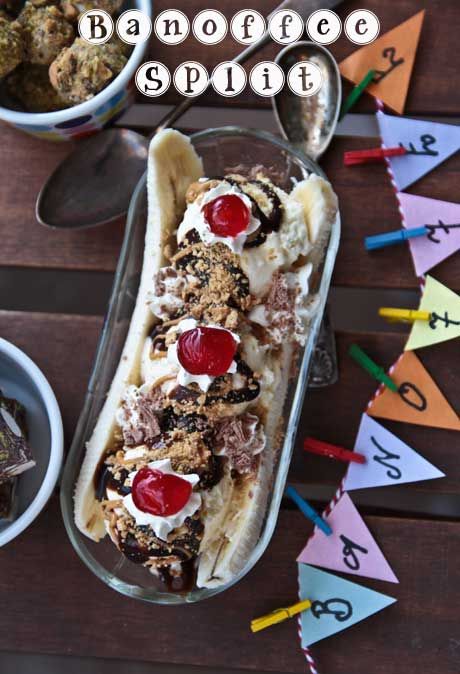 I was shopping a few months ago and suddenly hungry (you see why I fear running out of food? ;) ) picked up a chicken burger from a burger chain restaurant. I paid for my burger and stepped off to the side and waited. They called me over when it was ready and Mr NQN sat down with me while I ate it. I removed it from the bag and took it out. "oh no, they gave me a mini burger instead" I said getting up to return to the counter.
"I'm sorry but I think you gave me the mini burger instead of the regular one" I said sliding the bag across.
The person behind the counter had a look inside and said "Sorry ma'am, that is the regular sized burger."
"But... it's tiny! It's a...burger for ants!" I said lost for words so I just paraphrased Derek Zoolander.
I am used to things shrinking and being smaller from when I was little. After all how many of us could swear that Big Macs have shrunk or that the ice blocks that used to be enormous are now a shell of their former selves also lacking the taste that you remember waxing lyrically about. Perhaps we were smaller or perhaps they had shrunk-who knows. But a year? I haven't grown in a year!
However, sometimes things get better when you try them again especially if you add new flavours to them. I remember getting banana splits when I was small and they had the usual components and to be honest I was nonplussed. But since then the world has come up with the concept of banoffee-banana, caramel, chocolate, cookie crumbs and lashings of whipped cream and suddenly a humble banana split could surpass any childhood fantasy. I was inspired to make one when I had a banoffee banana split at Mrs Sippy.
Banoffee or banoffi pies was apparently invented in 1972 by chef Ian Dowding and Nigel Mackenzie but it was only when I visited London several years ago that my sister put me onto this heavenly sensation. One of the original creators Dowding released the official banoffi pie recipe as he was unhappy with people using biscuit crumbs and butter and aerosol whipped cream. For this sundae though, I used shortbread cookie crumbs but of course if you want to go to the effort of making a shortcrust base, which is the traditional one, go ahead and use that crumbled up.
The result? If I can be immodest, a banana split worthy or upholding or improving childhood memories. It has the heavenly marriage of bananas and caramel, a hint of coffee, clouds of whipped cream, crunchy biscuit and  chocolate sauce and flakes. I've specified quantities for one banana split which really goes for two people as it is rich and with bananas at the moment being almost like gold something of a treat.
So tell me Dear Reader, do you think that food is shrinking or do you think we have just grown up? And what was your favourite ice cream flavour growing up? Mine was strawberry...because it was pink!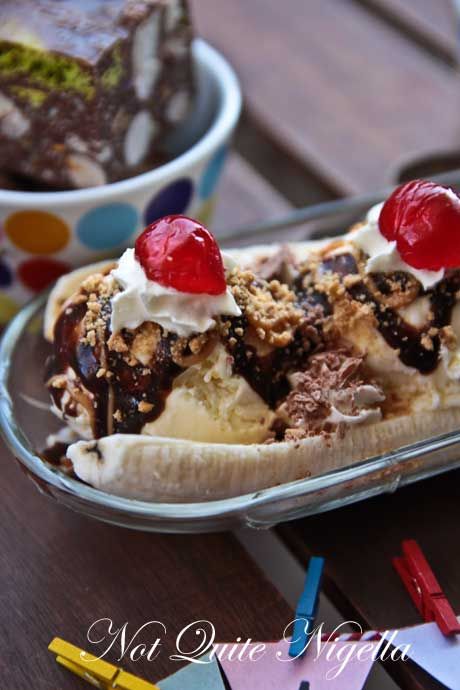 Banoffee Banana Split
Makes 1
An Original Recipe by Not Quite Nigella
3 scoops vanilla ice cream
1/4 cup dulce de leche or caramel top and fill
2 tablespoons chocolate topping (I used a Random Harvest chocolate honeycomb sauce)
1 of your favourite shortbready cookies, put into a ziplock bag and then bashed into crumbs
1/4 cup whipping cream whipped with a pinch of instant coffee granules
A little flaked chocolate and halved glace cherries to top (optional)
Step 1 - Take a banana split bowl and line it with a tablespoon of the crumbs and the dulce de leche or caramel top and fill. Split the banana in half lengthways and place it in the bowl. Add the three ice cream scoops in between the banana halves.
Step 2 - Drizzle some chocolate topping and then the rest of the dulce de leche or caramel top and fill. Sprinkle with more crushed cookie and add some cream around it. Top with glace cherries and flaked chocolate.