Sydney gets their first Sugar Republic! Sugar Republic is an unashamedly pro-sweet mini, interactive, pop up Insta museum. It's where you can live out your childhood fantasies by jumping up and down on giant bubble gum, swing while surrounded by fairy floss or play in a giant pink and white ball pit while candy bearing staff roam around offering you a choice of complimentary sweets, cookies and ice cream.
Sweet Republic's founder Allison Jones wants people to feel like kids again. Following a successful sold out run in Melbourne and Brisbane, she has opened up Sugar Republic in Sydney which officially opens tomorrow, the 10th of February, 2019. Sugar Republic Sydney is located on the 6th floor of the Myer Sydney CBD and will open until May 2019. Tickets are $35 on weekdays or $39 on weekends.
Allison says, "I want people to feel the joy of childhood. It sucks being an adult," she says before adding, "We are positive about sugar. It's an acceptable treat". Before Sugar Republic she had a career as a creative entrepreneur with a focus on visuals and nostalgia and always involving colour. Her co-founder husband Paul Matthews is a photographer and art historian.
"We love quirky museums," she says. At 20 years of age she emigrated to Australia from Liverpool, UK and her first job was working at a milk bar where she got to know Australian sweets. The first Melbourne Sugar Republic was housed in the former MacRobertson's factory in Fitzroy. "Imagine we had it where Cherry Ripes were invented!" she exclaims.
When Sophia and I walk in to the first room, "I want candy" is playing which seems entirely appropriate and a candy bearer offers us a range of sweets to snack on. I choose an Iced Vovo while Sophia chooses a mini bag of Skittles.
There are 14 rooms to choose from. There is the banana display, a strawberry stand display as well as a fruit spinning wheel where options range from cherry ripe to sour lemon.
This segues into the cake room where you can pretend to jump out of a gigantic cake. There is also a baking display where if you hit the "Press for confetti" button, it shoots out a shower of colourful confetti. Helpful staff let people know how best to use the space and offer to take group photos.
After this there is a liquorice room, a room devoted to Arnott's biscuits, a bubble gum jumping display (wear socks to be able to do this) as well as giant nostalgic Australian ice creams like Bubble O Bill, rainbow Paddle Pop and Golden Gaytimes.
You can cuddle a giant bear in the Valentines Day room or swing on the swing room lined with bags of fairy floss. Or pretend to work in an old fashioned lolly shop.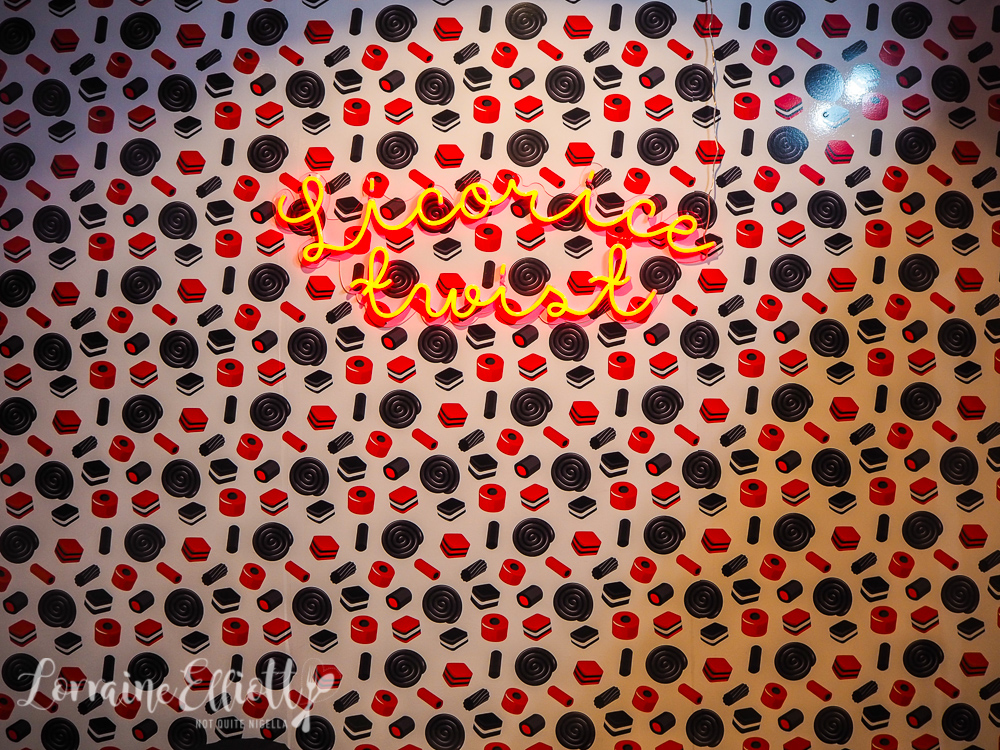 But a little warning: if you don't like selfies or pictures of yourself this may not be your thing. It's all about being in the picture.
Near the end try some complimentary Halo Top ice cream. Honestly it wasn't to my taste but some people love it. It was rather icey in texture and not strong enough in flavour but I'm glad I tried it here so I didn't buy it at the supermarket.
Last but not least is the ball pit pool framed by a neon Sweet Sydney display. They allow a maximum of 10 people at one time in the pool and I can imagine that this is a long queue may form.
It's the best place for boomerangs or selfies and to play some games of splash with the balls. The pool of pink and white balls isn't very deep but it is hard work swimming in a pool full of balls!
Outside is a store selling sweet and fun themed items from jelly bags, pizza and fries sequin purses, games, kids wooden toys, unicorn soft toys and jewellery. There's also a giant balloon installation in case you haven't taken enough pics!
So tell me Dear Reader, have you been to Sugar Republic? Would you enjoy an interactive museum like this? What is your favourite sweet treat?
Tips for visiting Sugar Republic:
Bring a friend or two (along with a well charged phone)
Bring a pair of socks-some installations require you to wear them
You can go backwards and forwards in the museum in case you want to go back to see something earlier
Go at low traffic times especially if you want pictures in the ball pit
Each Sugar Republic is different
For photos, wearing pastel colours works well
Night sessions are 18+, children are $29 and kids under 2 are free
It is closed Wednesdays for private functions
NQN was invited to a sneak preview but all opinions remain her own.
Sugar Republic
6th floor, Myer Sydney
436 George St, Sydney NSW 2000
sugarrepublic.com.au/sydney/
Open in Sydney from 10 February to 20 May
Tickets are currently available for February and March
Tickets for April and May will go on sale in February