Dear Reader, have you heard of hojicha? It's like a cousin to green tea or matcha but even more delicious (in my humble opinion). With a nutty flavour courtesy of roasting the green tea leaves at 200C/400F, the flavour of hojicha is easily baked into cakes or just made into a hojicha latte!
While most people have now tried matcha, they may be less familiar with hojicha or houjicha. It has some advantages over matcha-it's low in caffeine so you can drink it late in the day. It is less expensive because it is made using bancha leaves which is a lower grade of green tea.
Matcha is made only leaves while hojicha is made using tea leaves, stems, stalks or twigs. Hojicha is roasted at 200C/400F over charcoal giving it a warm, smoky, toasty, caramelised flavour which also decaffeinates it somewhat (although it isn't caffeine free). It is also less "grassy" or vegetal than matcha. It does have less Vitamin C which affects its antioxidant levels compared to matcha but it's still good for you.
Hojicha is one of the easier and most forgiving teas to brew compared to matcha and you can have it as either tea leaves or as a powder. The powder is the easiest way to use it in baking because you only need to add a tablespoon or two to give it the hojicha flavour. And while my first instinct might be a hojicha chiffon cake, I decided to make madeleines as I had to make some edible gifts.
Madeleines, like financiers, are best eaten on the day of baking and definitely within 24 hours and ideally not long out of the oven. There was a thing in Melbourne where you could order freshly baked madeleines at Cumulus Inc. and while this may seem an extravagance or something fiddly, once you have the dough, it can keep for 24 hours in the fridge or in the freezer.
My first batch of madeleines weren't quite as good as my second one. You see I had overfilled my tins but not to worry, you can easily trim the edges with a sharp knife.
I was recently talking to a friend about timing. She was telling me about her relationship woes. She had a friend who she had known for years whose wife left. They had reconnected and there was a new attraction between them. Because they were good friends, she felt like they had a strong foundation for a relationship but was wary of the timing with his recent broken heart.
My advice comes not from a place of knowledge or wisdom but with the background of food. I told her that she shouldn't be the first relationship after the breakup.
"It's like the first pancake - it's a trial run, you discard it or eat it but you don't serve it up," I explained because food analogies are the only way I can describe things. As I said, I'm sure my advice is probably 99% cuckoo and based on my own life and that of my friends but my friend who also loves food understood it immediately. I may not speak relationship, but I speak food!
So tell me Dear Reader, have you ever tried hojicha before and what do you think of it? What do you think about the timing of the relationship and the pancake theory?
Did you make this recipe?
Share your creations by tagging @notquitenigella on Instagram with the hashtag #notquitenigella
Hojicha Madeleines
An Original Recipe by Lorraine Elliott
Preparation time: 30 minutes plus 2 hours or overnight resting time
Cooking time: 13 minutes
115g/1 stick butter plus 1 tablespoon extra to butter the mold
2/3 cup superfine or caster sugar
1 cup cake flour plus a bit extra to flour the mold
Pinch salt
2 tablespoons hojicha powder
2 eggs, at room temperature
1 tablespoon milk
For chocolate dip
150g/5ozs. white or dark chocolate
1 teaspoon coconut oil
2 tablespoons black sesame seeds
You will need hojicha powder, not fresh leaves to get the desired flavour for this. You can find it at larger Asian grocery stores or you can easily buy the powder online.
Step 1 - Heat the butter in a saucepan on medium to high heat until it smells nutty and becomes foamy. Remove from heat and measure out 115g of butter and cool (I place it in the fridge for 15 minutes).
Step 2 - Whisk the sugar, flour, salt and hojicha powder together until there are no white streaks. Then whisk the eggs and milk and add this to the dry mix along with half of the cooled butter. Add the remaining butter and mix until combined. It will become a stiffish dough. Cover and refrigerate for 2 hours or preferably overnight. You can use the mixture after 1 hour but it may not develop the desirable "bump" in the typical madeleine.
Step 3 - Preheat the oven to 220C/428F. While it is cooling brush the extra butter in the madeleine mold (this makes enough for 18 madeleines so you can grease two trays if you have them). Refrigerate the mold for a few minutes and then re-brush again with more butter. Then lightly sieve a bit of flour over the butter and then tap away any excess flour (you don't want flour showing in the madeleine pattern). Keep the greased tray in the fridge until you need it.
Step 4 - Take out tablespoons of dough-it will be stiff and won't naturally fill the pan but that's ok, just spread it with your fingers. Bake for 11-13 minutes. Cool in the tin for 5 minutes and then gently slide out of the tin.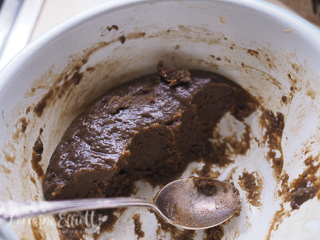 You can perhaps see how stiff the batter is here
Step 5 - Have a parchment line tray ready. Melt the white chocolate with the coconut oil and mix with the hojicha until well blended. Spoon the chocolate mixture over the madeleine and lay down on the tray. Sprinkle with sesame seeds while the chocolate isn't quite set.
Hojicha Latte
1/4 cup boiling water
2 teaspoons hojicha powder
3/4 cup steamed milk
Sugar to taste
Sugar to taste
Step 1 - Mix the water and the hojicha powder together until hojicha is dissolved and there are no lumps. Add the milk and then add sugar to taste (start with 1 teaspoon and taste).