Proteini is a reasonably priced cafe in Darlinghurst serving up paleo, raw and vegan dishes. Their dishes are wheat, gluten, dairy and sugar free and their slogan is Loveyourguts. Alongside food, they also serve up Proteinis aka smoothies with a wholesome range of ingredients. The Vanilla Pudding proteini with coconut milk is a resounding favourite. And how did I feel afterwards?...
Say what you will about the Paleo movement, the controversial but strong movement that borders on religion such is their devotees' fervour. The "caveman" diet has found countless fans in celebrities and those looking to lose weight. And they seem to have found their place and home on social media platforms such as Instagram. My discover feed is often peppered with colourful plates of paleo dishes, fruit bowls and ingredients and tanned, thin people in bikinis doing yoga poses who appear to eat paleo and do yoga for a living ("Don't they need to work?" I often wonder). Paleo Chef Pete Evans has found himself a niche of adoring fans that come to see him and his friends do talks on his Paleo Way tour.
And from this cafes have sprung up accommodating this new eating style. While vegan and raw diets has some crossover, the paleo diet offer meat options to widen the scope of offerings. I had heard about a cafe called Proteini started by Megan Cordingley on Crown Street in Darlinghurst and decided to visit with Mr NQN because he grew up eating healthily and I figured if anyone would love a healthy smoothie, it is him. It was an early morning, much earlier than I normally rise with a 5am wake up call and then a 7am stop at Proteini. While driving I looked around, "Wow look at all of these people? Are they real or am I imagining it?" watching the steady stream of people bustling about their day through bleary eyes. Ahh morning people. I feel like a vampire.
It was a picture of a vibrant yellow shaded juiced on a friend's Instagram that first attracted me. I'm not usually one to have breakfast (I know, tut tut!) but I figured since I had to be up, I may as well start the day well. Proteini have a slew of hastags that sum up their food philosophy:
#ALLHOMEMADE
##LOCALLYSOURCED
##AFFORDABLEHEALTH
##GLUTENFREE
##WHEATFREE
##DAIRYFREE
##SUGARFREE
##FIGUREFRIENDLY
##PROTEINICAFÉ
##LOVEYOURGUTS
We are the first sit down customers at 7am which is when they open although plenty of people wander in for coffees and drinks. My trainer Nina asks me to check if they do coconut milk cappuccinos (her favourite) and they do - in fact you can get regular, skim, soy, almond or coconut milk here. We take a look at the menu of Proteinis aka smoothies and order a "Liver Cleanse" out of curiosity more than need (I promise, I'd tell you Dear Reader if I had too much to drink) and a "Vanilla Pudding" smoothie just because it sounds more my sort of scene. Supplements like protein powder, probiotics, acai powder, vitamin C, maca and psyllium husks can be added for $1 each.
The Liver flush is a potent mix of orange juice, lime juice, garlic, ginger, olive oil and cayenne pepper. It's spicy and savoury the garlic dominating the flavours as it is such a strong and unusual addition. It does feel as though you are drinking something healthy though.
For those like me that need to be eased into the lifestyle (with a pastry in one hand and a cake in the other) the vanilla pudding is absolutely delicious. We choose coconut milk to have in it and it is a sweet, creamy mix of white chia seeds, banana, vanilla essence, coconut yogurt, maple syrup, cashews, coconut milk and ice. I end up taking this away and I drink all of this over the next few hours taking sips and it keeps all hunger pangs at bay.
We had asked what was the most popular items they pointed us towards two dishes, this super bowl being one of them. Mr NQN tries it first and I ask him, "Is it sweet or savoury?" He answers "Ummm I don't know!". It's true, while it is a mix of spinach, coconut water, cucumber, mint leaves, chia seeds, avocado, coconut protein powder and probiotics topped with apple, blueberries and coconut chips, my tastebuds are confused by this mild tasting concoction. It is really neither sweet or savoury. Mr NQN likes it but this one isn't for me - perhaps this is for the hard core healthy person who enjoys really green drinks. But you can bet that considering how pretty it was, I put it on Instagram. Yep I became one of those people!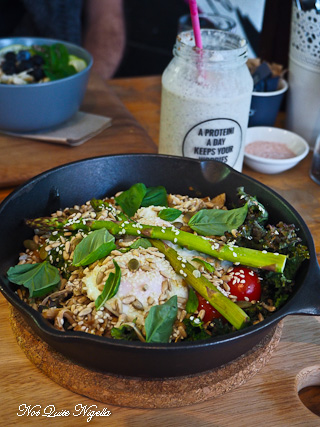 The paleo stack is a little different to what I expected. The menu says a sweet potato and kale hash so I expect something crunchy like a hash brown or roesti but it is a smooth sweet potato puree on the bottom of the bowl and crunchy kale chips. There is plenty of pulled pork and there are perfectly poached eggs, grilled asparagus, a dollop of olive oil and basil pesto, grilled tomato and lots of crunchy sunflower and sesame seeds on top. It's tasty with lots of different flavours happening all at once and lots of crunchy, soft and runny textures.
We took one item for the road: a raw Mars bar slice. While it won't pass as a Mars bar for the Mars Bar enthusiast (I'm sure these people exist) it is sweet and chocolatey made with dates and raw cacao.
Although I was a bit nonplussed by the superbowl and the liver cleanse (I'm really not their market) I really enjoyed the paleo stack and the vanilla pudding smoothie, especially the smoothie. I did notice that my energy levels are high for the whole day (okay yes that's a a feature of eating breakfast too but when I do eat French toast drenched in syrup for breakfast I feel sluggish rather than alert). I kind of felt like I could take on huge tasks. Hmmm, I sound like a paleo convert!
So tell me Dear Reader, what do you think of the paleo movement and paleo chefs like Pete Evans? Would you be able to eat paleo full time or do you occasionally dip into it (I must admit I do that). And what sort of people do you follow on Instagram, facebook or twitter?
Proteini
Closed Mondays Open Tuesday - Saturday 7.00am to 3.00pm Sunday 9.00am to 4.00pm