Sydneysiders have been treated this week to what some say is America's best pizza. For 1 week only Philadephia pizza chef Joe Beddia makes his signature style pizza using Australian ingredients. It is only available from the 22nd to the 28th of July so you've only got a couple more days to try it at Bondi Beach Public Bar's pop up pizza restaurant.
Back in Fishtown, Philly, Joe Beddia makes only 40 pizzas a day and has built up a strong cult following with his two staff, no seater, no phone pizza place over the last five years. And according to Bon Appetit magazine, it may be America's best pizza. He has been called "Pizza Jesus" and comparisons to Jiro from Jiro Dreams of Sushi followed. It was actually after a visit to Japan that Joe realised that you could dedicate yourself to one item and perfect it and be successful.
Australian sommelier James Hird visited Joe in Philly and persuaded him to bring his pizza to Sydney during his off time (Pizzeria Beddia closed on March 31 2018 and he is awaiting his new location to be completed).
The pizza itself is made with a 48 hour fermented dough made of organic flour, yeast, water, extra-virgin olive oil, sea salt, and sugar. For this pop up he arrived one week earlier sans entourage or chefs and spent the time perfecting the product. The base also happened to be the thing that he found the biggest challenge here. It took him roughly about 100 tries with the local, mostly organic ingredients to get the dough just right.
His key point of difference is using a gas fired oven instead of a wood fired one that Napoletana pizzas are usually baked in which changes the resulting crust making it more sturdy. His pizzas are cooked at 600°F/315°C for ten minutes as opposed to the shorter time and higher temperature of a Napoletana pizza. And at Bondi Beach Public Bar they will switch the gas and wood fired oven to a gas only one to make the pizzas.
To get a table here you either needed to make a booking although seats sold out very quickly but there are also tables set aside for walk-ins every night. But these tables are limited and if you want any chance of nabbing a table, get there before 5pm and start queuing near the graffitied door. The actual restaurant opens at 6pm (not 6:30pm as the website says).
When I came on Monday night at 5:30pm all the walk in tables were taken and when I returned on Wednesday night with Girl Next Door I made sure that we were sitting down in the main bar area at 4:45pm and watching the door while sipping on an Aperol spritz. There were already three guys sitting down and at 5pm sharp the staff emerged with a sheet of brown paper and started taking down names and we finally had our table for two at 6pm.
At 6 o'clock we are shown into the makeshift restaurant with plastic tables and chairs and brightly coloured tablecloths. At each setting there's a menu and plates with cutlery in a bucket. All wines are specifically chosen to match with pizza and there are also a few cocktails, antipasti and four pizzas which is a departure from Pizzeria Beddia as they only do pizza. We are sharing our table for four with another couple.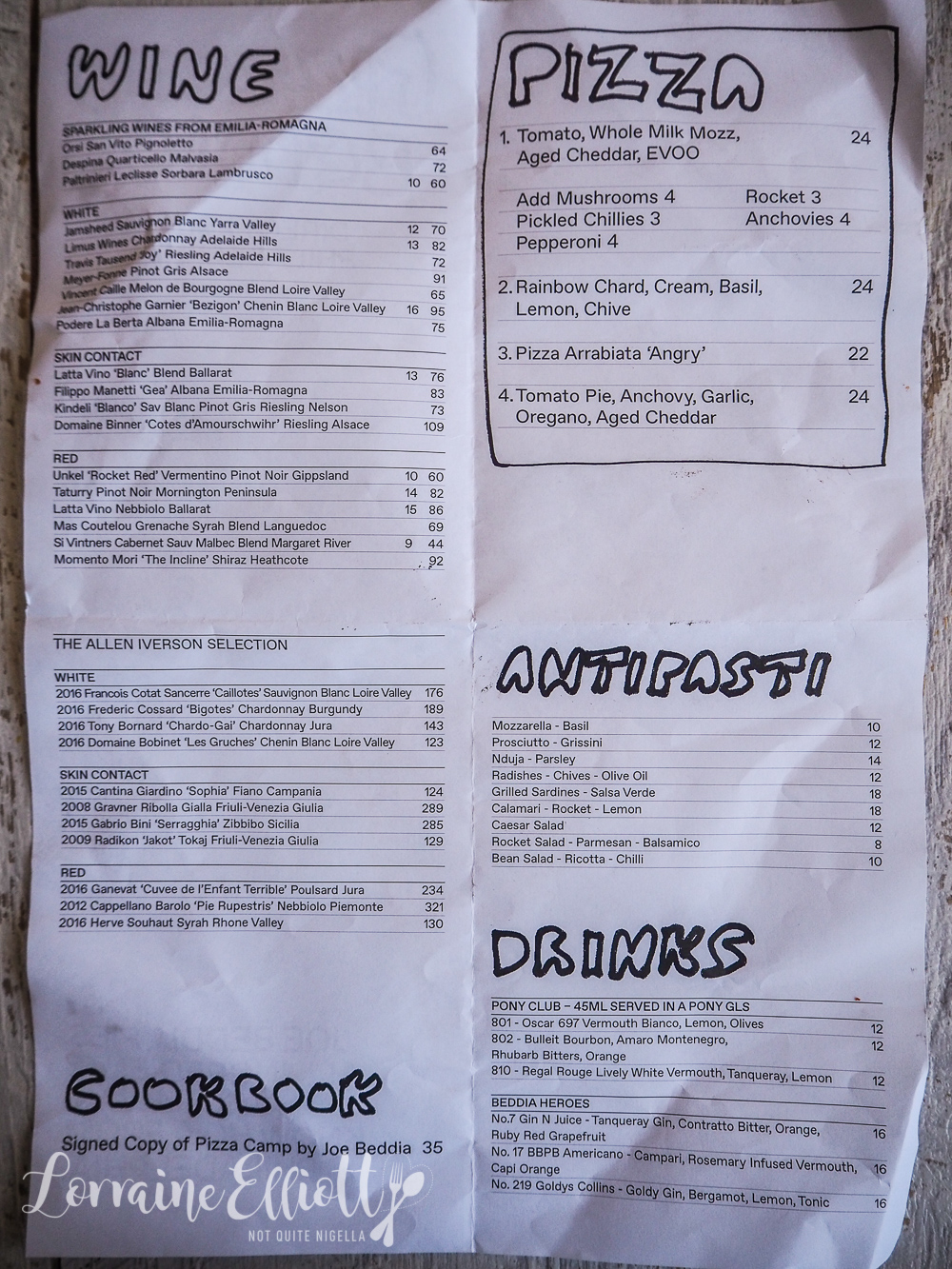 "Should we get three pizzas?" I whisper to Girl Next Door. "I think that might be a bit too much," she says as the more sensible member of our pizza loving duo. It's a moot point really. There's a strict 1 pizza per person policy here. The first night Joe made 60 pizzas, the second night 80 and tonight there are 99 people booked to come in and he will make 100 pizzas himself by hand.
Nduja with parsley $14
We start with some nduja which is a spreadable, spicy salami paste which is paired with finely shaved pickled fennel, a cube of focaccia and parsley. I would have loved a bit more bread because we wanted to spread it on something but the sweet pickled fennel is a nice accompaniment.
Tomato whole milk mozzarella, aged cheddar, EVOO $24 plus mushrooms $4, plus pepperoni $4 and side of pickled chillies $3
We choose our pizzas carefully because we've only got one chance (honestly the line "You only get one shot, do not miss your chance..." from Lose Yourself was playing in my head). We go with pizzas 1 and 3. Our first choice is one of the more popular ones because people can customise it. It has a tomato base of crushed tomatoes similar to a passata with whole milk mozzarella, aged cheddar and extra virgin olive oil. We decide to top ours with mushrooms and pepperoni and have a side of pickled chillies which makes it a fairly expensive pizza at $35.
There is also the option to add rocket and anchovies but I find rocket can be a bit drying on the palate and anchovies eliminate the subtlety of other flavours. We both love this pizza. The best part is the base which has a great texture to it and it is less soft in the centre than a Napoletana pizza. The sides are puffy and some have enormous air bubbles and are blistered and blackened. The pepperoni isn't very hot so we add the pickled chillis to the pizza.
Pizza Arrabiata "Angry" $22
The pizzas are around 11 inches and our second pizza arrives. When they say angry they mean spicy and this is a very spicy number indeed. Made with Thai chillis, pickled chillies, garlic, mozzarella, cheddar and dry mozzarella it really packs a punch. I don't actually notice that it's a vegetarian pizza until later as it is so spicy and full of flavour.
Bean salad, ricotta, chilli $10
Out of the two sides that we ordered I really like the bean salad with cannellini and green beans, shaved ricotta salata on top and chilli. Although there is plenty of cheese it is zesty enough to cut through the richness of the pizza.
There's no dessert on the menu and staff let us know that they need our table for the next seating. I get the chance to peek in the kitchen in the brief lull between seatings. There Joe is busy shaping and topping every single pizza on order. There are also copies of his book Pizza Camp available for sale. So is it worth going to try? Yes, it's very, very good pizza. But getting a table is another issue altogether!
So tell me Dear Reader, would you try and get a table here? Have you ever tried Pizza Beddia? Where is your favourite pizza?
Pizzeria Beddia at Bondi
Bondi Beach Public Bar
80 Campbell Parade, Bondi Beach NSW 2026
Pop up ends 28th July, 2018
Phone: (02) 9132 5777