This Caprese risotto is like a tomato risotto's much more interesting cousin. With the intensity of flavour from tomatoes, it gets a final stir through of soft, oozy mozzarella strings and a sprig of basil! And best of all this risotto can easily be made in the rice cooker and requires stirring just 2 or 3 times!
This Caprese risotto was inspired by a visit to a quirky little Italian restaurant in Mackay, Queensland which I was visiting with Ivy as Mr NQN couldn't make it. So there we were, two gals at Romeo and Juliet's restaurant in a booth that was so large it could fit six people. "I feel like Tony Soprano," said Ivy. Their menu had a Caprese risotto which just sounded so clever we ordered it. It ended up being my favourite meal of the night.
I think that travelling with people you really get the sense whether you can be close friends. Because sometimes they seem nice over a three hour meal but they may be behaving themselves and possibly quite nuts for the other 21 hours of the day. Ivy and I travelled very well together and we got to know each other better.
And while you and I may never get to travel together (although who knows! The world is strange and delightful), I thought I should come clean and confess some things to you:
I am one of those people that eats tomato paste. When I was a kid my mother bought tomato paste very occasionally and after she used a tablespoon of it I'd sit there squeezing the rest of the tube into my mouth or eating it with a spoon.
I also love those supermarket bakery bacon and cheese rolls. You know the ones that are topped with a thick layer of tasty cheese and cubes of bacon and just sit at room temperature? I'll have one warmed up with butter. YUM.
I microwave hot cross buns to heat them up. I know you're meant to put them in the oven. Shhh don't tell anyone.
I hate healthy peanut butter. In fact if you give me the supermarket stuff I'm probably happier than with the $10 healthy jar that is crushed in front of you.
My favourite fast food is sushi train or sushi rolls. I'd eat it every day if I could.
I also love shortcuts like using my rice cooker. I love making food from scratch but I'm also the person that resents the 2 seconds that my kitchen light takes to turn on because I'm thinking what else I could be doing when you add up all that time.
I promise that a rice cooker makes a wonderful risotto. I'm sure risotto purists would hate me for doing this but I genuinely could not tell the difference between lovingly hand stirred risotto made on the stovetop or this version. The only difference is that I got to spend 20 minutes looking at dog videos on the internet ;)
So tell me Dear Reader, do you have any food confessions? Do you have a favourite time saving appliance? And do you own a rice cooker?
DID YOU MAKE THIS RECIPE? Share your creations by tagging @notquitenigella on Instagram with the hashtag #notquitenigella
Caprese Risotto
An Original Recipe by Lorraine Elliott
Preparation time: 10 minutes
Cooking time: 20 minutes
1 onion, peeled and finely diced
3 garlic cloves, peeled and finely diced
1 cup arborio rice, washed until water runs clear
500ml/16.9flozs. pasta sauce
500ml/16.9flozs. chicken or vegetable stock
125g/4ozs. fresh mozzarella or bocconcini
Fresh basil to serve
Step 1 - Turn on the rice cooker and add some oil to the bowl and fry the onion and garlic until onion is translucent. Add the rice, pasta sauce and stock and keep the cooker on and place the lid on. Allow to cook for 20-25 minutes stirring the mixture 2-3 times while it is cooking. If your rice cooker turns onto the "keep warm" setting, wait 5 minutes and then turn it back on.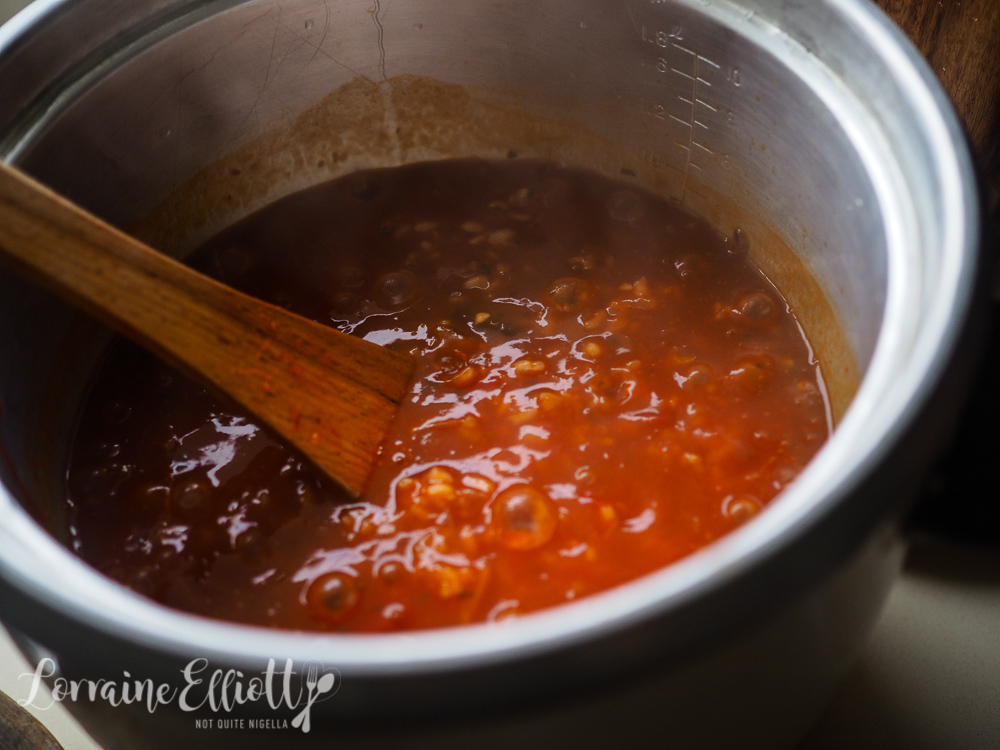 Half way through
Before adding the cheese
Step 2 - Break up the mozzarella or bocconcini and mix into the risotto. Add some basil on top.