In the spirit of my favourite spookilicious month of the year here is a pumpkin or golden beetroot risotto! This creamy, delicious risotto is made with plenty of pureed golden beetroot or pumpkin for a delicious, slightly sweet flavour with deliciousness of gorgonzola and parmesan. It's divine and light - no stodgy lumpen risotto here!
It took me a while to make this recipe, mainly because I wasn't sure if Dear Readers would make this. However once I made it I had to put it up asap because it was so good. I've made this with two vegetables: pumpkin and golden beetroot and I combined the recipe to give you directions for both as they both look very similar and have a gorgeous sweetness to them as well as a sunny orange colour. You can of course use purple beetroot but obviously the colour will be bright purple. This is based on the best risotto recipe by my friend Monica.
This recipe has pumpkin or golden beetroot pureed with some of the stock. Then there are some finely diced pieces of pumpkin or golden beetroot on top for texture. It's simple but wonderful and former risotto hater Mr NQN simply laps this up.
I use my favourite chicken stock-the powdered stock powder from Asian grocery stores. If you use a salt reduced stock then please make sure to add salt back into the risotto because salt adds flavour and you do want to balance it well against the sweet pumpkin or beets.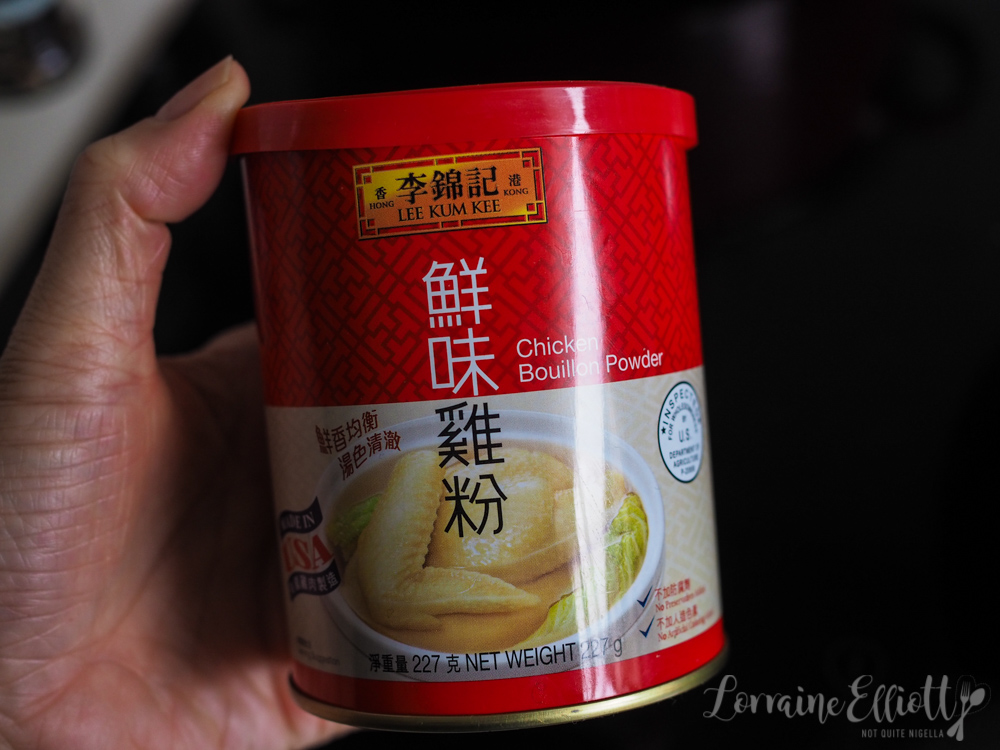 Other recipes using pumpkin: Roasted Caramelised Pumpkin With Pecans, Pumpkin Spice Choc Chip Cookies, Dutch Curry & Rice Pumpkin Soup, Hasselback Pumpkin, Caramelised Pumpkin Wedges with Seeds, Nuts & Herbs, Pumpkin Jam, Triple Layer Chocolate Pumpkin Pie, Edible Pumpkin Bowl Fondue, Vegan Pumpkin Red Curry Dumplings, Bacon & Pumpkin Pasta Sauce, Crispy Roasted Kabocha Pumpkin Fries, Pumpkin Spice Cake with Whipped Cream Cheese Frosting, Pumpkin Walnut Bread, Spiced Pumpkin Ice Cream, 3 ingredient 3 step and no elbow grease pumpkin soup, Maple Pumpkin Donuts, Roast Pumpkin With Feta & Honey, Pumpkin Bread Rolls and Pumpkin Spice & Maple Walnut "Eggos" Waffles!
Other recipes using beetroot or beets: Sri Lankan Beetroot Curry, Beetroot Relish, Slow Roasted Beetroot & Orange Salad, Healthy Beetroot Dip, Beetroot & Feta Tarte Tatin, Farro, Beetroot & Beet Green Salad, Beetroot & Feta Slice, Beetroot Cured Salmon, Finnish Rosolli Beetroot Salad, Sweet Potato Borscht, Beetroot Raspberry Cake, Kale and Beetroot Salad With White Anchovies, Beetroot & Quinoa Salad With Horseradish Cream Dressing or Pink Pickled Eggs!
Other risotto recipes: Seared Scallops With Pesto Risotto, Caprese Risotto, and Bolognese Risotto.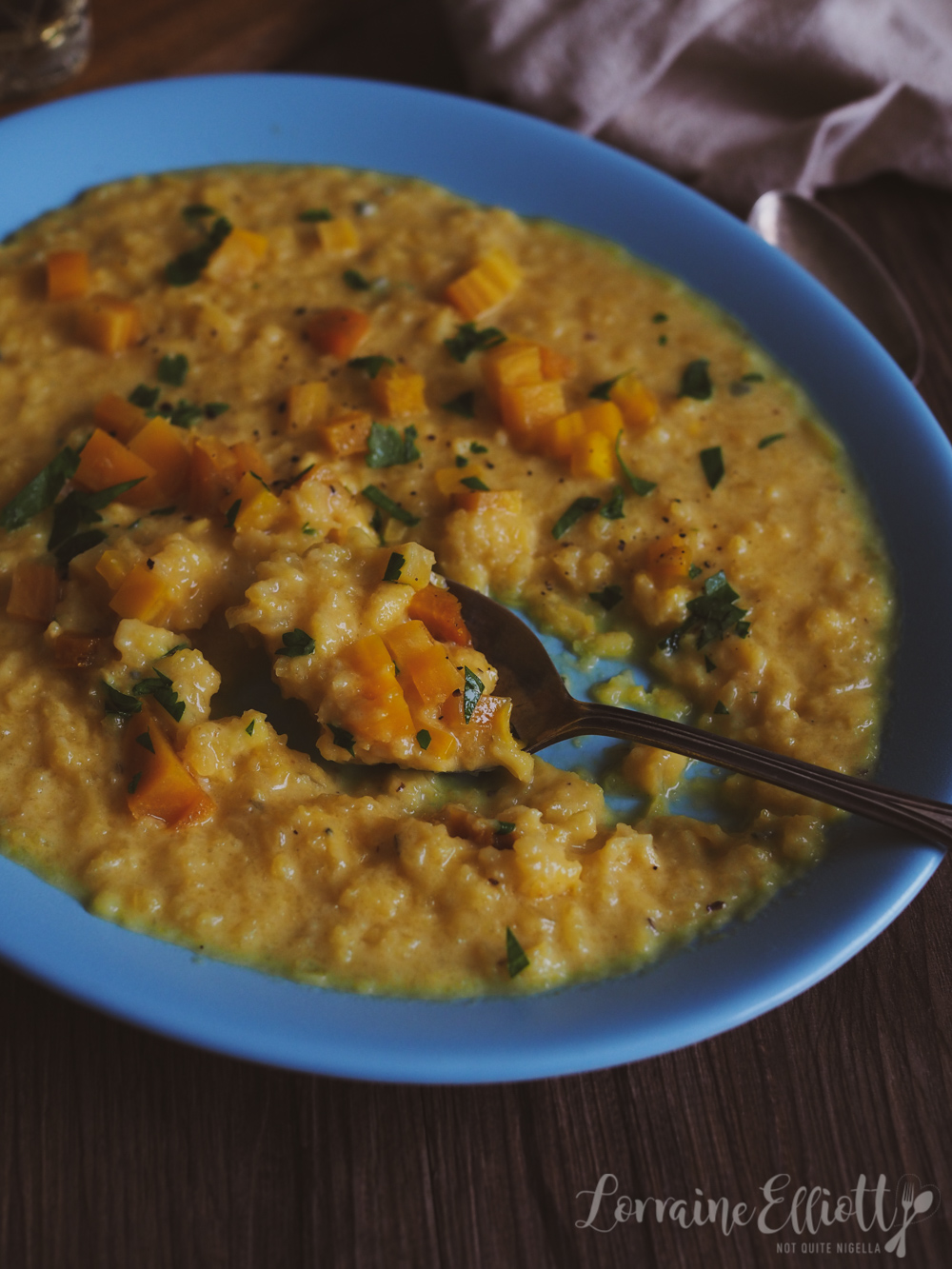 Risotto is a great dish for the in between seasons. It's warming and substantial enough for chilly days whether it be the ephemeral chill of spring or the more stubborn chill that Autumn brings. We're still dealing with a bit of rain nowadays even though we're in the second month of spring and one good part of lockdowns lifting is no longer having to watch the weather like a hawk.
On the day before lockdown lifted we had a birthday picnic for Laura. The forecast was showing a glorious 26°C/78.8°F day. But closer to the day the forecast grew rapidly colder with thunderstorms and heavy rain predicted. That morning we decided to switch up our picnic time to avoid that afternoon's rainstorm. We split up who was buying everything evenly.
This played a bit of havoc as Mr NQN and I share a car. He never knows when he is windsurfing until the day before and can carry on if he doesn't get to go. He whined about how he missed out on windsurfing the day before because I had arranged for a picnic with Monica and Marco. "Hang on you had a great time at the picnic and now not going windsurfing is my fault?" I said to him shocked. If I waited until he could tell me when he is windsurfing I'd spend the weekends alone at home because everyone is booked up weeks in advance. Which suits a hermit like him but is horrible for me. We ended up having a fight over it in which I called him a man baby for his sulking.
It was then that Laura rang and I told her about the situation. She and I are problem solvers so she said that it wasn't an issue, we'd get everything delivered to her house and then take it on the picnic.
"You can have the car," Mr NQN said pouting.
"Hell no, you're going for a windsurf and that's it!! Even if it's thunder-storming you're going out and bloody windsurfing!!" I said angrily.
Now that his precious windsurfing time was secured he offered to drive me over to Laura's apartment to pick up the food. We had a delicious picnic with a tasty range of her favourite food from wild caught prawns and seafood sauce. There was also her favourite fast food KFC (I showed her my favourite tip and that's to dip the fried chicken in a mix of their sweet and sour sauce and mayo), chips, gravy, salad, bread for sandwiches (sourdough and white supermarket bread) as well as bubble tea to wash it all down. I didn't have time to bake her a cake so we also ordered Asian bakery cakes and baked goods.
"Ooh I almost forgot!" I said. From behind my back I brought out two minibar sized bottles of Kahlua and Baileys. We added the kahlua to the taro milk tea and the Baileys to the Bubble Milk Tea. It was a delicious and fun birthday picnic and I'm also glad that we didn't get rained on or blown away!
So tell me Dear Reader, do you have a different social schedule or social needs to your partner? Are you tired of picnics? Do you like risotto?
DID YOU MAKE THIS RECIPE? Share your creations by tagging @notquitenigella on Instagram with the hashtag #notquitenigella
Pumpkin Or Golden Beetroot Risotto
Rated 5.0 out of 5 by 1 readers
An Original Recipe by Lorraine Elliott
Preparation time: 20 minutes
Cooking time: 45 minutes for roasting vegetables, 40 minutes for risotto
Serves: 4
375g/13ozs. (around 4) golden beetroot or pumpkin* see directions below
1/2 cup/125ml/4flozs. extra virgin olive oil
1 large yellow onion, peeled and diced
5 cups/1.25 litres/2.6pints chicken stock, hot, divided in 3 cups and 2 cups
1/2 cup/110g/3.9ozs. arborio or carnaroli rice (do not wash)
30g/1oz gorgonzola cheese, crumbled (optional)
1/2 cup/125ml/4flozs cream
1 cup/80g/3ozs. grated parmesan cheese
Salt, pepper and chopped parsley to finish
To roast the beetroot, trim the greens and wash well but do not peel. Wrap two beets in a sheet of foil and drizzle with a teaspoon of oil and then wrap up snugly and then place on a baking tray and bake at 180C/350F for 45 minutes (1 hour if they are very large but mine were around 95g/3ozs each). To roast pumpkin take a wedge of pumpkin and cut off a 100g/3.5oz chunk. Place the large chunk of pumpkin, drizzle with oil and roast until tender (around 30-45 minutes). This roasting can be done 2-3 days ahead of time.
Step 1 - Heat 3 cups of stock in a small saucepan on the stovetop next to the frying pan and keep on low heat.
Step 2 -With the roasted beetroot, dice up one beetroot and set aside. Then puree the remaining three beetroot with 2 cups of stock and set aside. If you're making it with pumpkin, puree all of the roasted pumpkin with 2 cups of stock. Chop up the remaining 100g/3.5ozs. chunk of pumpkin into a small dice and set aside.
Step 3 -Heat the oil in a deep nonstick frypan or skillet and add the onion and sauté on low medium heat until soft but not caramelised (do not allow to brown). Add the rice and coat the grains in the oil and onion. Add the stock one ladle at a time. You're going to add 2 cups of the stock. If you're using the pumpkin add in the diced, raw pumpkin at this stage too. Once the 2 cups of stock is added then add the 2 cups of the beetroot or pumpkin stock puree (the extra 1 cup of stock is a backup to make sure that the risotto is loose enough). This will take up to 25-30 minutes total on medium heat.
Step 4 -Add the crumbled gorgonzola if using and allow to melt. Then add the cream and stir. Check the texture of the rice, some like it having some bite, I prefer it al dente but not hard. Use the extra cup of stock by the ladleful if needed. Once it has reached the texture that you like add the parmesan cheese and season with salt and pepper. If you're using the beetroot you can add the diced beetroot on top. Serve immediately.