A night out at Vivid, a dessert festival and a cheap and cheerful Malaysian dinner at Jimmy's Kitchen is the perfect cheap and cheerful weekend Winter activity!
It was the second night of Vivid and one week before the start of winter and the temperatures were showing a top of 25°C. Sometimes I skip Vivid because it is too cold to go walking around the city but this weekend, I am excited.
We make our way to the Gateway building in Circular Quay to Jimmy's Kitchen. This meal was the combination of two nights: first dinner with Sophia and then dinner with Mr NQN, Ivy and Ryan.
You wait to be shown to a table, they bring you menus and then you order and pay at the counter, take a buzzer to your table and then collect your food. Prices are around $15 per dish and they're quite generous with portions.
Jimmy's is known for its laksa. We start with the chicken laksa with vermicelli and hokkien noodles and a spicy, rich soup. The soup is the real highlight. To be honest I didn't love the chicken so much but the rest of it was good. I think if I were to order this again I'd just get hokkien noodles because I love them over the thin vermicelli.
The other item that they are known for is the char kway teow. Sophia doesn't like seafood so we go for the beef version. The beef here is very tender and velveted so that it melts in the mouth. The char kway teow has a good sauce, slightly sweet so that it caramelised slightly although it doesn't have the char or "breath from the wok" that really elevates char kway teow.
I can never resist roti and the flakey, buttery bread comes as a fat coil with a mild curry sauce on the side. It's a thick roti with just enough roti for the sauce.
The next night I return with Mr NQN, Ivy and Ryan and we order a range of things. At first we think that we'll be restrained but then Ivy spots the chicken wings on the specials menu and then I add a couple of satay sticks and then our table is covered in food. The milky Teh Tarik is just the right amount of sweetness and milkiness.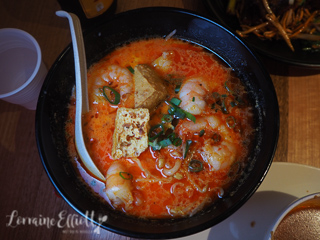 We decided to try the prawn laksa and this has a generous amount of prawns that are perfectly cooked. This laksa only has beehon or vemicelli noodles but again the soup is rich and full flavoured and I don't think I could ever finish a whole bowl of it.
The beef rendang comes with rice and is tender and cottony soft. It has a nice flavour although I prefer my beef rendang with more chilli spice. And really nothing beats my mother's beef rendang which is much bolder and punchier.
I was tossing up between the Mee Goreng or the Kwai Teow Siram but they recommended the Mee Goreng. We have this with beef because I wasn't so taken with the chicken in the laksa and it is delicious. With a nice slick of sauce on the noodles and tender melt in the mouth beef pieces I want to finish it all.
The chicken satay is fine but I don't think I'd order it again. Like the rendang I really prefer my mother's chicken satay which is much fuller in flavour. It may have been the weakest dish that we ordered.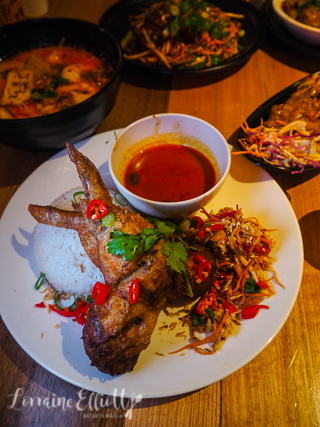 Damn if the chicken wings aren't my favourite thing of the whole lot (apart from the mee goreng). The deep fried wings are boneless and stuffed with a mince that tastes like the Thai sai ua sausage. They're so juicy and fantastic and they also come with rice and a sambal salad.
Once we've eaten and kept the hunger monsters at bay we venture out to see the Vivid installations. This is Ivy and Ryan's first time seeing it and every year of course it changes so you never know what to expect.
One of the biggest drawcards in the Circular Quay area is the Samsung Electric Playground. There are a few installations in the large space to the left of the MCA. The one that everyone wants to try is the electric slide where you slide down a clear slide. If you have a QR code then you can get your photo sent to you from the bottom.
There is also the studio room in the MCA where you can get some photo moments. They loan you a Samsung Galaxy to take pictures with and then you can select up to 10 to be sent to you. For the first room called the Field of Hearts the phone will read your heartbeat and then pick a colour for you and then you walk into a mirror room that looks like a Yayoi Kusama infinity room but with glowing spikes and they will project the sound of your heartbeat and your colour.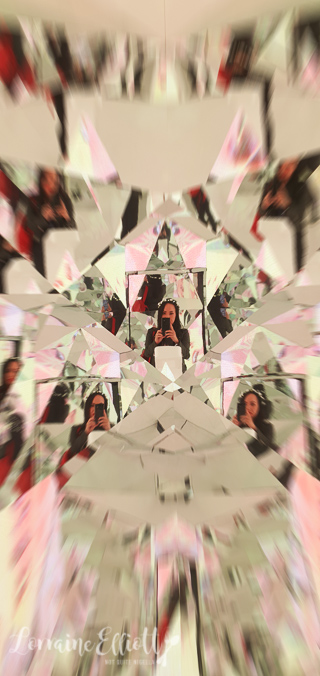 This is followed by a second room called the Ocular Odyssey where they read your retina and project yours eyes as a kaleidoscope. Your time in each room is limited to around 45 seconds to a minute so it's very short and you barely get enough time to snap a shot let alone look for the best angles. And just a warning, be prepared to queue for these things especially during peak times as it is a free event.
For the first Vivid weekend there was the Milk N Sugar dessert festival with around a dozen stands selling a range of desserts, ice creams, drinks and cookies. We start at Waffle Town and make our own waffle basing it around the strawberry, banana, Nutella and almond one but adding pretzels (because crunch!). Then we segue onto Arelio Sweetbox where we get a macaron ice cream sandwich with sprinkles and a rich chocolate ice cream.
Then we head to Cow and Moon for a orange and poppyseed ice cream espresso sundae. Then finally we go to Fluffy Crunch for an enormous glow in the dark fairy floss bigger than my head!
And then a potato tornado on a stick because I've always seen these but never tried one before. While the ends are a bit thick, the actual potato part is delicious!
After the electric playground we are parched so we stop by the Bubble Nini bubble tea stall for some drinks served in lightbulbs which fit the theme. I'm pretty sure you're paying mostly for he packaging than the bubble tea but the milk black tea with brown sugar bubbles is delicious while the grape one is that oddly alluring faux grape flavour. And yes you can make the lights change on the lightbulbs.
And we can't resist the freshly fried donuts rolled in cinnamon sugar from Diego's Donuts. At first I think I'm going to just have one but then I have to go for another. And then before I know it, my hands are covered in sugar and I'm holding a drink with a pulsating light bulb.
So tell me Dear Reader, have you ever been to Vivid? If you went this year, what did you think of it? What was your favourite installation?
The meal at Jimmy's Recipe was independently paid for. NQN was given vouchers for the desserts at the Milk N Sugar festival but all other food and drink was independently paid for.
Jimmy's Recipe
Level 2 Shop 2-04/1 Macquarie Pl, Sydney NSW 2000
Open 7 days 11am–9pm
Phone: (02) 9251 8823
jimmysrecipe.com.au/