A bewitching and gorgeous store that sells house made gelato and other Sicilian delights, Cremeria De Luca is the creation of the De Luca family, originally from Sicily. Three generations of De Lucas have made gelato and today Sicilians and non Sicilians flock there for a refreshing morning granita, gelato filled brioche or an osso bucco ragu filled arancini cooked to order.
An Italian grandfather sits next to his curly headed grandson. He's patiently explaining the process of organic gelato making to him. His grandson is curious peppering the conversation with questions before picking up his yellow aeroplane shaped spoon to swoop down on a spoonful of the icy treat.
It was less than a week ago that we had first visited Cremeria De Luca, on Ramsay Road in Five Dock as part of our epic gelato challenge. While we were sitting there, we immediately made plans to return the following week, smitten by the decor and gelato burger, one of Sydney's must eats.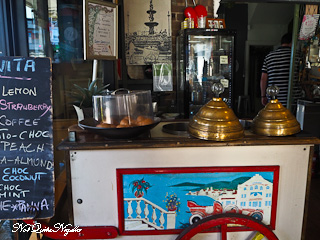 Belinda and I return at 11:30am the following Wednesday. We watch as they bring out two coffee granitas with a side of brioche to two gentlemen in the front room. That's the way many Sicilians start the day. As we are looking for a bit of lunch before the sweet we take a look at the menu. The savoury dishes are a arancini filled with veal ragu and a brioche bun filled with ragu. The latter is only available during Winter so we wait for the arancinis to be made.
Cremeria de Luca first opened in Leichhardt in 1995. The De Luca family's first foray making gelato in Messina, Sicily was in 1937 with Salvatore De Luca, age 17. In 1980 his son Luigi De Luca and his wife Gavina decided to open a gelato place in Sardinia (alongside their regular executive jobs). In 1991 the family moved to Australia and in 1995 they opened "La Cremeria" in Sydney that traded on Leichhardt's busy Norton Street until 2009.
There was five years on Bondi Beach before they opened Cremeria De Luca in Five Dock. Luigi and Gavina still make the gelato while his 26 year old son Sal takes care of customer service. A large black and white print of Salvatore's gelato machine called a Verticale is the only remnant of their grandfather's original business.
"Sicily evolved gelato," Sal says - it is said that the Italian connection to iced confections originated here. In 1997 Luigi campaigned to have the Sydney Royal Show differentiate between gelato and ice cream, such was the confusion between the two. Sal explains that their award winnings gelato is a little different than most. He tells us that gelato should have flavour but not so much density. If it is too thick then is has a lot of sugar and fat in it and their gelato has less sugar and fat.
For that reason Cremeria De Luca's gelato is best eaten in store rather than taken home and frozen. They don't use any pre bought pastes here and there are between 12-20 flavours at any one time. His father tends to make the unusual flavours (there's a Viagra flavour coming up for Valentines Day!) while his mother has her own specialties. For this Australia Day weekend there is peanut butter arancino, Vegemite panna cotta gelato, lamington granita, beer granita (non alcoholic) and Tim Tam and pavlova gelato.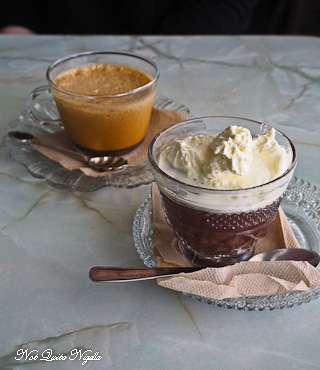 The regular menu is two sided with a distinctly sweet bent to it. I start with an Italian hot chocolate while Belinda orders a Shakerato. The Italian hot chocolate is unlike any other. Creamy and soft, it is so thick that it could be a warm chocolate pudding while Belinda's shakerato is a refreshing mix of espresso, sugar and milk served ice cold.
The freshly fried arancini arrive next. It is always cooked to order to ensure freshness and these are real beauties. They put the tiny rice balls often seen to shame. Sal looks at us seriously. "There is the Sicilian way of eating these," and he explains that you can pinch off the top to cool it but you are to eat these by hand cupping them as shown above. I break off the top and try it. There's a moment for both of us where we revel in the whole eating experience. The veal osso bucco ragu inside increases the further down you get and the rice is crunchy and moreish so you don't even realise that you've eaten pretty much the whole thing in a blissful fugue.
It's a hot day today so we try a granita. The most typical Sicilian flavours are lemon and coffee but the sound of the peach appeals to both of us and it comes out served with a brioche. You tear off a small piece and dip it into the glass getting a bit of the peach granita and cream. And I will warn you because you may have another moment with this, it's that good. Suddenly I want all my gelato and granita with brioche.
There's no shortage of sweets on offer and we are curious to try the Nutella arancini, a large arancini with a filling of Nutella in the centre. It is served with a panna (sweet whipped cream) in a syringe that you can inject into the centre spurting out warm, oozy Nutella and cream.
Alas we have to leave but not before a final look at the menu. I inquire about the gelato fritto. "Nobody has ordered the gelato fritto" Sal says. He is still experimenting to deep fry a gelato cone. Belinda takes one last spoonful of the granita before declaring wistfully, "This place is where dreams come true..."
So tell me Dear Reader, do you go for classic gelato or granita flavours or do you like experimental ones? Have you ever tried gelato in brioche? And what methods do you employ to beat the heat?
This meal was paid for independently.
Cremeria De Luca
84 Ramsay Rd, Corner first Avenue, Five Dock, NSW
Tel: +61 (02) 9712 4606
Closed Mondays
Tuesday to Thursday 11am-10pm
Friday to Saturday 9am-11pm
Sunday 9am-8pm
http://www.cremeria-deluca.com/