This easy four ingredient fudge is the quickest way to heaven! Did you know that you can get a gorgeous creamy, non grainy fudge with just three (or four if you want to add Milo) ingredients? Perfect for that special Father's Day treat!
Many moons ago I tried making fudge from scratch and it never worked. The fudge never set and I was left with a mess. The only fudge that would work for me was one using marshmallows and I was convinced that that would be the only fudge I could make. This isn't a grainy fudge, this is a smooth one, similar to one I used to buy from Tasmania.
Until this fudge. At its most basic you can make it with sweetened condensed milk and chocolate. But add a packet of your dad's favourite cookies or biscuits and it becomes a crunchy, smooth and creamy delight. Add Milo and then you've got a rich, chocolatey maltiness I promise. Even though I am not a massive sweet tooth and prefer savoury I savoured a square of this as an afternoon treat.
I always struggle to find things that will suit my father for Father's Day. He is super healthy so he won't eat things that are traditionally associated with Father's Day, nor does he drink. This fudge was a compromise as he is a very quirky guy.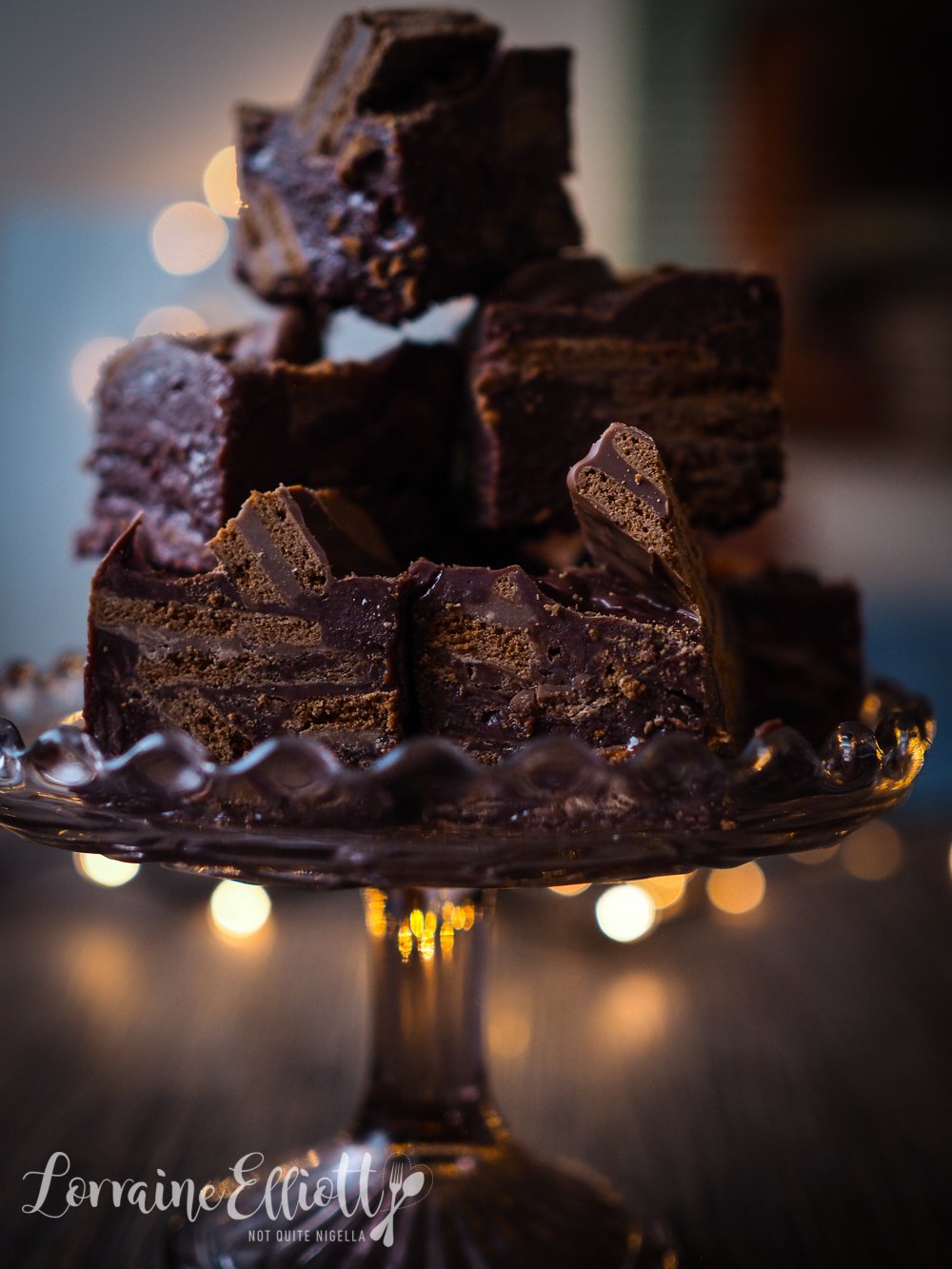 My sometime vegetarian friend got a glimpse into how quirky my family is over dinner one night. I invited her along (long and funny story, will explain in more detail) and it was potentially going to be awkward because we've never had a non-family member come along to our family dinners.
On the way in the car (she and I drove in a separate car), I gave her the 30 minute low down on my family. She knew Mr NQN but my parents and sister were new to her apart from what she had read on the blog. "Don't worry about my dad, he can't hear so don't be offended if he doesn't speak to you," I explained. I also warned her not to get offended if my mother says something inappropriate because she has been known to put her foot in her mouth (small talk is not her forte). Plus she's very conservative so you just don't know what will come out of her mouth (the apple could not have fallen further from the tree for me - I'm in a different orchard).
I knew Laura would be fine though. She's charming and friendly and everyone quickly came around to her. She made sure to talk to everyone and ask them questions. In the car home I asked her what she thought of them. She said that she thought my mother was pleasantly friendly as was my sister. She also loved my father's quirkiness. When it came to ordering we asked him if he wanted a steamed fish. He always says no to everything even thought steamed fish is literally his favourite Chinese restaurant food.
There was a mix up with the order and we ended up ordering a steamed fish towards the end of a meal and when it came out he devoured it! "I love that your dad didn't want the fish but then when the fish came out he just smashed it like he hadn't eaten!" she said laughing. Our friendship is based on eating and loving quirky things and I think she related to that moment!
So tell me Dear Reader, what is your father like? Does he like fudge? Are you making something special for Father's Day?
DID YOU MAKE THIS RECIPE? Share your creations by tagging @notquitenigella on Instagram with the hashtag #notquitenigella
Four Ingredient Tim Tam Fudge
Rated 5.0 out of 5 by 1 readers
An Original Recipe by Lorraine Elliott
Preparation time: 5 minutes (plus setting time in fridge)
Cooking time: 5 minutes
400g/14ozs. tin sweetened condensed milk
300g/10.6ozs. chocolate (half milk half dark)
200g/7ozs. packet Tim Tams or your favourite biscuit
1/2 cup Milo
Step 1 - Line a small loaf tin with parchment on the base and sides. Melt the milk with the chocolate and Milo in a saucepan on low to medium heat.
Step 2 - Reserve 4 biscuits to decorate and cut up the biscuits in three. Stir in with the chocolate mixture once melted and scoop into the tin. Cut the remaining 4 biscuits into threes and place on top of the fudge. Set in the fridge and cut into squares.