Ever thought of making your own chocolate bars? Here's an easy way to make a big family sized bar that people can break pieces off using an everyday ice cube tray of all things! Best of all you can use up any Easter chocolate (if you have any that is ;) ). Adding strawberries inside makes this a surprise treat too!
"I don't want to alarm you but I think that's the third time I've seen that particular police car today behind us," said Mr NQN looking furtively at the rear view mirror.
"Ooh how exciting! It's like we're in an episode of Law & Order SVU! Bags being Olivia - you can be Stabler!" I said sitting up excitedly in the car. Because nothing peps up a boring errand day more than pretending to be part of a tv show. Except of course we weren't the police, we were the suspects-a mere technicality! Mr NQN fancies himself as a bit of a wannabe spy having watch half a dozen episodes of Spy Master.
"Should I do some counter surveillance moves?" he suggested cheekily. He also fancies himself as a bit of a rally car driver so I don't encourage these moves, especially in our hybrid car which can technically go fast if you put it in sport mode, but probably not fast enough to elude the police. My mind flipped quickly to being handcuffed and because I was still in my mind acting out an episode of SVU, being read my Miranda rights.
But really, what would the police have found me doing? Well running some really boring errands. Their log would have read:
12pm: Picked up ice cube trays from parent's house.
12:30pm: Visited market. Fondled fruit and vegetables under guise of checking them for ripeness. Bought more than she could carry and staggered to the car where suspect #2 was waiting for her.
2pm: The two suspects visited a cafe. Ordered enough food for four people. Ate it all. Suspects must have worms.
5pm: Melted chocolate and made a mega big-ass chocolate bar.
Yes Dear Reader, this was my Easter Saturday. This recipe idea came to me when I was filling the ice cube tray. I emptied the leftover bits of ice into the sink and then it struck me that it would make a great chocolate block tray. Except mine needed a lip to keep all the pieces together which is when I remembered the ice cube trays at my parents' house that had a lip on them.
After every Easter there's always so much chocolate left over. No hardship mind you but here is one idea for any left over chocolate and it involves making things a tad healthier with the addition of fresh fruit! The best part is that it is also really simple because you just melt all the chocolates that you have together and then brush the melted chocolate into the cavities of the ice cube tray. Then pop in some strawberries and fill it up with chocolate and you have a gorgeous family block of chocolate filled with strawberries.
Chocolate strawberries are one of my favourite snacks (I mean really, add chocolate to anything and it will be good no?) but I especially loved the easy the process of making these was for the reward. And if you have loads of chocolate left over or kids you need to amuse with a food craft, this is a fun one too! You can make your own version of a Toblerone using chopped almonds and honey or use different fruit inside like sliced bananas, kiwi fruit or other berries. Or mix it up and then whatever piece someone breaks off will be a surprise!
So tell me Dear Reader, do you ever have leftover chocolate at Easter? Do you buy Easter chocolate once it goes on sale? And do you think chocolate tastes better in a bunny shape or an egg shape? Do you prefer solid or hollow eggs?
DID YOU MAKE THIS RECIPE? Share your creations by tagging @notquitenigella on Instagram with the hashtag #notquitenigella
How To Make Your Own Family Sized Chocolate Bar!
Rated 5.0 out of 5 by 1 readers
An Original Recipe by Lorraine Elliott/Not Quite Nigella
Degree of difficulty: easy
Preparation time: 10 minutes plus some waiting time for chocolate to set
About 550g/19.5ozs. mixed chocolate eggs and bunnies (ones without fillings), I used a mixture of dark, milk and hazelnut
175g/6.18ozs. fresh strawberries or banana slices (or whatever fruit or fillings you fancy)
1 ice cube tray (with sides preferably so that the pieces can join together), silicon ideally but mine was a regular plastic one
Flavour variations: add finely chopped almonds and honey for a Toblerone style chocolate bar. Add sultanas and chopped nuts for a fruit & nut chocolate bar. Use other berries or fruit like sliced banana
RIP bunnies
Step 1 - Make sure the ice cube tray is clean and dry before you start. Melt the chocolate in a microwave or in a double boiler until melted and smooth. Brush a thick layer of the chocolate on the bottom and sides of the ice cube tray. Allow to set by placing it in the fridge for 5-10 minutes.
Sorry this picture isn't attractive at all I know...
Step 2 - Meanwhile wash and hull the strawberries and dry them well on paper towels. Slice the really large ones in half or thirds (depending on how large your ice cube trays are). Place them on the set chocolate in the ice cube tray. Then pour or spoon the remaining chocolate on top of the strawberries smoothing over the top.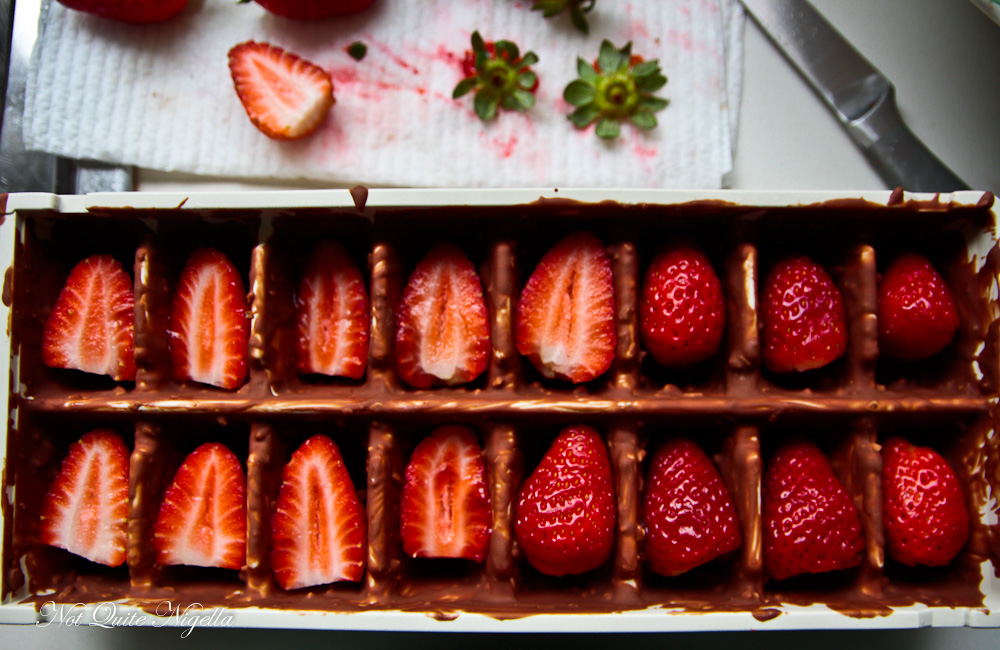 Filling with strawberries
The bubbles coming to the surface
Step 3 - This is the important bit to prevent air bubbles (and a part of me wonders if this was how the Aero bar was invented!). Tap the ice cube tray gently but firmly against the benchtop. This will bring any air bubbles to the surface. This may take up to one minute, just stop when the air bubbles stop surfacing. Allow to set completely in the fridge or in a cool area.
Step 4 - When solid, tap against a clean surface to dislodge or push out if using a silicon mold. This is easy when you have a silicon mold but isn't impossible with a regular ice cube tray but you may have to get a butter knife to nudge the pieces out. Store in the fridge.