The beginning of Falcon Street in Crows Nest has a small collection of Japanese Yakiniku restaurants. There's two situated next to each other and then opposite and further down is the newest: Kagoshima Master. Lured by a conversation I had with my friend JY that afternoon over tea and scones she had waxed lyrical about the virtues of the beef here. She had warned it wasn't cheap but it was absolutely worth it. With a section of Japanese wagyu and another section of Australian wagyu this was a restaurant devoted to this luscious beef. And no less than Tetsuya, Azuma and Ryo are regulars...
Kagoshima is an island that draws parallels to Tasmania with its pristine produce and natural landscape. Added to this is the volcanic soil that the livestock grazes on providing the beef with extra minerals. Every 5 years ever since 1966 Japan holds the Wagyu Olympics. Kagoshima beef was the recent overall winner.
The origin of Kagoshima Master started 10 years ago in Japan (the Sydney branch is the first overseas branch). Co-owner Taro San has spent virtually his entire adult life in the industry. He first started as a butcher, then a wagyu store and then yakiniku restaurant 牛旬三郎 天文館 (no English name) and now a farm.
Taro San's first foray into hospitality was sparked by a visit to a tiny 3 square metre Yakiniku (grilled meat) restaurant housed in a cargo container. There were just 5 or 6 seats. He ate there regularly over the next 6 months and then the chef agreed to buy the wagyu from Taro San. His devotion was also rewarded not just by the business - the chef also agreed to divulge the ingredients for the special sauce.
Previously, Japanese wagyu was only for the domestic market but at the end of 2018 this policy was lifted and they now export full blood wagyu to Australia. "The original plan was to just use Australian wagyu on menu as that was the only supply we could get," says Kevin, Kagoshima Master's manager and co-owner. The Australian wagyu is by Jack's Creek while all of the Japanese wagyu on the menu is from Kagoshima. Every 2-3 weeks they buy one whole cow from their farm in Kagoshima which is then butchered into the specified cuts. The restaurant also tries to employ the Japanese philosophy of specialisation mainly focusing on one item: wagyu beef.
The most popular cuts are the cube roll and the sirloin. There are two sauces used here: one marinating sauce and one dipping sauce that is cooked over a period of 48 hours (the secret sauces referred to above). If you want your beef unadorned then you can also order from the two choice steak menu and these aren't marinated, only seasoned with salt and pepper. Eggs are organic free range eggs from the Hunter Valley and the rice is cooked in spring water.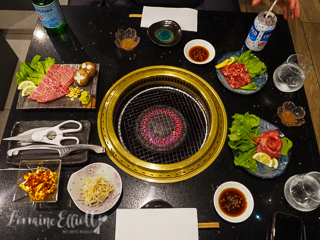 We take a seat at once of the large stone tables with the burners in the centre and choose. The double sided menu has most of the meat on one side and it's broken down into Japanese Wagyu and Australian. The Japanese cuts are more expensive and we choose a range of different cuts including the mystery cut that JY had told me about.
Daily Mystery Cuts $16.80
The mystery cut isn't a mystery-you just ask them what it is and tonight it is Karubi, a boneless short rib with a good amount of marbling. Here it is served as thinner strips. I guess I'm used to seeing this as thicker slices but it is still tasty and fatty delicious although you do have to watch the thinner strips burning.
Japanese Cube Roll $51.80
"Can we get the cube roll?" I say to Mr NQN. We're mostly ordering from the Japanese wagyu section of the menu and the Japanese cube roll is $51.80 vs the Australian version at $26.80. But I'm the boss of ordering so we get it despite his misgivings. Not surprisingly, it's Mr NQN's favourite cut and mine. So utterly luscious and divine the consistency of marbling is what sets it apart so that you derive the sound amount of significant pleasure from every bite.
Japanese Thin Cut Tongue 80g for $13.80
I love tongue and have converted many a friend over to the wonders of tongue. I love the jellied texture and how it melts in your mouth. Here you can order thin cut tongue or thick cut tongue. Knowing that I've slightly pushed the budget with the cube roll I go for the thin cut and it's satisfying and delicious.
Cream cheese kimchi $8.80
Avocado Kim Chi $8.80
I need my vegetables and sides so I order a range of them. There were two types of kimchi that I found interesting: cream cheese and avocado although of course they do have the regular cabbage kimchi available. The cream cheese is chunks of cream cheese with a gochujang sauce as is the avocado kimchi. I prefer the latter because I don't think I can eat that much cream cheese. They're both good to contrast with the fatty meat though.
Bean Sprouts Namuru $5.80
I love sesame bean sprouts, especially at Korean BBQ and this is tasty although I do think that you'd need one serve of this per person as it is tiny.
Spicy Karubi Kuppa $19.80
There are a few different rice and soup dishes available and it was a bit hard to choose because there aren't a lot of descriptions and staff while super sweet aren't always that clear as to the differences. I basically chose the dish because it said spicy and I needed a hit of chilli. It's a rice stew with a chunks of soft cooked rice and the occasional but very blissful piece of karubi beef that melts in the mouth. Mr NQN devours this happily.
Australian wagyu Cube Roll $26.80
Having said that, this isn't the sort of place you leave very full and he was still peckish so we decided to give the Australian wagyu cube roll a try. For starters it comes out as a whole slice and when we ask why our waitress asks the chef and explains that it depends on his moods and emotions-sometimes he slices it, sometimes he doesn't. We put it on the grill and cook it whole and then slice it up later.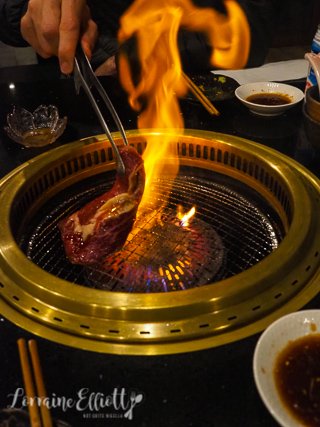 You can probably see how different it is in the marbling and this also affects the taste. Each bite is quite different from each other whereas the Japanese cube roll has a consistency to it. The Australian beef has a stronger flavour to it too. Is the Japanese cube roll worth double the cost?
Well Mr NQN thinks so but then he says he wouldn't order it again instead going for a cheaper cut. To me the Japanese cube roll is worth more most definitely. The Australian cube roll is still good but the Japanese one is of a different class.
Mixed Daifuku with Ice Cream $9.80
Confusingly, the mixed daifuku (ice cream filled mochi) isn't a mix of the two daifuku, you have to pick either strawberry or matcha and you can also pick your ice cream from matcha, roasted matcha or yuzu sorbet. I figured the roasted matcha would go with the strawberry daifuku. The daifuku is a nice dessert after the meat as it is light and not overly sweet. The roasted green tea ice cream is a very generous serve the roasting giving it a nuttier flavour than the verdant usual matcha.
So tell me Dear Reader, do you prefer Japanese or Australian wagyu? Have you tested the two against each other? Do you have a favourite beef cut?
This meal was independently paid for.
Kagoshima Master Yakiniku
18A Falcon St, Crows Nest NSW 2065 Sunday to Thursday 5–10pm Friday & Saturday 5–11pm Phone: (02) 8416 4686