It was a little trip to Eastwood to try a sushi place we had walked past on our previous visit to Eastwood. It was one of the most popular places with queues outside and quirky decor. People rave about the sushi there.
The small restaurant on the corner of Ethel Street and Railway Parade is painted aqua and does a busy lunchtime trade. People are there for one thing: sushi and sashimi at very good prices.
When we drove past there was a throng of about half a dozen people outside waiting for a table. By the time we park the car, gawk at the banchan at another shop and walk back to Hukuya there's only one man outside so we're not waiting long.
Monica and I take a seat by the window and eye off the neighbouring couple's sushi boat. "Should we do it?" I ask and Monica nods. We order a range of dishes from crunchy and deep fried to a cornucopia of sushi.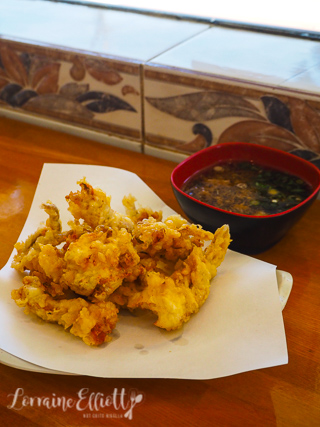 Tempura Soft Shell Crab $20
We start with the soft shell crab tempura that comes with a tasty, slightly sweet dipping sauce. The crab is crunchy and melts in the mouth and I think I ate most of this.
Miso Soup with Scampi Head $5
To this we add a miso soup with a scampi head. "I think they're really missing a trick by not making the prawn head crispy," says chef Monica and I have to agree. Still it's an enormous serve and this is really the theme of our meal.
Deluxe Sushi Boat Large $39
The sushi boat is enormous with 20 pieces of salmon, tuna, squid, yellowtail and snapper along with cooked eel and a tuna and salmon aburi roll which is a really good price. The sushi is tasty and fresh and has some raw salmon, raw tuna, raw kingfish, squid, snapper, eel and aburi salmon and our favourites are the aburi salmon. Each nigiri piece already comes with some wasabi so if you don't want wasabi you'll have to ask for this beforehand.
Unagi Roll $20
The eel sushi is generous portioned with 9 pieces of eel. We both prefer when the eel is a bit warmer so that it is less firm in texture but it's very tasty and one of my favourite things that we ordered.
Salmon Belly Nirigi $8 each
"What is that?" says Monica and I look down at the final item to arrive. It's a plate of salmon belly nigiri that is so enormous that it's dwarfing the regular sized pieces of sushi on the boat. "There's no way I can fit that into my mouth," Monica says shaking her head before whispering, "That's what she said," quietly.
So tell me Dear Reader, what is your favourite variety of sushi?
This meal was independently paid for.
Hukuya
1/25 Railway Parade, Eastwood NSW 2122
Monday to Saturday 11:30am–9pm
Sunday closed
Phone: (02) 9804 8200