Moeru is a Japanese restaurant located on West street near West Ryde station. On the menu are fantastically fresh sushi rolls, sashimi platters and steaming bowls of ramen. And while a 14 page menu is usually a slight cause for alarm, here the food comes out fresh and tasty.
"Omg is that the queue?" I say to Monica as we arrive at Moeru. There's almost a dozen people outside waiting for a table and we add our name to the list. Thankfully right next door is a cafe Once Upon a Time and we take a seat and order drinks while waiting the 30 minutes or so for our table (tip: the Earl Grey latte is a delicious take on a London Fog). As we arrived at 1:40pm and the restaurant closes at 2:30pm we scraped in as the last table able to put our name down.
We had taken a takeaway menu to the cafe and ticked off what we wanted and Monica reads this back to the waitress who seems increasingly alarmed that two small women can eat this much. "Don't worry, we will take what we can't eat away," she reassures her.
Moeru Jumbo Futomaki $8.90
The two futomaki arrive first. Literally translated Futomaki means "Fat Rolled Sushi" and these enormous rolls are 1.5 to almost double the size of regular sushi rolls. They also tend to have more filling to rice which is why I like them although they are next to impossible to cram in one's mouth. You can order the futomaki as 5 pieces for $8.90 which is actually enormous and comes out on a soup bowl. The Moeru jumbo futomaki sushi has sashimi salmon, a tempura king prawn, avocado, tamago omelette, crab, cucumber and pickled daikon with a sweet teriyaki and mayonnaise drizzle and it's delicious.
Eel Prawn Futomaki Roll $8.90
We ordered the eel because Monica especially likes eel. It is filled with grilled eel, avocado, tamago egg omelette, crab, tempura king prawn, pickled daikon and cucumber with a sweet teriyaki and mayonnaise drizzle. It's hard to say which futomaki we liked better as they're both so good with such a variety of filling.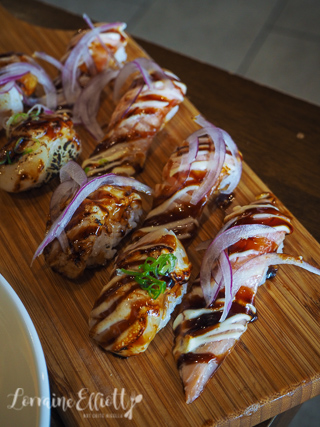 Grilled Scallop $11.90 and grilled salmon $12.90
We are both very partial to aburi sushi and both the scallop and grilled salmon come with a generous covering of lightly torched scallop and salmon. They both melt in the mouth and we'd order these again in a heartbeat.
Hand Roll Eel Avocado $5.90
Somewhere amongst the onslaught of food, the eel hand roll arrived. It's tasty but I'm not a huge hand roll person as I find that they tend to have more rice than I like.
Spicy Raw Tuna Roll $15.90
The only sushi I didn't really go for was the raw tuna roll. I wasn't such a fan of the tuna filling in it as it tasted a bit watery to me although Monica likes its spiciness.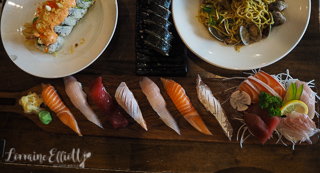 Sushi and Sashimi Combo medium size $31.90
The sushi and sashimi combos are very well priced. In fact everything is on the menu is, given the size and quality. The sashimi comes in big, fat slices and is wonderfully fresh.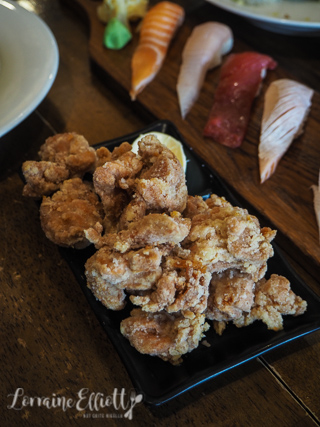 Karaage Chicken Small $8.50
The prices here are really very reasonable and that may account for the queues. This is the small chicken karaage and it's delicious and crunchy and yet tender inside.
Angry Jumbo Prawn Roll $8.90
When they say jumbo here they mean jumbo. This sushi is large like the futomaki which is a larger type of roll. This has a tempura battered king prawn inside along with plenty of avocado and a big pour of spicy mayonnaise and tobiko on top. It's a bit over the top but I like this a lot.
Karai Pitan Ramen $15.90
"I think this is my favourite ramen in Sydney," says Monica spooning the spicy soup into her mouth. By now we are both very full but the broth has a wonderful depth of flavour to it as well as lovely soft fatty slices of pork belly.
Kosho butter Asari Ramen $18.90
"Ok so I just spotted a special," says Monica conspiratorially coming back from washing her hands. "I didn't know whether to mention it because I was thinking 'She'll want to order it'," she says. "Let's order it!" I said excitedly and predictably. If a dish were to describe us it would be yuzu kosho butter mentaiko clam ramen. And do you know what? This is my favourite non sushi item of the day. The ramen has an excellent texture to it but it's the flavour of the clams, chilli and yuzu kosho so perfectly balanced together. I can't stop eating it.
And the bill? It's a very reasonable $83 per person with enough food for 4!
So tell me Dear Reader, do you have a favourite sushi shape or filling? Do you like futomaki?
This meal was independently paid for.
Moeru
6 West Parade, West Ryde NSW 2114 Monday to Friday 11:30am–2:30pm, 5:30–8:30pm