One of the busiest spots come lunchtime is Jinweigu on Beamish Street in Campsie. Here you'll find all sorts of Chinese snacks, breakfasts and lunches. This early morning spot opens at 5am and closes at 2pm and offers a Beijing style breakfast of jianbing crepes, stuffed pies, congee and tofu dishes so that you can travel with your tastebuds!
"Tissue box Tales"
"Kleenex Wednesdays"
"Nose to Tail Tales"
"Pork me!"
Monica and I were brainstorming a name for our weekly lunch outing where we try food from different cultures and highlight all the wonderful eateries and food available in suburbs across Sydney.
We're at bustling Beamish Street at 12:30pm on a Wednesday and the queue at Jin Wei Gu is a dead giveaway and people order from a display of cooked dishes. The large menu offers food from Tianjin, half hour by train south of Beijing. Winter is also the best time to avail yourself of these warming and tasty treats. Think bread dough encasing the juiciest meat fillings or slurping bowls of warm, silky tofu pudding or creamy rice congee.
"This is too much food for two people," the woman behind the counter says, not unkindly. Her eyes flit briefly to petite pink haired Monica who is sitting at the table quietly spritzing her hands with anti bac spray. "It's ok, we'll take any leftovers home," I assure her and she seems relieved.
Another woman brings over our first jinbiang and raises her eyebrows in a knowing way. Then comes the rest of the food, plate after plate. The whole lot costs us $40.
Mung bean powder wrap with deep fried dough sticks $6.50
I sip the sweet soy milk and then get started on the food. While Western breakfasts usually involve eggs, bread and cereals or fruit, a Northern Chinese breakfast might be something else entirely. You may have tried congee for breakfast but there's also Jinbiang the perfect, portable breakfast street food snack. It too involves eggs but added to a fried mung bean crepe wrapped around a hoi sin style sauce, spring onions, and either fried won ton skins or long Chinese donuts. It's great to eat on the go, low cost, filling and delicious.
Mung bean powder wrap with deep fried cracker $5.50
I try jianbing crepe first and these are crispy and eggy. I remember watching them make these in a street market in China and the smell of it is irresistible. The puffy donut stuffed jianbing is texturally satisfying with each bite while the one with fried won ton skins is very crunchy and a little on the dry side. I prefer the one I ate in Burwood a tad more.
Beef Pie $4.50
I'm much more into the buns and while I'd like to blame it on winter, I once devoured an entire pork bun after a massive Chinese meal and if you know me, that's not normal. But these meat stuffed "pies and burgers" are the perfect ratio of stuffing to bread dough.
Lamb pie $4.50
We try the lamb, beef and pork and fennel ones and they're all fantastic. Each has a surprising amount of juice in them and when they arrive already sliced into two or four we pick them up and sauce drips from every piece.
Chive Pork Pie $4.50
They're flavoured with garlic, carrot, vegetables, spices and the pork and fennel also has fennel fronds too. Monica loves the beef while I love the pork and chive and the pork and fennel pie and the lamb but really it's a close contest as they are all good.
Silken Tofu in Sauce $4.50
Another item that we try is the sesame tofu. The silken tofu in sauce is hot and savoury and made up of custardy silken tofu with fungus, shiitake mushroom, soy sauce, congee rice, chicken stock and roasted sesame sauce. It's nothing that you might expect and yet very nice indeed.
Chicken Congee $7.50
At the same comfort level is the chicken congee with tender pieces of bone-in chicken and mushrooms. It comes in a bubbling hot pot. There's enough congee for two (especially if you're ordering sides) and I love the consistency of this with its thicker less watery texture.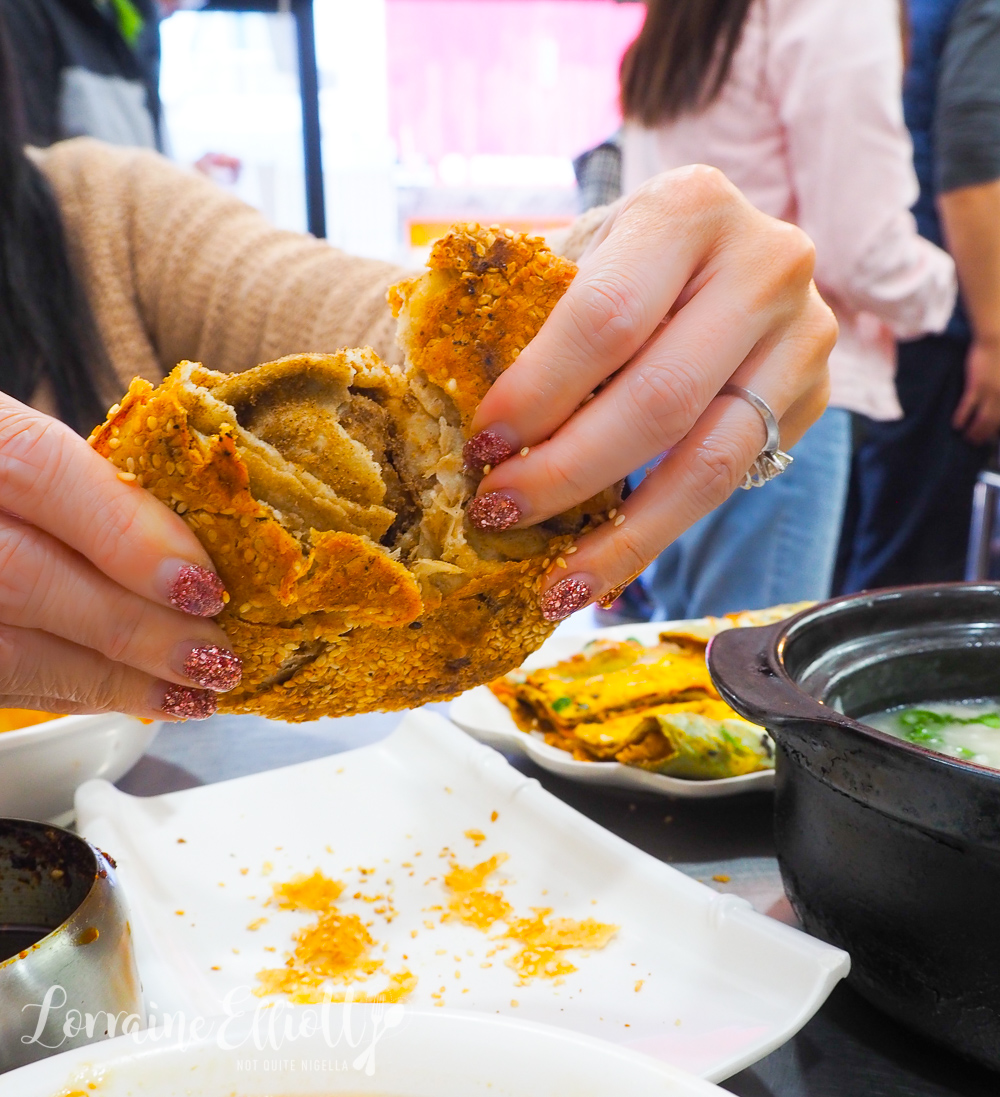 Sesame cake $2
The Huangqiao Sesame Cake is a small sesame coated snack which is one of the oldest cakes in the Taizhou region of China. It was originally designed to be a ration so it's not fancy, it's seasoned with plain and a little sugar and is best dunked in a soup as it can be on the dry side. Nowadays places fill them with pork and other fillings although this one is the original one without any additional filling.
Pork and fennel pie $4.50
I end up buying a few things to take home like a pork and fennel pie. There's an enormous big flat fried pancake with a sweet biscuit coating on one side, similar to the top of a pineapple bun but deep fried. This is like a giant churro.
Monica and I gather our half a dozen bags full of delicious smelling goodies and exit. "See you next time!" the lady says.
Donut $4.50
So tell me Dear Reader, have you ever tried Jianbing? Can you suggest a fun name for our series?
This meal was independently paid for.
Jin Wei Gu or Jinwei Valley
277 Beamish St, Campsie NSW 2194
Monday to Friday 5am–2pm
Saturday 5am–3pm
Sunday closed