This tiny sliver of a restaurant in Potts Point has a total of eight tables, four inside and four outside. Still that doesn't deter patrons from pulling up a stool and a seat at a laminated table and ordering from a range of mouth watering dumplings. The skirted crispy dumplings are a must order as are the xiao long baos. If ever a dumpling fest was desired, this is the place at which to have it!
It was a Friday afternoon and I had my head in my laptop busy editing videos. I looked up and realised that I had spent all afternoon of a beautiful sunny Spring day buried in work. All I could think was that it was a shame that we had been too busy to organise anything that night so I armed myself with the most attractive sounding proposition and messaged Mr NQN and Miss America.
"Shall we go for dumplings tonight?" was my question.
The sneaky part of me knew that both of them are unable to resist the lure of these little parcels of goodness and by 6:30pm we are sitting at an outside table in front of the tiny sliver of a restaurant called Dumpling and Noodle Bar on Victoria Street in Potts Point. It has been here for 10 years and is said to serve up very good dumplings. There are four tables outside and just as many inside and somewhere behind the counter is the kitchen. The sole waitress hands us a menu in plastic sleeves and each item has an accompanying photo. Prices are higher than say in Ashfield but hey this is Potts Point.
The dumplings come in an array of fillings (your choice: chicken, pork, lamb, beef, seafood, prawn or vegetarian). There are other items like spring rolls and sesame prawn toast etc but we are literal folk so we gravitate towards dumplings and noodles. Also there is no way I could promise dumplings and not order a truck load. We end up with so many that people stop and stare at our table laden with steamers and plates, a smile playing on their lips, their gait paused by a beat as they stop momentarily to stare.
And so the dumpling feast begins. The xiao long bao are pork and ginger morsels with a good amount of soup. The skin at the top is sightly thicker than in Ashfield but the trade off is that none of the dumplings burst on arrival to your grateful tongue.
The chicken pan fried dumplings are the stars. With a lacy, crispy skirt layer on top they're served skirt side up. The dumplings are filled with chicken and corn and are irresistible with a spoonful of hot chilli oil. I ate about four of these before I realised that there were other dumplings on the table.
The prawn and seafood dumplings are slightly more expensive (actually they're the same price but you get six instead of eight) and these are good with chunky prawns in them. They too benefit from the chilli oil.
We had heard that the won ton soup was good but truth be told, it was actually one of the less satisfying dishes. The soup was very mild as were the dumplings. I had one and moved on to my next target.
Likewise the noodles were fine but really needed a generous amount of chilli oil to add flavour to them. We've had better versions of this although the noodles are good with a nice amount of springy texture.
Our last item is a dumpling dish - the workhorse dish that we order to fill up Mr NQN's tummy. There are twelve dumplings to a serve here and we ordered half lamb and half beef. Except I forgot this and got two of the same and they were perhaps the beef (the orangey filling). Usually I find these more stodgy than flavoursome but the filling here makes it much better than just stomach stuffing food.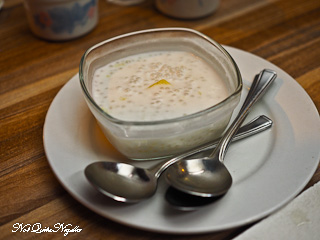 And speaking of stomach stuffing, there are two desserts here: a mango and tapioca dessert served with coconut milk. The mango is cut up quite roughly - there's a massive chunk and then tiny pieces but it is cooling and not overly sweet.
The fried banana well...there is just no right way to photograph a banana. It comes with a scoop of vanilla ice cream and is encased in a golden batter. It is a little on the pricey side for a banana and a scoop of ice cream though. But there is no price on giggles at the end of a meal.
So tell me Dear Reader, do you ever make last minute plans for dinner with friends? Do you have a favourite dumpling filling or type? And are you yay or nay to chilli oil with your dumplings?
This meal was independently paid for.
Dumpling and Noodle House
165-167 Victoria St Potts Point NSW
Phone: +61 (02) 9326 9639
Monday – Sunday: 6pm–10pm
http://www.dumplingandnoodlehouse.com.au/