Chances are if you've been to Tasmania you may have tried a scallop pie (or two!). This simple pie is one of the many tasty reasons to visit Tasmania. A good pie has a butter pastry outer and is full of tender scallops and vegetables in a creamy curry sauce. But you don't have to visit there because Dear Reader, it's easy to make too!
I've certainly eaten my share of scallop pies while there and one of the best is at Jackman and McRoss in Hobart and the recipe is online so I adapted it. When you make these pies at home you can be generous with scallops and filling.
I've had pies at other places that are 70% sauce with potato and a couple of tiny scallop pieces but this one is full of gorgeous, fat scallops. The curry sauce is a cinch and I think that this is a perfect dish to serve to guests. Even if you don't like scallops or they are too expensive you can also thaw out frozen ones or use white fish instead. Just make sure to drain them and pat them dry or this may water down the sauce.
Rather than bake this as individual pies, I made a large pie instead. I used a terracotta dish that I bought at a vintage store a couple of years back in Orange. I saw it and went to pick it up to look at it. It had a beautiful lid and I love oval shaped bowls and vessels. Except this time the lid slid off and came crashing to the ground.
I brought it downstairs, feeling terribly guilty about breaking one of their dishes. "Don't worry love, one less thing to dust," the woman behind the counter said. But I felt terrible so I bought the base anyway without the lid and put it away as I still liked it even without its lid. I'm so glad that I did as I use it a lot as it's a good size for baking deep stews and for serving curries!
So tell me Dear Reader, do you often find a use for something that you might have thrown away? Also, strange question but what is your favourite shape in crockery? Mine is oval!
DID YOU MAKE THIS RECIPE? Share your creations by tagging @notquitenigella on Instagram with the hashtag #notquitenigella
Tasmanian Scallop Pie
Rated 5.0 out of 5 by 5 readers
An Original Recipe by Lorraine Elliott
Preparation time: 30 minutes plus 30 minutes cooling time
Cooking time: 80 minutes
2 carrots, peeled and chopped into small pieces
2 potatoes, peeled and chopped into small pieces
3 tablespoons oil
50g/1.7ozs. butter
2 onions, peeled and finely diced
2 sticks celery, peeled and finely diced
3 cloves garlic, peeled and finely diced
1 tablespoon curry powder
100ml/3.5flozs. dashi stock or white wine
1 cup peas
1 cup corn kernels (from 1 cob)
125ml/4 flozs. cream
300g/10.6ozs. scallops, drained and patted dry
1 egg yolk
Oil spray
1.5 sheets butter puff pastry, thawed in the fridge.
Step 1 - Preheat oven to 180C/350F and line a baking tray with parchment. Toss the carrot and potato cubes in the oil and bake for 25 minutes or until golden. Set aside.
Step 2 - Sauté the onions and celery in the butter for a few minutes on low heat making sure not to caramelise them. Add the garlic and sauté for a few minutes. Turn up the heat and add the curry powder and cook for 1 minute. Then add stock, peas, corn and cream and simmer until cream is thick. Add the carrot and potato cubes and cool completely.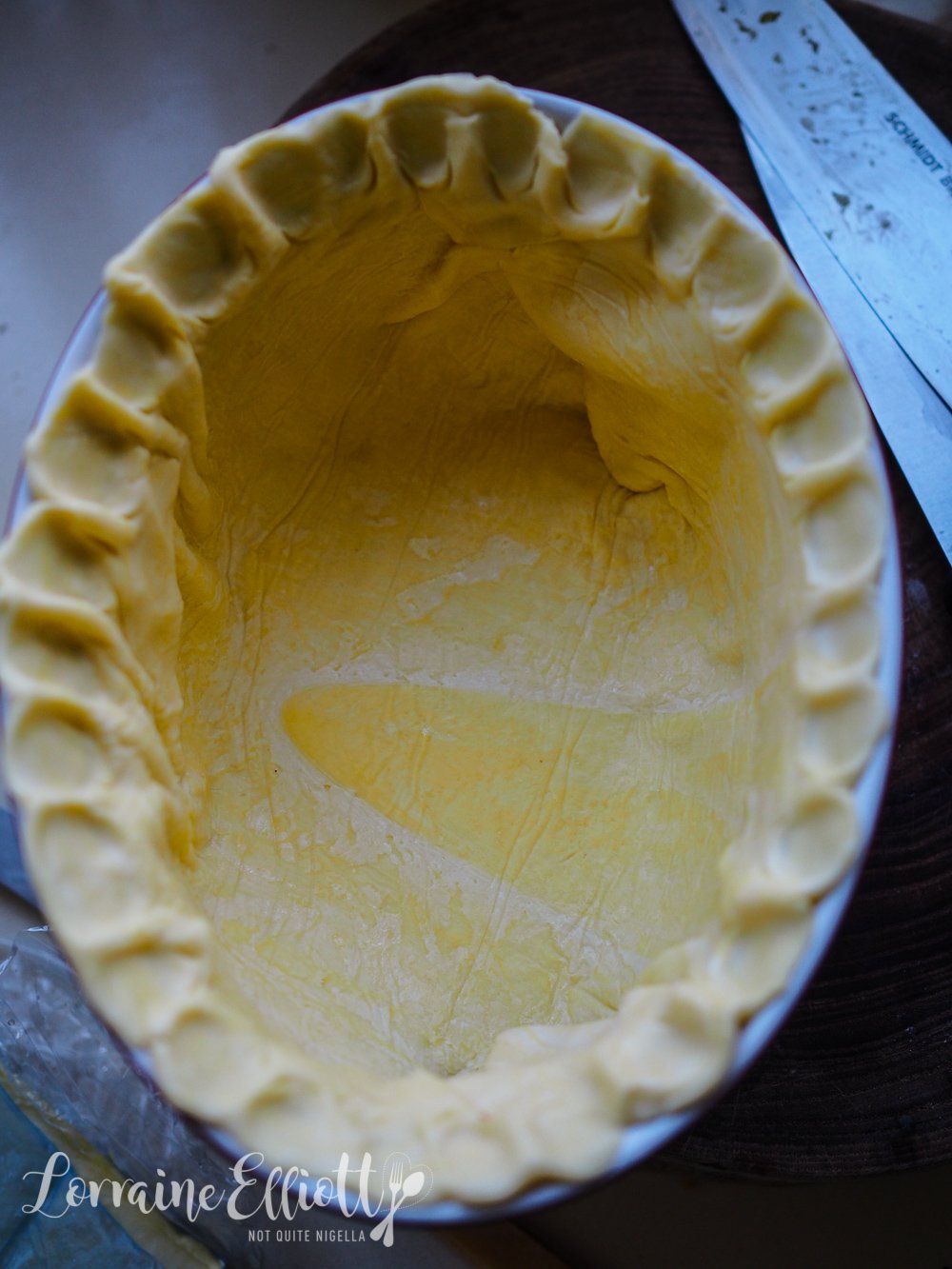 Step 3 - While it is cooling, spray a baking dish with oil spray and line with one sheet of puff pastry pinching the edges. Then cut out the top layer and cut out some leaves and place these on a tray and place the baking dish and top pastry in the fridge until you need it.
Step 4 - Preheat oven to 210C/420F. Once the curried vegetables are cool, add the scallops and mix. Spoon into the pastry lined baking dish and top with the pastry lid. Brush with egg yolk and then affix the leaves and brush these with egg yolk too. Bake for 25-30 minutes or until golden.