Goobne is a Korean chain of un fried chicken. That is oven roasted chicken that is crispy and said to imitate the texture of Korean fried chicken without the deep frying element. There are seven varieties of this oven roasted chicken at Goobne's new Darling Square location. So what is it like? Could it pass for Korean fried chicken?
A warm day in Sydney isn't the best day to eat friend chicken I think to myself but then I stop myself. I'm not eating fried chicken, I'm eating unfried chicken.
Goobne (meaning "baked" in Korean) started in South Korea in 2005 and it has opened stores throughout Asia (China, Malaysia, Hong Kong, Macao and Vietnam). Apparently they have more than 1,000 stores (although truthfully this is the first I've heard of them). Their proposition is that their chicken is healthier than regular Korean Fried Chicken and "not a drop of oil" is used in the cooking process.
Service is friendly and K Pop plays. You can order with a human or order via your smartphone. The picture menu details the 7 types of chicken as well as some sides and rice dishes and there's an additional set meal menu for lunch.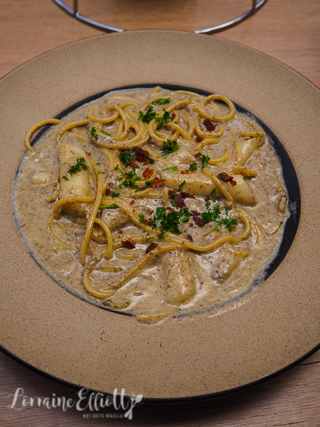 Having never tried a carbonara with rice cakes and spaghetti we order the carbonara rice cake. While it's not a carbonara by the Italian definition, more a creamy mushroom boscaiola, I can't stop eating this. It's garlicky and strong in mushroom and strikes a good balance with the two texture of the fat, squidgy rice cakes and the thin spaghetti. There isn't much bacon, a few flakes of bacon on top but it doesn't diminish the enjoyment of it.
I was curious to try as many types of chicken as possible and they come in whole chicken, half chicken, boneless 600g and the most economical 8 piece wings. I love chicken wings anyway and at $13 they're a good way to try the different coatings. The one that I liked the look of was the Goobne Pepper Crispy.
It comes with a Gobling and Marbling sauce (seriously what are these names?). The chicken is nice and spicy with a soy garlic sauce and a crispy coating. The two sauces are quite different. I love the sweeter chilli gobling sauce while the marbling sauce has more chilli and other herbs added to it.
There was one item that we both really wanted to try. I love the Korean love of cheese. Not fancy cheese, just loads of melted tasty cheese. The problem with having picture menus is that they build up a certain expectation of what the dish will look like. And the bowl of cheese looks amazing in the picture but in reality it looks a bit shallow and sad. It's pictured with fondue forks too which I thought sounded fun but these aren't included.
You choose two flavours for this from a range of four and we go for the Deep Cheese and the Volcano. The Deep Cheese is oven roasted chicken pieces coated in a slightly sweet cheese powder. The Volcano is oven roasted with a sweet, sticky sauce. Without the deep fried flour and coating the chicken pieces are noticeably smaller. They look positively dainty in fact.
We scoop some cheese onto the wooden spoon onto the pieces of chicken. While the cheese on cheese sounds extreme it's actually pretty good together. I'm not such a huge fan of the volcano by itself but I really like it with the cheese. The chicken is a fairly good imitation of Korean fried chicken and whilst you won't get that other worldly crunch the sauces are the same giving it the flavour if not the texture.
Since we seem to have ordered enough for an army, we can't do dessert (there are two types of bing soos on offer). we retreat, our stomachs full of chicken and cheese. And we're not unhappy about it.
So tell me Dear Reader, do you find yourself comparing picture menu food to the food you are served? Would you be tempted by a lower fat version of Korean fried chicken or would you rather the real thing?
This meal was independently paid for.
Goobne
Darling Square, Shop/16e Tumbalong Bvd, Haymarket NSW 2000
Open 7 days: 11:30am - 1:00am