Jung Sung is a new modern Korean fusion restaurant located at the Old Rum Store in Chippendale. Jung Sung means truth and sincerity in Korean and the dishes fuse together Korean ingredients with native Australian. Marron is paired with gochujang aioli and blue swimmer crab jus or Berkshire pork is matched with a Brussels sprout kimchi.
The owners of Jung Sung are Jun Ok (ex Chef's Gallery and Seoul Dining) and filmmaker Dan Freene . It was during July in 2020 in the middle of COVID-19 that the idea for this contemporary Korean restaurant started to take shape. They enlisted Insup Kim as their executive chef; he has worked in Michelin starred restaurants in New York and was the former chef de cuisine at Altitude restaurant for last 3 years.
Insup says, "When people think of Korean restaurants in Sydney, the obvious thing that comes to mind is Korean BBQ. We figured it seemed like a good time to take this already established consumer base, and give them something they are already familiar with, but upscale the dining experience, and give people something a little different, and unique."
Jung Sung is located on the third floor of the Old Rum Store building next to Spice Alley. Formerly an event space, it is sleek with black tables and walls and lots of glass. There is also a wraparound terrace which is set to open very soon.
Curvy Bae $19 (left) Rocky Jeju $21
We are here for our anniversary dinner so we start with some celebratory cocktails. The Curvy Bae pear cocktail with Hwayo Soju, dry vermouth, Korean pear syrup, sparkling wine and lemon is subtle, sweet and feminine while the Rocky Jeju with Bombay gin, Amaro Montenegro, Cointreau, Jeju mandarin juice and lime has sour notes and packs a bit of a punch.
At dinner there is a 4 or 6 course menu ($85 and $108 respectively) and vegetarians and pescatarians are also covered (lunch is either 2 or 3 courses) and wine matching is also available.
Red Snapper Hwe served with 2019 Vins Breban Domaine La Soure Mediterranee Rose
Hwe in Korean means sliced raw fish and the red snapper is generous slices of raw snapper with white soy jelly, cubes of rockmelon, perilla extract, seaweed and karkalla (pigface or beach banana) sea succulent. When you get a bit of everything on your fork the flavours work very well together.
Moreton Bay Bug Two Ways served with 2017 Colmar Estatte Chardonnay
The second course arrives on a wooden stand and chef Kim usually brings this course to the table. It is a soy marinated and butter poached marron with gochujang aioli with a blue swimmer crab jus poured at the table. The marron melts in the mouth and the flavours of the gochujang aioli and the intense crab jus pair together perfectly.
The second part is a deconstructed bibimbab with soy marinated bug meat cubes, egg, puffed multi grains, micro chives and a little vial of cold compressed sesame oil on the side. It's milder but also delicious and I actually scoop up some of this and eat it out of the bowl with the gochujang aioli.
Catch of the Day served with 2016 Domaine Bruno Sorg Alsace Riesling
The bonito fillet is still pink inside and has a crispy skin topped with black garlic bubbles and is paired with a silky potato puree, walnut, finely chopped sweet glazed anchovy and red capsicum. The anchovies used are tiny Korean anchovies that are glazed in soy sauce and apple vinegar so that they're like candy or jerky. Both the anchovy, capsicum and soy season the fish and potato perfectly. The wine match with the 2016 Domaine Bruno Riesling works particularly well with this course.
Berkshire Pork served with 2018 Clyde Park Locale Pinot Noir
There are two style of pork here. The first is slices of soft, jellied pork belly with a satisfyingly crunchy crackling on top as well as pork jowl, all fatty luscious and bouncy textured. These are paired with a Brussel sprouts kimchi, peach and Berry's Creek blue cheese puree, macadamia and grilled baby cos lettuce. I adore pork so I end up eating most of this dish.
MB 9+ Wagyu Beef (+$25) served with 2018 Parker Coonawarra Cabernet Sauvignon
Mr NQN isn't a huge beef person but when I ask him what the beef is like he says that it is one of his favourite beef dishes. The flank fillet is sous-vided for 3 hours and then charcoal grilled so it is succulent and yet full of flavour. The cube of 12 hour pear braised beef short-rib is buttery soft and intense. The beef is paired with brown rice vinegar, jalapeno jus, burnt eggplant puree, nasturtium leaves and finished with a 2 year old soy sauce.
There are also three varieties of banchan or side dishes that arrive with the mains. There are soy glazed potatoes, cucumber kim chi and Korean spinach.
Sweet Corn served with Korean Won Mae Plum Honey Wine
The half Singaporean in me loves sweet corn in desserts so I am looking forward to the sweet corn dessert. It looks just like a cob of corn but it is made with denjang (a soy bean paste) with a corn custard and caramelised pistachios with wisps of brik pastry. It's rich and a very large serve and is like a corn mousse although the corn flavour isn't particularly apparent, lending it a sweetness more than anything.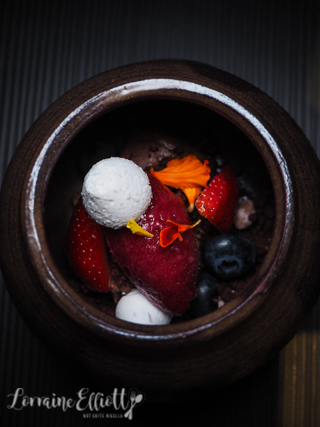 Cherry Chocolate served with 2019 De Iullis Late Picked Semillon
After all of this food (and while I was super full, Mr NQN was comfortably so) I did not expect to both adore and devour the cherry chocolate dessert. It's served in a small earthenware pot called a Hang-a-ri (used to ferment gochujang, denjang, ganjang and kimchi) and I lift the lid to see strawberries, blueberries and cherry sorbet with a Callebaut milk chocolate mousse as well as tiny coconut meringues, soy bean crumble and caramelised cocoa nibs for crunch. Somehow, because this was so divine, my stomach found the space and it was all gone.
So tell me Dear Reader, have you tried much contemporary Korean food? Have you ever tried sweet corn in a dessert before? Do you tend to order 4 or 6 courses with degustations?
This meal was independently paid for.
Jung Sung
A6 / 2-10 Kensington St, Chippendale NSW 2008
+61 400 991 011
Tuesday to Sunday 12pm - 11pm Closed Monday
www.jungsung.com.au