Sintra, a stunningly beautiful and mystical city 30 minutes from Lisbon, has more than just gorgeous palaces and castles. There are heavenly light pastries, great petiscos and a fairytale 19th century fully restored manor to stay in. It was also the perfect place to celebrate my birthday!
The most common word used to describe Sintra is "fairytale". But that doesn't really prepare you for just how beautiful this UNESCO world heritage site is with stunning 19th-century Romanticist, Renaissance and Medieval architecture.
Sintra was a town with a history of royal visitors and it is also a place where nobles would settle. Nowadays it is home to some of Portugal's most sought after real estate. Sintra is also a city historically known for witches. Certainly the fog enveloping Sintra gives it a beautiful mystical quality-the air is cooler but it is also humid. It's a truly unique place.
As luck (or misfortune) would have it, it's raining every day that we were in Lisbon and on the day that we go to Sintra it literally does not stop pouring so any chances of getting a glorious selfie in Sintra are dashed (it is perhaps Portugal's most Instagrammable location). With the rain pouring we park on the Volta do Duche (meaning "shower turn" amusingly, because it feels like we are in a shower) and get the umbrella out to see the sights.
The first stop is for two things: breakfast pastries and coffee. And at Fábrica das Verdadeiras Queijadas da Sapa you can try one of Sintra's specialties: the Queijada de Sintra or cheese tart. These aren't to be confused with the pasteis de nata, they look quite different.
These cheese tarts have a thin pastry and are filled with a sweet cheese and egg filling with cinnamon on top. Here they also sell the Travesseiro, a long pillow of dough with a pocket of air showing how light it is and a layer of almond cream inside. We also order a Gulao coffee or a Portuguese flat white or cafe latte, naturally sweet and milky. It's a popular place to stop on the way up or down to the Palace de Pena.
Because it is downing heavily with rain we have to give the 45 minute hike up to the Parque e Palácio Nacional da Pena a miss and instead head towards the Palácio Nacional with great views of the surrounds.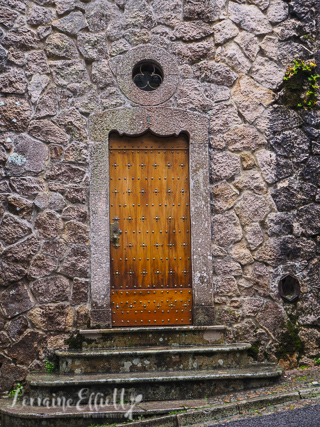 Then we head up the curved hill to the Quinta da Regaleira, a stunning UNESCO world heritage site that is considered one of the most romantic and photogenic parks and palaces in the world. Entry is €8 per person and you can literally spend half a day wandering around and exploring.
The gardens afford many photo opportunities. The most popular spot is the Initiation Well of which there are two. These were never actually used as wells, they were more ceremonial and used for tarot and masonic ceremonies.
The largest well has a 27 metre spiral staircase and at the bottom there is a mosaic pattern and if you position yourself just so you can get some stunning photos (although everyone else has the same idea and you do have to exercise patience and if you are taking that gorgeous Insta photo, you'll probably need 30 minutes minimum here). Everywhere you turn here there is a photo opportunity as it is like an artist's fantasy come to life.
Afterwards, we have worked up quite an appetite walking around the gardens so we go back into Sintra's old town area. There are many, many eateries but one a little away from the action is Tascantiga, at the top of the hill right next to the famous pastry shop Piriquita II (there are two Piriquitas).
We take a seat in one of the rooms lined with bottles of wine and I choose a selection of things from the menu that you tick off on the sheet of paper. They specialise in petiscos or tapas sized snacks and prices are reasonable and staff friendly.
Caldo verde is a very typical Portuguese soup of cabbage thickened with potato and served with discs of chorizo. It's a warming soup, especially for the cold and rainy weather outside.
The octopus is divine, resolutely garlicky with garlic chips and deep fried garlic. I just want to order more of this and keep eating it, it's that good and I plan to make something similar at home.
The cheese is a famous DOP cheese from the municipality of Setúbal and it is served warm so that it is gorgeously melty with chopped figs and smoked ham with some garlic butter croutons. I can't help but think why haven't I added ham and figs to a baked brie but you can bet that I will.
The only thing that we don't really go for is the egg with smoked sausage. It's intensely smoky, perhaps the smokiest item I've ever eaten and the smokiness lingers but I'm glad that we tried it.
The black pudding comes on skewers in a bucket with slices of pineapple on the side that give it a nice acidity and sweetness. Who would have thought pineapple and black pudding would go together so well?
Mr NQN loves the tuna steak sandwich which is seared tuna all lovely and pink inside on black caco bread. It is a circular ball of bread and this version is black using charcoal and the sandwich is juicy and fresh.
We opt for dessert at nearby Piriquita II where we order one of the Travesseiro which they are known for. They do a fast trade in these pastries and these ones are slightly warm. For good measure we try other pastries and sip tea because calories consumed on your birthday don't count.
The Nozes de Cascais is a round glazed walnut topped syrupy sweet that is absolutely delectable. It is like a distant cousin of baklava with pastry and syrup. And don't miss the Pastel de Feijão and Pastel de Cruz Alta tarts with the sweet, jellied egg custard filling - although conceptually it is similar to a pasteis de nata it is different entirely with an intensely sweet egg yolk filling.
Then we depart for our fairytale home for the night. Vila Vitorino is a 15 minute drive away from Sintra's old town centre in Colares down some hairpin turns and vertiginous hills.
The Vila is a 19th century summer home and chalet that has been fully renovated. Owner Luis Vitorino greets us and opens the gate and brings our bags inside the stunning Gothic style chalet.
Vila Vitorino is a dream come to life. For starters there is Joaninha, an adorable and tiny Yorkshire terrier who I spend most of my time playing with. I swear that when I looked into her liquid brown eyes I saw the spirit of my little Mochi in them. Then there is our enormous and beautifully appointed suite. Luis did all the interiors himself with an eye for colour and style.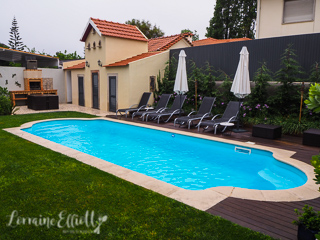 As it is my birthday we decided to splurge a bit so we booked the Colares room and it is stunning. It is spacious with a comfortable lounge area with a 19th century tiled floor from Austria and wooden shuttered bay windows. There are two pasteis de nata waiting for us too.
The king sized Portuguese made bed is ridiculously comfortable. In fact I have the best night's sleep of the whole trip here and the shutters keep everything very dark so we aren't awoken by streaming sunlight.
The bathroom is well equipped with a two headed shower, heated towel racks and large, fluffy beautifully scented towels. All details have been carefully thought out.
Breakfast in the morning is also a treat with a continental selection of goodies with jamon, salami, mortadella and prosciutto, four types of cheese, croissants, yogurt, juice and what are Sintra's best Travesseiro or pillow pastries.
I sit in the drawing room to work with tiny Joaninha by my side. She curls up against me just like Mochi used to do and bundles up curled up tight. Luis brings me a birthday cake with a candle and a French earl grey tea on a tray. Then later he opens a bottle of port and brings it in a cut crystal glass. If this is a fairytale dream, I don't want to wake up.
So tell me Dear Reader, is there a place that you've visited that you would describe as fairytale? Where was your most memorable birthday?
All food and accommodation were independently paid for.
Fábrica das Verdadeiras Queijadas da Sapa
Volta Duche 12, 2710-631 Sintra, Portugal
Tuesday to Sunday 9:30am–6pm
Monday closed
Phone: +351 21 923 0493
Quinta da Regaleira
Av. Almeida Garrett 5, 2710-567 Sintra, Portugal
Open 7 days 9:30am–7pm
Tascantiga
Escadinhas da Fonte da Pipa 2, 2710-557 Sintra, Portugal
Monday & Tuesday 12–6pm
Wednesday to Saturday 12–10pm
Sunday closed
Phone: +351 21 924 3242
Vila Vitorino
Av. dos Bombeiros Voluntários N2, 2705-180 Colares, Portugal
Phone: +351 21 019 4761