Welcome to Armchair Traveller, where we travel and dream about travel from the comfort of our own homes. I am still sharing travel stories because we all need a distraction but given the current situation with COVID-19, please stay safe, stay home and stay healthy :)
We continue our food and culture tour of Porto, this remarkable and beautiful city in the North of Portugal. There's a Harry Potter connection with a visit to the world's most beautiful bookshop, plus a tour of a delicious street laden with pastry shops, plus Fado, a must do Portuguese music show!
Day 2
9am Pasteis De Chavez for breakfast
Start the day with a warm pastry. Portugal is known for its pastries so head to A Loja dos Pastéis de Chaves pastries on Rua da Firmeza when they open at 9am. These are puff pastry half moons filled with a variety of savoury and sweet fillings.
The most popular savoury is a minced veal but they also have chicken and bacalau and sweet ones include chocolate. At lunch it is often eaten with soup. You can really hear the crunch deep in your ears when you bite into a warm one.
A Loja dos Pastéis de Chaves. R. da Firmeza 476, 4000-453 Porto, Portugal. Open 7 days 9am–7:30pm. Phone: +351 22 208 7091
10am Majestic Cafe for coffee or tea
One of Porto's most famous residents was JK Rowling who lived in the city for 6 years and married a Portuguese journalist whom she met 18 months after moving to Portugal to start a new life after her mother passed away. She apparently spent a lot of time in the Belle Epoque style Majestic cafe. It is very popular with tourists and often has a queue outside. It is said that Porto inspired the writer for the Harry Potter series. Indeed there is a broom store (Escovaria de Belomonte) and some say one of the main characters Salazar Slytherin was named after António de Oliveira Salazar, the former prime minister of Portugal.
Majestic Cafe. Rua Santa Catarina 112, 4000-442 Porto, Portugal Monday to Saturday 9:30am–11:30pm, Sunday closed. Phone: +351 22 200 3887
11am Confeteira do Bolhao for Tarts and Pastries
We walk to Rue Formosa where Confeitaria do Bolhao are known for their Portuguese pastries. There is a pastry called a Jesuita which actually hails from North of Porto which is layers of puff pastry with a meringue topping.
Jesuita
It's nice although on the dry side. However the pastry worth trying there is the "tigelinha do Bolhão" which is a puff pastry base (around the same size as a pastel de nata) filled with almond egg cream and topped with caramelised almonds. It's deliciously nutty and sweet!
Confeteira do Bolhao. R. Formosa 339, 4000-252 Porto, Portugal Monday to Friday, Saturday 7am–7pm, Sunday closed. Phone: +351 22 339 5220
11:30am Manteigaria for Pastel de Nata
And if you missed having a Pastel de Nata in Lisbon, cross the road and buy one hot from Manteigaria. Listen out for when they ring the bell-that means the pasteis de nata have come out hot from the oven. Service is very friendly here and after just one you'll quickly find yourself buying a sleeved box of half a dozen pasteis de nata to take with you.
Manteigaria. R. de Alexandre Braga 24, 4000-049 Porto, Portugal. Open 7 days 8am–9pm. Phone: +351 22 202 2169
11:45 Buy some Broa de Avintes to take home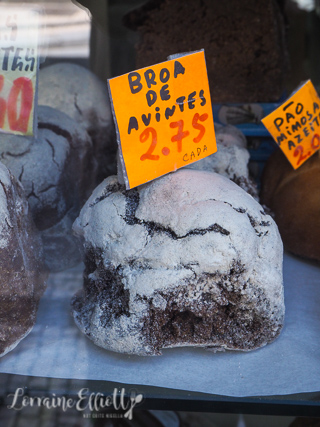 If you're a fan of interesting breads, cross the street to the Mercearia do Bolhao deli selling alheira sausages, breads and cheese in the window and buy a slice of Broa de Avintes brown bread. Broa d'Avintes hails from Vila Nova de Gaia across the Douro River which is also known as the "land of bread".
It's also not usually found at restaurants so the only chance you'll get to try this is buying it from a deli. It is made using rye and corn flours with malt and is shaped like a bell tower. It's sweet, dense and heavy.
Mercearia do Bolhao. Rua de Santa Catarina 220, 4000-252 Porto, Portugal. Monday to Friday, Saturday 7am–1pm, Sunday closed.
12:30 Lunch Like a Tripeiro
Porto residents are nicknamed Tripeiros aka tripe eaters and Porto residents wear that nickname with pride. During a 1415 war effort all the best meat was sent to the soldiers while the city's inhabitants ate the offal giving rise to a dish called Tripas à Moda de Porto or Porto style tripe stew.
Several places make this dish but we head to Restaurante Tripeiro back on Rua de Passos Manuel for this treat. Now sometimes tripe smells, sometimes it doesn't, depending on the way that it is cleaned and treated and I'm a fan of the tripe that doesn't smell. Thankfully this is one of the those.
Tripas à Moda de Porto €11
The Tripas à Moda de Porto here is wonderful, a thick stew with white beans, bits of sausage, meat and other mysterious cuts with pieces of meltingly soft tripe. It is served with white rice and is a warming and substantial meal.
Touchinho do ceu €4.50
And if you want dessert, they also sell Touchinho do ceu (aka "bacon from heaven", a delicious Portuguese specialty cake from Guimarães to the North of Portugal. It is made with plenty of almonds, flour, eggs as well as pork lard. You don't taste the pork lard at all, but it's a sweet, crumbly dessert with a syrupy sweetness.
Restaurante Tripeiro. R. de Passos Manuel 195, 4000-385 Porto, Portugal. Monday to Thursday 12:30–3pm, 7–11pm, Saturday 12:30–4pm, 7pm–12am, Sunday 12:30–4pm. Phone: +351 22 203 8075.
5pm Igreja do Carmo Church
Porto is known for its churches. In fact there are around 50 of them. One of the most photographed churches is the Igreja do Carmo with it's beautiful blue and white azulejos tiles. Tiles were actually used as a way to protect the buildings from the harsh maritime conditions from the Douro River and Atlantic ocean. At this church the brown door was for men only to enter while the green door was for women. Selfies are common here although a look inside the church is also interesting (€3 entry per person).
The Carmo Church is actually two churches in one: there is the Igreja dos Carmelitas Descalco with nuns and the monk's church called the Igreja do Carmo. The two churches were separated with the hidden house, Porto's narrowest house at 3 feet wide at its narrowest in the front.
The bedroom of the hidden house
Up until a few years ago, renters actually lived there but it is now a museum. You can also pop your head into the catacombs (although it's nothing like the enormous catacombs of Paris) as well as the Vestments room with hidden walls, stucco painted roof that appears as wood and 17th century artifacts like childbirth chairs.
Can you spot the secret passageway?
Stucco painted roof that looks like wood
6:30pm Livraria Lello Bookstore
One of the most popular stops is Livraria Lello bookstore because it is a stunningly beautiful store with curved wooden banisters which makes for wonderful pics. The story goes that when JK Rowling came to sign books here for the last Harry Potter book 9,000 people turned up. There were only 6,000 books available.
Lello is one of the most photographed bookstores in the world and one of the most beautiful. As a result there is an enormous interest and people passing through their doors every day. This isn't a bookstore where you can just walk in. Ideally one of you lines up in the queue while the other one buys a ticket for entry (€5 per person). You have to check in your bag into the lockers (use the left hand sided lockers that don't require a €1 coin). There is no good or quiet time to visit Lello but your chances of getting photos are better if you arrive half an hour before they close at 7pm as it is crazy during the day. Others say that during lunchtime is a good time but we first visited on a Saturday and it definitely wasn't a good time then.
There is a collection of first edition of Harry Potter books and until 4 years ago they used an old fashioned cash register which is now located on the top floor. Small busts of famous writers adorn the shelves. If you're planning on getting a selfie, be prepared for lots of other people to be in it too. Everyone is here to get photos and you just have to be aware of that. That amazing Instagram photo without anyone? That is perhaps a dream. We were lucky enough to make friends with the amazing staff that let us get this picture. The staff are absolutely lovely considering everything.
Livraria Lello. R. das Carmelitas 144, 4050-161 Porto, Portugal. Open 7 days 9:30am–7pm.
7:30pm Fado Show
And when you visit Portugal, you have to see a Fado show. Portuguese say that if you watch a Fado show, you see into a Portuguese person's soul. While Fado originated in Lisbon, there is also Porto style Fado as well as Coimbra fado.
Watching a fado show usually involves a cover charge via a meal purchased and it can really vary from set meals to a la carte. We decided to go to RC Restaurante because they have a la carte but also demonstrate the three different types of Fado.
Octopus 'à lagareiro €23
We start with a Porto sour made with port wine that is absolutely delicious. We choose food from the a la carte menu and I go for the Octopus ''à lagareiro' which is oven roasted octopus and potatoes with garlic, olive oil and coriander which is a sizeable but tasty dish.
Portuguese Codfish €18
We also order the Portuguese style cod which is a thick cod fillet. This fish is a national obsession-one trip to the supermarket and you'll see it dried, fresh and in a multitude of preparations. The history goes back to the 16th century where the fish was caught in cold waters far away but preserved in salt. The British army gave the fishing boats protection in exchange for salt which the Portuguese produced in abundance. Cod fishing then fell out of favour but the 1926 military dictatorship brought about changes-they needed to rely less on imports and a campaign was started to catch and eat more cod again. Fishermen were subject to harsh conditions, often fishing one man per boat in rough, uncertain waters of Newfoundland. In the 1960s the cod campaign came to an end but it still maintains its popularity.
Fado is usually sung by candlelight and they begin the evening by introducing fado in different languages. The first fado style is the Porto style and begins with female and male solos finishing with a duet accompanied by guitars. They do walk throughout the room and the music is soulful with feelings of sadness, jealousy and love as prevalent themes. The Coimbra fado is sung only by men.
Pera a Vale do Doura €6
And while in Porto, of course a Douro Valley port poached pear for dessert!
RC Restaurante. Rua do Infante D. Henrique 77-79, 4450-297 Porto, Portugal. Open 7 days 12–10:30pm. Phone: +351 22 208 1814.
So tell me Dear Reader, are you a Harry Potter fan? Would you line up to visit the bookshop?
All meals and travel were independently paid for.