Welcome to Armchair Traveller, where we travel and dream about travel from the comfort of our own homes. I am still sharing travel stories because we all need a distraction but given the current situation with COVID-19, please stay safe, stay home and stay healthy :)
48 hours in Porto? I know that's not enough to get to know this Northern Portuguese city. But you can still have an incredibly delicious time there in just 2 days. From the Franceshina sandwich that truly has to be eaten to be believed, a hidden away local seafood restaurant to just eating some of Porto's signature dishes there's so much to eat and do!
Day 1
10am Coffee or tea at Combi Coffee
First thing before anything else is coffee or tea to start the day. Head to the old town central area of Ribeira for a morning caffeine fix. At Combi Coffee you can shop for shoes on the ground floor or get an excellent coffee on the first floor made by the friendly barista. Try a Galão coffee, a Portuguese version of a cafe latte served in a tall glass. Tea drinkers can get a matcha latte or chai latte.
Combi Coffee: Rua Morgado Mateus nº29, 4000-334 Porto, Portugal. Open 7 days 9am–6:30pm. Phone: +351 929 444 939
11am Tuk Tuk Tour
Our next stop is for a tuk tuk tour that gives us an overview of the history of Porto with a healthy dash of quirky details. Our guide Natasha is fantastic and the tour goes for 50 minutes.
She starts at Rua Escura or literally "Dark Street" near the Cathedral. The houses are so close and narrow because residents wanted to avoid land tax so they built up.
Narrow homes
The houses were so tall and narrow and the sun rarely shone so it became something of an illicit area for drugs and sex workers. Nowadays a lot of older residents still live there and the tops of the buildings are so close that they could probably shake hands from each side.
The Douro River is one of the most important viewpoints of the city of Porto. It was said to be named after Gold as the river helped the city survive and thrive as it became a trade route.
We cross the Douro River on the lower level of the Ponte de Dom Luis I bridge to the Southern Douro city of Gaia or Vila Nova de Gaia. If you visit in summer time you can watch kids diving from the small bridge to the water below. It's part of a summertime tradition and these kids are paid to do so by bystanders. The Gaia area is where a lot of people live and commute into the old town to work. She shows us the round Monastery of Serra do Pilar whose church is said to have wonderful acoustics.
Porto was a walled city but the walls were destroyed to help the city expand. There is only one part of the wall left standing and it is said that they used all the stones from the wall to build 30 churches.
We then pass a building that was known as the Relationship jail or Cadeia de Relaçã where adulterers would be imprisoned. One of the jail's most famous inhabitants was 19th century writer Camilo Castelo Branco who was locked up with his married lover, writer Ana Plácido. Natasha drops us off near Lado B with a wave.
12pm Lado B for Francesinha
We head to lunch where our first bite of Porto is one of the city's most famous food items. The Francesinha sandwich means Little French Girl and is an must try here in Porto. There are no shortage of eateries offering their take on a Franceshina.
There are several on Rua de Passos Manuel street and if you are in Porto on a Saturday night you will see the queues are all people lining up to get in for a Franceshina.
A Melhor Franceshina Do Mundo E8.25
At Lado B cafe (Lado B means B side and the owner works in the music industry hence the names of bands on the walls), they do a fantastic version of the Franceshina. The Franceshina sandwich is Porto's most famous food item and is basically a sandwich filled with wet cured ham, steak or roast beef, liguica sausage and other cold meats that is then covered in cheese and then the magic ingredient is the blanket of beer and tomato gravy (the egg on top is optional). Each Franceschina is different according to where you go and I have to say the Lado B one is excellent (and I rapidly became obsessed with this sandwich, calories be damned). There is also a vegan version here.
Alheira Grelhada con batata, arroz e salada mista E5.50
If you are at Lado B ask for the Portuguese menu and you can also try the Alheira sausage, a smoked horseshoe shaped sausage served with rice, fries and salad with an sunny side egg on top. You eat it by removing the meat from the slightly tough casing on the outside and it is a deliciously fatty and decadent treat.
Lado B. R. de Passos Manuel 190, 4000-382 Porto, Portugal. Monday to Thursday 11am–11:30pm, Friday 11am–1:30am, Saturday 11am–12am, Sunday closed. Phone: +351 22 201 4269. Menu: ladobcafe.pt
3pm Walk Across the Ponte Dom Luis For a Port Tasting
The most popular activity in Porto is a walk across the famous Ponte Dom Lui bridge. This bridge is where you can get some iconic shots of Porto-even on a rainy day the orange and yellow colours burst through the rain. The view is an incredibly vivid tapestry of yellows and orange. The fisherman's houses were said to be painted to match the ends of the their boats to help identify them from a distance.
Then head for a port tasting. Our €25.50 tuk tuk ticket included a port tasting and a river cruise. Once you cross the river, on the other side of the bridge, wiggle your way down to the waterfront area.
At Porto Cruz they will give you a choice to try two types of port: the 3 year oak barrel aged Tawny port as well as the Pink Port which is lighter and sweeter. Both are delicious and quite different and you can take in the waterfront area.
5pm Cruise Up and Down the Douro River
Walk across the lower level of the Ponte Dom Luis bridge back to the other side to embark for the river cruise from Douro Acima. The 50 minute cruise is busy with people but still an enjoyable way to view the city from the river and the boat passes the six bridges with an explanation of each bridge and other landmarks.
6pm Dinner At A Local's Hangout: Escondidinho do Barredo
Right next to where the boat disembarks is a range of touristic restaurants all vying for your attention. But one of my favourite meals in Porto was in a little hidden away restaurant that has no sign and little to no tourists.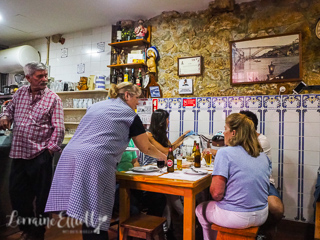 It's literally down a nondescript alleyway, where you think there is actually nothing (google maps will take you there though). In fact when we walk in I swear everything stopped and everyone looked upon us with friendly curiosity.
Escondidinho do Barredo is run by two sisters in the kitchen and their mother sits on a seat in a corner. They're friendly and direct us to the only free table-it's small and busy here and if you visit during peak time you can wait up to an hour for a table.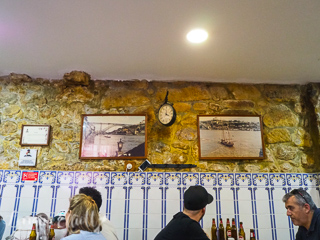 We're here to try some traditional treats. We start with a glass of wine and a lemonade. The menu is in Portuguese and English so they must get some tourists although there are none when we were there.
Bolinas de bacalau Codfish Balls €1.30 each
Escondidinho do Barredo are known for their bolinas de bacalau or codfish fritters and these are excellent. With a crunchy thin outer and soft inside they're the sort of thing you could easily throw back half a dozen of with a beer.
Prato de Ovas con Molho Verde or fish roe with mohlo verde €6
The surprising favourite is the fish roe with moho verde, the Portuguese version of chimichurri made with white onion, garlic, olive oil and parsley with a spicy chilli powder on top. The fish roe isn't fishy if that even makes sense, it's creamy and mild flavoured.
Tripas Enfarinhadas or floured tripe €2
Mr NQN did a double take when the tripe was set down. The Tripas Enfarinhadas is a specialty of the North of Portugal, especially in the Minho and Douro region. It is a piece of long pork tripe casing stuffed with seasoned cornmeal and then rolled in flour and then given a final dusting of white pepper and cumin. You can smell the cumin perfume the air a few minutes before they bring out. There is the telltale aroma of tripe but it is also very tasty with a nice crunch to it.
Iscas de bacalau Cod Bait €4
"I think I smell...fish and chips?" I say to Mr NQN. The iscaas (pataniscas) of cod or bacalhau is a battered cod fillet wrapped in a pancake like a deep fried battered fish crepe. And you know what? It's amazing. It's what I want fish and chips to be every time. The cod has nice moist, large flakes to it and it's not oily or dry, it's moist and flavoursome.
If you want something more substantial, the Octopus with Moho Verde (€9) is also supposed to be great. Or head back into the centre of town for a late night Francesinha!
Check back next Sunday for Part 2 where we explore the Harry Potter connection, visit a stunningly beautiful church and sample some of Porto's best pastries, all on one street!
So tell me Dear Reader, what drink do you start your day with? And do you like tripe?
Escondidinho do Barredo, 4050 149, R. Canastreiros 28, Porto, Portugal. Tuesday to Sunday 9am–11pm, Monday closed. Phone: +351 22 205 7229
These meals and travel were all independently paid for.