Easy to put together, this squid and chorizo stew makes the most of sun kissed summer tomatoes and basil. With the softest squid pieces, spicy chorizo sausage and a mountain of fresh herbs and lemon, you will lick the plate clean!
You probably know that to get tender squid you can either cook it very briefly or for a long time. Usually I'd go the fast cook route because I don't have time but I was distracted by a phone call (I mean seriously who calls nowadays?) and in the few minutes I was on the phone, the squid turned chewy.
So for the first time ever I went the other way and slow cooked the squid. I know it sounds strange but I've never slow cooked squid because I'm too much in a hurry. I set the timer for 1 hour and made a cake in the meantime.
After 40 minutes I took of the lid and surveyed the mixture. The tomato based sauce was so rich and flavoursome so I decided to take a nibble of the squid. It was superbly tender! I saw a recipe that called for 2.5 hours of cooking which I was ready to do but really when cut up like this, 40 minutes is all that you'll need. I find that when we eat squid people either give it a tick of approval if its tender or dislike it because it's chewy.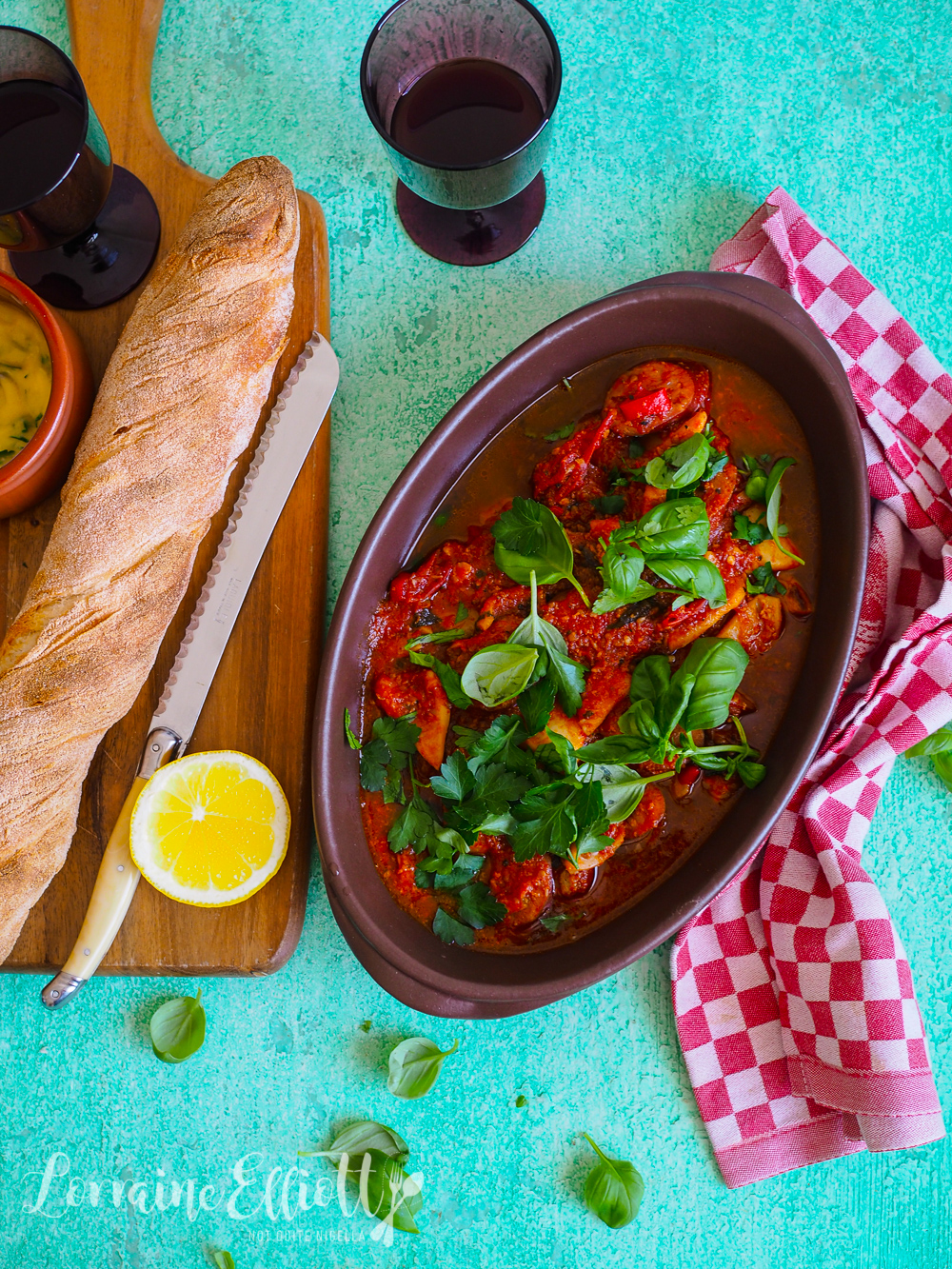 Sometimes things take more time than you think while in other cases time whizzes by. The life of a puppy is one of them. Even though it feels like we only just got Teddy, we were told that now he is already going through puppy adolescence (they're not kidding about dog years!). We were warned that his behaviour might change to resemble that of a teen aka less eager to please and a bit more moody. So far so good but you never know.
Teddy currently has this funny habit and as a boy teenager, he really holds Mr NQN as his role model. We are trying to train him to pee outside so Mr NQN rushes him out the door for a morning walk after he wakes up.
However before he takes Teddy out Mr NQN needs to go to the bathroom himself. What Teddy has taken to doing while Mr NQN is peeing is to stand next to him in the bathroom by the toilet and do the same! Like father, like son! It's like he's saying, "Look daddy, I can do it too!".
So tell me Dear Reader, do you often cook squid? If so, do you do the fast or slow method? And do you talk on the phone still or do you tend to message your friends?
DID YOU MAKE THIS RECIPE? Share your creations by tagging @notquitenigella on Instagram with the hashtag #notquitenigella
Slow Cooked Tender Squid & Chorizo
An Original Recipe by Lorraine Elliott
Preparation time: 15 minutes
Cooking time: 50 minutes
4 cloves garlic, peeled and sliced
500g/1.1lbs tomatoes, halved
150g/5ozs. chorizo (1 large)
2 red chillies, sliced
1 anchovy
4 tablespoons oil
Small bunch basil
Small handful parsley
2 squid tubes
1/2 lemon
Crusty bread to serve
Step 1 - Place the garlic, tomatoes, chorizo, chillies, anchovy, oil and most of the basil in an unheated cast iron pot with lid and bring to heat on medium heat. Simmer for 10 minutes.
Step 2 - While it is cooking, cut the squid up one side to open it up. Remove any membrane and score it lightly with knife. Cut into triangles or small pieces (the pieces will curl up). Add to the pot and place the lid on and simmer for 35-40 minutes. Season with salt, pepper and a bit of sugar if needed (depending on how sweet the tomatoes are). Serve with crusty baguette. I added some salad leaves and basil on top too.